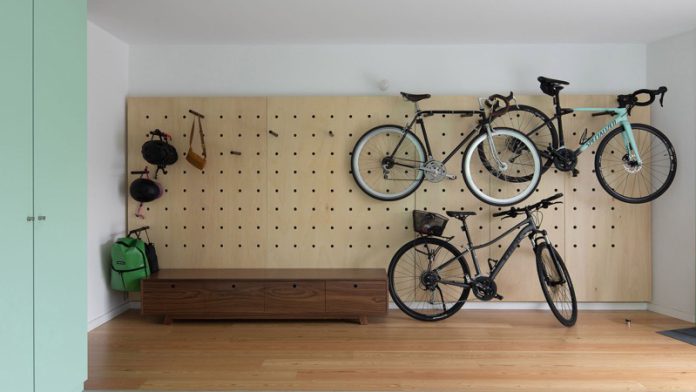 Trouble navigating the garage because there are too many bikes piled up? Modern bike racks enable us to organize, store bikes and gear in a variety of ways.
Using this equipment, we can safely and efficiently store our bikes on our floor racks, wall-mounted, or ceiling-mounted racks. Besides conveniently storing your bicycle, you should also take into account how to tuck away your bike's accessories.
It is therefore essential to select the correct storage since there are other factors to consider. And in case you're still contemplating, let this article serve as a guide to choosing the right bike rack. Besides that, if you need to make significant adjustments to your garage door, you should contact a garage door repair company.
Before moving on to our main subject, let's first discuss why it is beneficial to hang your bike. Keep reading to learn more about the types of rack that are suitable for your garage.
What are the Benefits of Hanging Your Bike in the Garage?
We use our garage for a variety of purposes. And among its many functions, it is used to park vehicles, store junk, and house other household items. So, basically, our garage has a lot of items that need to be organized to avoid tripping them over.
Furthermore, an organized garage not only displays a good appearance but also provides a sense of safety. It prevents you from stumbling anything as you enter or exit the garage. And we know that one of the most valuable items in our garage is our bicycles.
Are you willing to take the risk of someone tripping over your mountain bike? If you're still not convinced, here are a few benefits of storing your bike on the wall or ceiling.
If you find it difficult to store your bicycle in a cramped garage, consider using the wall or ceiling. By storing your ride vertically or horizontally, you can free up valuable storage space.
A garage bike storage system is more than just a way to save valuable space in your garage. Hanging them reduces the likelihood of others tripping over your bicycle and injuring themselves.
Keep in mind that we use the garage to park our vehicles. It's only wise that any items that could potentially injure us when entering or exiting the garage should be put away.
Storing your bicycle in an easily accessible location increases the risk of theft. By hanging your bike on a wall or ceiling, you will deter thieves from stealing it.
The benefits listed above are just a few of the numerous benefits of hanging your bike. Read on to learn how to store your bike safely and effectively.
Different Types of Bicycle Storage in Garages
There are many types of storage racks, including wall-mounted racks, freestanding racks, and ceiling-mounted racks. However you store your bike, the goal remains the same: keep it off the ground and save space.
Besides that, we want to minimize scratches and dirt on the device. We want to position it so that it does not fall over and potentially damage the bike. And if you have children or pets, you don't want your bike to fall on them.
These garage bike storage ideas will help you solve your storage issues. In this article, we will show you three (3) of the most popular bike racks among bike enthusiasts.
Vertical Bike Storage 
The ultimate way to save floor space is to mount your bicycle on the wall. In cramped spaces, a wall-mounted or vertical bike rack would be the most practical option. It is easy to assemble and is compatible with any type of bicycle, making it a very space-efficient solution.
By using wall-mounted hooks, bikes can be hung vertically or horizontally. They even have helmet hooks and can be flipped up and out of the way when not in use.  In addition to saving space, a vertical bike rack also ensures the safety of your bicycle. And it allows you to easily put it away when you're finished riding.
Ceiling Bike Storage
If you want to get your bike up and out of the way, a ceiling-mounted bike rack will do the trick. With this bike storage system, you can hang your bike from the ceiling to store it for a long time.
Before you mount your bicycle to the ceiling, you should take into account its weight. Despite its capacity to hold up to five bicycles, it can only hold certain types of bicycles. This is due to the fact that ceiling bike racks are only able to hold a certain amount of weight.
In addition, you need to be sure that your garage door can still open properly. If you'll need to adjust the tracks, you should contact a garage door repair service to help you out.
Floor Bicycle Racks
A floor bicycle rack is one of the most common bike storage options. It is an excellent way to keep your road bike upright in your garage. Bicycle racks like this are similar to the ones we used in elementary school.
The simple design of this storage makes it ideal for any garage, no matter how crowded it may be. However, when you choose to install a floor bike rack, you should also consider a few factors. For instance, your child or pet could easily trip over the rack. It is also important to consider the fact that thieves can simply take it off the rack.
If you're not sure which one is right for your bicycle, you can ask your local service provider. In addition to receiving the best solution, you will also be saving money on unnecessary expenditures in the future
Bottomline
It is important to ensure that the rack you intend to use will fit your bike. If you plan on storing your mountain bike on any of the bike racks, make sure it can hold your bicycle. Bear in mind, that not every bike rack can accommodate a heavy load.
In addition to taking the size of your garage into account, you should also consider your family's safety. Connect with the experts so that you can get the right advice regarding the right bike rack storage. For durable hardware and effective bike storage, work with a reputable company.