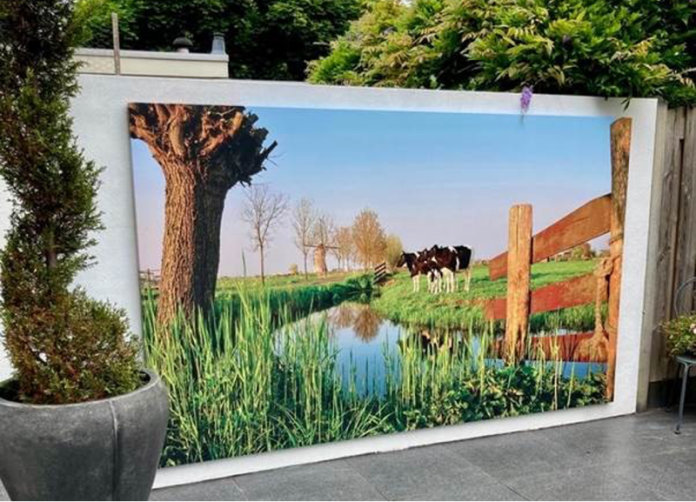 Are you ready for something new in the garden or on the terrace? Do you want an eye-catcher that brings colour and life? Well, then is an outdoor garden canvas something for you. A super large garden or a lot of garden wall to cover? Then you should consider an XXL outdoor canvas. With an outdoor canvas you give your garden a completely new look.
All directions possible with an outdoor canvas
An outdoor canvas is not a new fad, but they still enjoy overwhelming popularity. Logical, because an outdoor canvas is easy to assemble, requires no maintenance and in principle it can be used in any garden. A normal outdoor canvas will come in handy for a small garden, but with an XXL outdoor canvas you can also decorate a large wall. Most people choose to cover a blank garden wall with a garden canvas, but due to the different hanging options, there are also many other options. Recently we saw a beautiful wooden frame that stood at the pool and provided extra atmosphere.
Customize your XXL canvas to the size of your garden
The nice thing about an outdoor canvas is that you can tailor it completely to your garden. You choose the photo that you have put on your garden poster. On most websites, and certainly at Outdoorcanvas.com, you can choose from thousands of photos. You will probably find a great photo, but if you want it even more unique, send your own photo. The resolution is always checked before printing, so you don't have to worry about that. The quality of the picture is especially important with an outdoor XXL garden canvas. Your personal taste determines what you put on your garden canvas.
Small or big? An outdoor canvas brings atmosphere & memories
Do you want to brighten up your garden this summer with a garden canvas? Then that's perfectly possible. At Outdoorcanvas.com you can hang your outdoor canvas right into the garden the day after tomorrow. Here you don't have to wait weeks to get what you are looking forward to. Select your photo, enter the dimensions, determine the mounting method and you're done. Within a few days you will receive your outdoorcanvas poster and you can start enjoying it. An outdoor canvas comes into its own in every garden. And for the price you don't have to leave it, it is extremely affordable garden decoration.