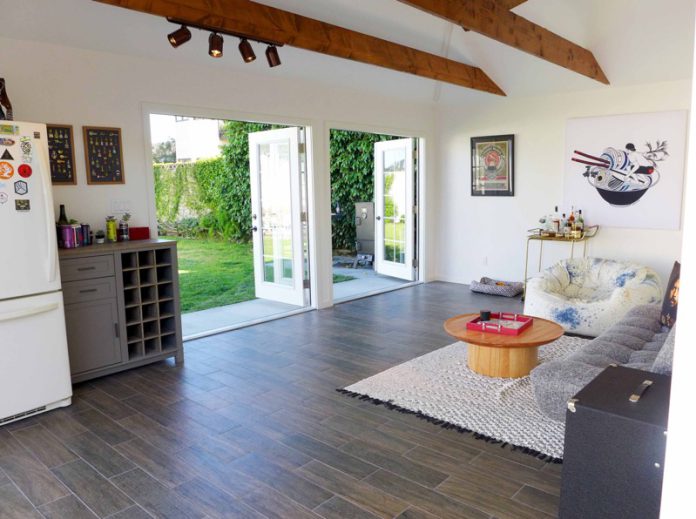 Maximizing home space makes your property more valuable. Make the most out of your infrastructure and transform each area into good use. If ever you need to sell your property someday, home renovations drastically bring up the value for you. Who says you can't earn from changing your residence?
Garage remodels are popular in home design and architecture. There are many methods for you to change your garage. If you don't own a vehicle, there's always a way to make the space more functional. You don't only get a basic house layout; you have additional space to do with whatever you please.
For some conversions you'll need to modify your door and might need help from a garage door repair company. You can search "garage door repair near me" on your browser to look for different places.
These are some functional changes you can have for your garage conversion. Let these 10 best garage conversion ideas help you transform your old garage space.
Wine storage
Wine storages are very popular with families. Avid wine collectors know how difficult it is to maintain and manage wine stocks and keep these drinks in premium condition. If you plan to start your collection soon, do a garage conversion for wine storage. Your wine cellar can help you save the best wines and alcoholic spirits in the world. Drink moderately and enjoy watching your collection turn vast over time.
Reading nook
It's always a different experience to have a comfortable reading area that distracts you from daily life. If you are fond of reading, then you know the joy a cozy reading nook brings. Add thick floor mats on the garage floor, throw in some bean pillows, and make sure to have an air conditioning system in the reading nook. Your reading experience at home will soar just by having a dedicated space free from noise and distractions.
Laundry area
Another practical transformation is turning the old garage into a laundry area. Often, you really won't pay much attention to laundry clothes unless necessary. However, most households have large equipment to clean tons of clothes every week. Washing machines can be monstrous in size. Dryers are very bulky when you incorporate them with other appliances. Having a dedicated laundry room can help you sort out, wash, and dry your soiled clothes faster, especially if you have a big household.
Pantry
Food is an essential aspect of every household. Therefore, food storage also upholds a lot of importance to keep high-quality food and prevent them from expiring soon. Why not do garages remodelling and make the old space into a pantry? Ensure that the old garage is pest-free and vermin-proof. Add the necessary power outlets for food storage appliances. Transfer all your refrigerators, shelves, and food stocks to the old garage.
Luxury vanity
There's nothing quite like fixing your looks and admiring your beauty in front of the mirror. Vanities should help you start your day feeling fresh, on the way to tackle your responsibilities for the day. Set up full-body wall mirrors and your makeup station where you can fix your aesthetics and hair. You can halve the space and transform the garage into a closet-vanity area for both your clothes and beauty essentials to make things better.
Function room
If you can't find anything else to do with the old garage, why not leave it as clean and as is? Reserve it for every occasion so that you can have a guaranteed space for all kinds of events. Function rooms may not always be in use. Nevertheless, when you have guests over, set up the garage and enjoy your get-together there.
Sleeping quarters
It's not unusual to have help within the household. All kinds of help need living space to offer their services to you at any time of the day. If you have a stay-in help or a stay-in driver and safety guard, you need to allot a functional quarter for them. Plan your garage remodel by adding some bathrooms, sleeping bunks, and a mini kitchen for your help. This way, they can start the day even before you are up in the morning, and they can start helping you manage your household well.
Car showroom
Just because a garage undergoes a garage conversion doesn't mean you can't use it for cars anymore. If you have many cars that you want to display, why not make your garage into a car showroom instead? You don't need to drive all your vehicles every day, but having a showroom space can help you appreciate your ride from time to time. Elevate your home and highlight your car collection in the showroom.
Showroom
Collections can quickly eat up a lot of space. Sometimes, your bedroom isn't enough to contain your collections and future collectible items. For fans and collectors, merchandise is valuable. Whether you collect, may it be old vinyl, action figures, pop culture items, music albums, art pieces, and many more, you need to consider space. Do a garage remodel and find a home for all your collections.
Prayer room
Many families practice their faith in the household. Prayers and worship are not new daily events to many people. If you want to practice your faith liberally, a dedicated space makes all the difference. Transform your garage into a prayer room to have your alone time and practice your faith freely. There is always serenity in having space and time for your personal beliefs daily.