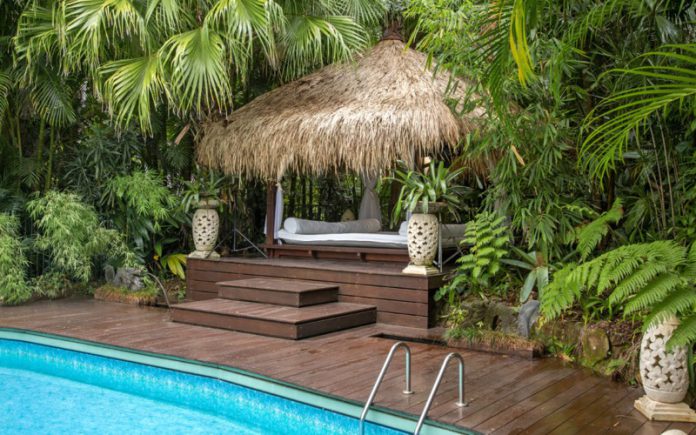 Is your outdoor living space inviting? Do you enjoy spending time outside in the fresh air with your family? It's time to take a look at some outdoor design ideas to encourage your family to spend more time outside. There are many ways that you can transform your yard into a resort style oasis. This blog post will explore them!
Improve the Outdoor Lighting for Your Home
Many of us don't spend as much time as we could outside because we don't have adequate lighting allowing us to spend the evenings and nights outdoors.  One way to quickly and easily remedy this is by installing outdoor lighting. You have many options when it comes to outdoor lighting, so take some time to think about what will work best for your needs.
Mood lighting can make a huge difference to the ambiance of your space. You may choose to have dimming lights so you can create different atmospheres for hosting different types of events, or you might want to light up specific areas for reading, relaxing or dining.
Include Some Resort-Inspired Furniture
Nothing makes an outdoor living space more inviting than having a few outdoor furniture pieces that resemble those you'd find at a resort. Resort style bean bags are a great outdoor seating option, as they offer comfort and an easy way to kick up your feet after a long day of work or play. There is no better way to wind down from the pressures of life than curling up in your bean bag with your favorite book or magazine.
A Resort style beanbag chair is perfect for outdoor living spaces, providing the comfort of a classic lounge paired with modern design sensibilities. With so many options to choose from when it comes to resort style furniture in general, you can deck out your patio area in different styles and textures that will fit in with your personal taste and style.
Create a Fun Space for Kids in Your Backyard
If you have kids, it's important to create a safe and fun backyard space for them to play in. A resort style backyard can do just that! With plenty of room to run around and explore, as well as some fun features like a sandbox with outdoor toys, your backyard will quickly become their favorite place to be.
Getting out in the fresh air is wonderful for your children's health and development and if you play with them, it's a great way to build your relationship. Invest in high quality, weather resistant toys that will stand up to regular use outdoors. You might also like to include an inflatable pool for the warmer months.
Creating an Entertaining Space for the Adults
It's not only essential for the kids to have a good time. Adults need to enjoy your outdoor living space too. Make sure you include some features that will appeal to everyone when you entertain guests outdoors. A barbecue area is a must, as is a comfortable space where they can relax and potentially soak up the sun or be sheltered from the rain. If you have room, consider adding an outdoor kitchen too, this will allow you to prepare meals outdoors and turn dining al fresco into a real event.
Some choose to install televisions in their outdoor living spaces and others believe these spoils the mood. Sports lovers tend to enjoy watching their favorite teams outside with their friends as a social event, while others like their outdoor space to be a calm and relaxing escape from the everyday. If you are torn between installing a television or not, consider how much use the space will get. If it is likely to be used mostly for relaxation and enjoying nature, then leave the TV inside; but if you think it will be regularly used as an extension of your living room then go ahead and install it.
Style With Your Own Personality and Flare
You can really make your outdoor space stand out, if you get creative and have some fun styling your space. Whether you are hosting outdoor movie nights, barbecues or simply enjoying your outdoor space with friends and family, you can make your space uniquely yours.
Get creative! Remember this is not just an outdoor living space, it's also an outdoor entertainment room so be sure to have fun styling. Choose a color palette that will compliment your home. Introducing some bright pops of colors can be effective, you could also use outdoor furniture with custom created cushion covers. Don't be afraid to do something unique, it's your yard after all! A fun space is an inviting space for young and old.
If you're looking for some inspiration, take a look online or even visit some resorts and see how they have styled their outdoor spaces. Chances are they have used similar items that you can also use to suit your needs.
Conclusion
There are many ways to make your outdoor living space more inviting and resort-like. With just a few simple changes, you can turn your backyard into an oasis that you and your family will love.
Outdoor living spaces are becoming more and more popular, particularly over the last couple of years where it's become evident socializing outside in fresh air is a safer option. More people than ever before want to spend time outside, either in their own outdoor space or in outdoor cafes that offer outdoor seating options. We trust this article helps you transform your yard into a resort style oasis of your dreams.