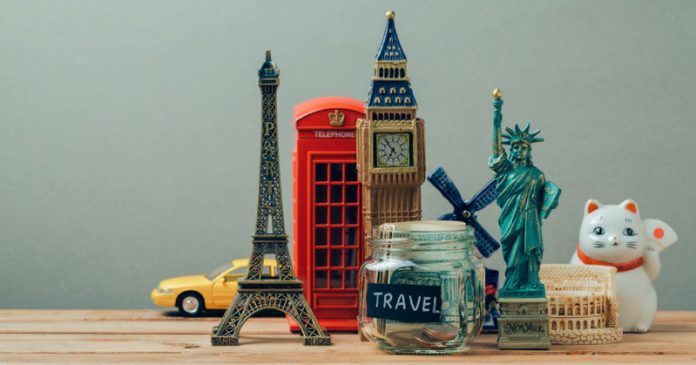 True travelers live out of their suitcases and go from point A to point B on a map.
On the other hand, most explorers require a secure location to return to after a lengthy journey. They need a home or apartment where they may rest at any moment.
What can you do to make that location genuinely one-of-a-kind? If you want your house to look like a home from a traveler's perspective, you should include memories from your excursions into the design. Use the online backyard design tool to see how your ideas turn out before implementing them.
We've compiled a selection of travel-themed living room inspiration so that everyone can discover something they enjoy.
Maps
Without a map, you can't get anywhere! Make a statement wall with a world map in your bedroom or living room, or hang it in your home office to inspire you to work hard and save money for more trips. Removable wall decals, string wall art, graphic art, and paper map art with lights, for example, can all be used to decorate your walls in various ways. To help you remember your travels, including photos of your favorite sites and destinations. Fortunately, you can do all of these decorating ideas yourself for little or no money!
Vintage bag shelves
Vintage luggage, for example, can be converted into a variety of furniture and aesthetic items, with many of them also functioning as useful storage areas. If you prefer, use one or two as bedside tables in your bedroom, or paint them to provide more color and style options. By simply adding legs to an old suitcase, you can transform it into an eye-catching storage option for your hallway as a console or table. All you need for a travel-themed display are your mementos and photos, and a suitcase can be converted into a shelf.
The gallery walls
What could be more personal than a gallery wall of your own trip photographs? Reliving my best memories and visiting beautiful locations inspires me more than anything!! A gallery wall can be designed in various ways, from an eclectic mix of frames to a more classic one, but it must fit the space you're working with. Metallics, stained woods, colored frames, and other distracting elements might make it difficult to focus on the photographs, so go for something more neutral.
Itineraries
Travelers try to plan their travels precisely to avoid unnecessary stress. They map out the route, book lodging, and calculate the amount of money they'll need for transportation.
You'll need a lot more planning and preparation if you're going on a long road trip. That's why creating a system for keeping track of your tasks is an excellent idea.
If you hang a metal grid on your wall with pegs and attach important documents like grocery lists and packing lists to it, even your airline tickets could get misplaced in the turmoil of a filled suitcase. It's a technique that's both basic and effective, as well as visually appealing.
Typography for the travels
A great method to add visual appeal to a room is to hang a sleek and expressive typographic poster on the wall. You can include inspirational phrases, wise words of wisdom, or just amusing one-liners on the posters.
Treasure shelves
The souvenirs you bring home from a trip serve as a recall of both your time there and the culture you encountered. Every single one of these items is worthy of a place on display. Which solution you choose will be determined by the aesthetics of your home.
You can create an industrial look with a metal pipe and aged wood shelving. The second alternative is to hang little wooden crates on the wall to display goods such as souvenirs in decorative frames. This will give your collection the appearance of something from a museum's permanent collection!
When it comes to bookshelves, every traveler should always have a collection of travel guides, atlases, and phrase books on hand. Get a one-of-a-kind bookshelf in the shape of a tree with branches extending outward or a wavy-design snail shell. It'll undoubtedly make a huge impact!
3D wall murals
Stunning mountain peaks, a lovely beach, a lush forest teeming with wildlife, or an African savannah drenched in golden sunlight are all options.
A gorgeous 3D wall mural for the living room is a terrific alternative if you want to include a major theme in your home design.
Choose the location from your trips throughout the world that have impacted you most. A view like that should be in your living room or bedroom. It's an excellent approach to keep your memories alive. Every time you see that photo, you'll be brought back to that same adventure.
Furthermore, you are not limited to pre-existing designs. True, the internet provides a treasure mine of gorgeous photographs from throughout the world, yet these images can be bland. You may get a 3D wall painting for your living room made from a photo you took yourself. As a result, you can be guaranteed that the interior design of your home is distinctive. Furthermore, the design will serve as a permanent memento of your visit.
Conclusion
Traveling is more than just getting from one place to another. It's a way of living that makes you think about things you'll remember for a long time every day. And each journey brings new things to do and a never-ending source of ideas that can help you build an amazing home arrangement that truly reflects who you are. Enjoy!