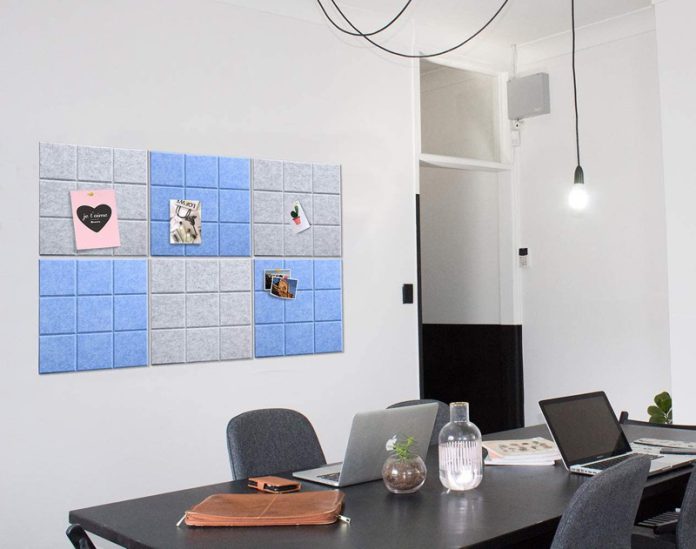 In recent years, countless employees have had to adjust to the working from home (WFH) model. While there are certainly many benefits to working from home, this sudden shift also caught many professionals on their heels as they struggled to cobble together a functional office in their homes. Luckily, there are many strategies to help you design an effective and comfortable home office. One of the most practical—and cost-effective—is by using a felt board in your home office. Easy to install on your walls, a felt board can help you get organized, add some color and warmth to your space, and even reduce unwanted noise. What's not to love?
But what exactly is a felt board? And how can it help you create a home office that actually works for your needs? Here, we're taking a closer look at felt boards and how these simple design features can help you create the ideal home office.
The Shift to Home Offices
While the 2020 pandemic forced countless employees across all industries to suddenly adjust to the work from home model, this wasn't the first time employees have worked remotely. In fact, working from home and remote working has taken off years before as the internet and digital tools made it easier than ever to communicate from practically anywhere in the world.
But this shift to working from home hasn't come without its own challenges. Many professionals have struggled with transforming part of their homes into a functional office. Whether dealing with space limitations, organizational issues, family members or friends, unwanted noises, or the ability to maintain a healthy work-life balance, this new model for getting work done can be tricky. But luckily, there's help. By being intentional with the way that you set up and design your home office, you can make your work from home life a whole lot easier.
What are Felt Boards?
A felt board is very what one would expect—a board you can hang on your walls that is made out of an innovative felt material. What makes these boards unique is that you have the option to design your own with individual felt tiles. By combining the tiles, you can bring your felt board to life and dictate the size, shape, and pattern. This means that felt boards are an ideal decorative strategy for any interior space—including your new home office.
Felt tiles are also available in a wide variety of colors, shapes, and patterns. This means that you'll have full control over how you want your felt board to look, making it easy to match with any current style or taste. Add a splash of vibrant color or craft a more neutral, professional atmosphere for the background for your Zoom calls. The choice is truly yours when it comes to using felt tiles to craft your very own unique and creative felt board.
Benefits of Felt Boards for Your Home Office
They look good, they're easier to install, and they can even help reduce unwanted noise. What else do felt tiles and felt boards have to offer for your own home office design? Well, just take a look at some of the amazing benefits of felt boards for your home office.
Easy to install: felt boards are designed to make your life easier—not harder. That, in part, is why they're so easy to hang up and install. In just a matter of minutes, you can step back and admire your very own felt board. Simply line up your first tile, remove the adhesive tabs, and press firmly against your wall or any hard surface. Repeat these steps with each felt wall tile and you'll have a felt board in no time.
Fully customizable: looking for an interior design option that fits your unique needs, style, and taste? Look no further. Felt tiles are great because you can customize the colors, shapes, patterns, and size of your felt board. You can even easily remove and reinstall your felt tiles to change and make updates as you go along.
Pinnable: not only do these tiles look good, but they're useful, too. The innovative PET felt material allows you to pin up any small items, including notes, reminders, photos, or bits of inspiration. Ensure you won't lose any small important items again by using felt tiles on the walls of your home office.
Sound dampening quality: unwanted noise can make working from home nearly impossible. This might be the greatest benefit to felt boards when it comes to designing your home office. The felt tiles naturally absorb incoming sound waves, working to reduce unwanted noise and help you focus, stay productive, and even enhance your creativity.
Durable and easy to clean: pinning and re-pinning items to your felt tiles may make you concerned about damaging your felt board. But don't worry. The felt material looks good but and is also durable and tough. Even better, your felt tiles are easy to clean. Simply dampen a cloth and rub gently. These felt tiles were designed to last as long as they're needed in your home office.
Conclusion – Benefits of Felt Boards for Your Home Office
Working from home can be great. Save time by avoiding traffic, stay comfortable at home, and avoid all those pesky water cooler conversations. However, working from home also comes with unique challenges. For many professionals, it's been difficult carving out a part of your home to dedicate as a new home office. Whether due to space constrictions, family, or having the right equipment, working from home can be harder than it looks.
Luckily, there are steps you can take to create a functional, and even enjoyable, home office. By using felt boards on the walls of your home office, you can stay organized, add an eye-catching effect to your walls, and even reduce unwanted noise. Felt boards in your home can completely transform your work at home experience, and who knows, might even make you not want to go back to that old office.