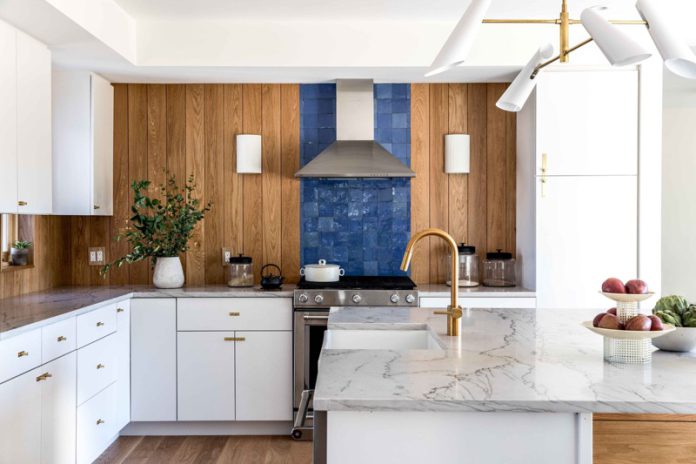 Popular for its aesthetic appeal and unmatched functionality, Quartz Countertops are becoming a solid reason to rethink kitchen modeling. They can transform the whole vibe of your kitchen & bathroom immediately– that too without giving a sizable dent to your account. Isn't it a total win-win?
You're sure to fall in love with the way your kitchen and bathroom look when you install a new variety of quartz countertops. With so many different types and styles to choose from, you will be sure to find just the right fit for your home.
Whether you want a white or black surface or large or small patterns, the market is overloaded with enough options. A majority of Quartz slabs available today have patterns and designs that blend well with the rest of your kitchen.
Crafted to be seamless and easy to clean, it's a perfect pick for countertops, bathroom vanities, bar tops, and more. But, one of the greatest concerns about quartz countertops is that they may crack or chip easily.
This write-up will walk you through some of the most practical & useful tips you can use to avoid such unwanted seams in Quartz Countertops. In addition to this, if you're quite confused between Quartz & granite, we will take you to one of the most detailed and elite guides that can help you in better decision making.
So let's get started…
What is Quartz?
Quartz is a super hard, chemical-resistant stone that is becoming an increasingly popular choice for kitchen countertops. Quartz countertop colors span from white to gray and can be built to accommodate a wide variety of variations in between.
Engineered stone countertops are not susceptible to heat or the elements, nor will they absorb foods or liquids as other materials do.
Why is Quartz so Desirable?
Quartz countertops bring unparalleled elegance to a number of homeowners, both for practical and aesthetic reasons. A quartz countertop can withstand vast amounts of heat and does not stain despite containing plenty of color in its natural state. Combine this with the infinite variety of shades and patterns; you have a stunningly beautiful stone.
Features:
Extremely tough and durable
Glossy shine surface
Anti-bacterial in nature
Stain and crack-resistant,
Available in multiple trendy colors & patterns
Easy to maintenance
Quartz stones are nonporous and won't stain or discolor.
They make a lasting investment in your kitchen.
Also read Quartz vs. granite guide to get detailed information on why Quartz can be a better deal for your kitchen remodel.
Quartz Countertops Prices
Brand (Full slab)
Price

 

 

Unbranded
Rs 15,000 onwards

Branded

Rs 25,000 – Rs 28,000 onwards
Premium Brands
Rs. 85,000 onwards
Why Quartz Countertops Have Seams, And How To Avoid Them
Quartz is a wonderful stone, and many people are choosing this material for their countertops due to its durability, beauty, and resistance to heat and water. Unfortunately, each Quartz slab is hand-cut. This means that the pattern and shape of the material will vary by stone, resulting in seams sometimes. However, there are ways to make seams virtually unnoticeable.
As a result, one of the most prevalent concerns is the presence of seam lines in the finished product. Seams are almost unavoidable in quartz countertops. Why? Quartz is manufactured differently than granite.
While most granite slabs are cut from a large piece of stone, Quartz has to be pieced together because not enough natural stone exists in the world to create a 7-foot slab of perfect Quartz!
Thus, Quartz is more prone to seam.
How To Fix Seam In Quartz Countertops
In a perfect world, seams don't exist. But in reality, they do.
Avoiding seams is an important practice in maintaining the look of your countertop or sink. Quartzite does not traditionally have seams, but the stone is often fabricated, and shatterproof glass chips are added to the surface for a consistent look.
Here are some useful tips you can incorporate to keep your Quartz countertops beautiful and always functional.
Cutting Down Seam Visibility
Seams are unavoidable when binding two pieces of Quartz together. While it is impossible to avoid seams altogether, we can help minimize them by using thin strips and by stitching on the backside of counters only where they will be covered.
As discussed earlier, each Quartz slab is hand-cut. This means that the pattern and shape of the material will vary by stone. However, there are ways to make seams virtually unnoticeable. A seamless quartz countertop can be achieved by pairing stones in complementary patterns or working closely with your builder or salesperson.
These seam lines can be concealed very well in a stone with a similar pattern, to the point where it may not exist at all.
Working with your stone fabricator ahead of time can help you get great-looking quartz. They will cut each piece of stone to fit precisely together, and in a way that prevents seams from being visible. The goal is for the seams to be just not noticeable or difficult to see.
Fixing Bad Countertop Seams
Sometimes, the most natural way is not always the best way. For example, quartz countertops are all about aesthetics, and their very nature makes it a bit difficult to obtain perfectly matching seams. If you have ever experienced this problem yourself, you probably know how daunting it can be to find a solution. After all, epoxy and resin are not exactly something that most homeowners can easily find in their toolbox.
Remember, uneven seams are common in natural stones such as marble and Quartz. Although it is not really considered a safety hazard, it can be uninspiring and unsightly. Fortunately, uneven seams can be treated.
You can restore your countertop piece with a filling method that is easy, fast, and reliable.
Quartz Countertop Seam at Sink
Seamless quartz can be a beautiful addition to your home, but hard water can dull the surface and leave an unsightly residue. Quartz countertops are durable and strong, but hard water can result in scaly build-up if not routinely cleaned. In addition, if the hard water stains are allowed to sit, they will dull and discolor the finish of the Quartz.
In addition to making your kitchen look dirty, these stains can add an uneven appearance to quartz seams. If your sink has hard water buildup or if you want to ensure your quartz countertop remains in pristine condition, you should use the proper process to clean it.
If your sink has a quartz countertop with an uneven seam, you need this clear liquid gel. This will fill the insides of the seam after the cleaning so no debris or buildup can form inside the seams again.
Wrap Up
Since the kitchen is the heart of the home, it should be functional, comfortable, and easy to work in. Your kitchen countertop is the center of activity in your home. It's where you prepare food, mix drinks, and share meals with family and friends. Choose a slab of stone with barely noticeable seams, like this one, and you can create a surface that looks like no seams exist.
In this post, we discuss with you what it takes to create the ideal kitchen for you, including how to fix seam in a quartz countertop.
Keep in mind; your countertops can make or break the aesthetics of your kitchen. Shabby work can make your space look unkempt and unpleasant. Rather than living with this problem, consider replacing your countertop flaws with smart countertop solutions that are so easy to your pocket.