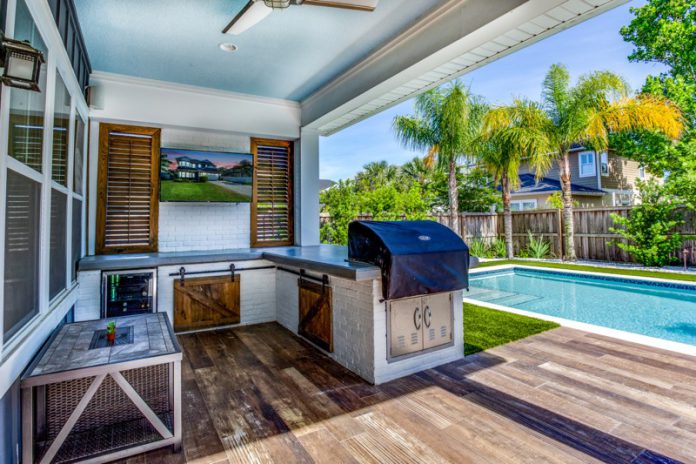 Do you love spending time relaxing and cooking up a storm in your backyard? If so, then why not level up your outdoor living space by building an outdoor kitchen? This idea is fun and can give your outdoor experience a whole new level of enjoyment.
An outdoor kitchen is an excellent way to spruce up your yard and make it more functional. Not only will you be able to show off your cooking skills, but you'll also get to enjoy the fresh air and sunshine.
While building an exterior kitchen is a big project, it doesn't have to be expensive. Here are some tips on building an outdoor cooking area on a budget:
Plan Your Design
Before you start buying supplies or tearing down some outdoor structures, take the time to plan out your design. Decide what kind of cooking station you want, what materials you'll need, and how much space you have to work with?
There are different types and styles of outdoor kitchens. You might want a basic setup with just a grill station and sink. Perhaps you could go all out and include cabinets, mini-fridge, and counter space for prep work. Alternatively, adding some unique structure like a fire pit could be a fun addition to your backyard oasis.
This fire element is a multipurpose item as it can serve as a place to grill, socialize, and relax while warming up during chilly nights. This means you could technically get away with one big focal piece and save on the rest of the kitchen appliances. While fire pit costs may vary based on the model, designs, and materials, you can still choose from the best fire pits in the market that can fit in with your budget.
Once you have a clear vision of what you want, draw a blueprint or sketch to help with the actual construction. This approach will help you get an accurate estimate of how much the building project will cost. More importantly, planning everything out in advance may avoid making costly mistakes.
Choose Budget-Friendly Materials
The materials you use for your outdoor kitchen will significantly impact the overall cost. It's one of the most critical aspects to consider when building your exterior kitchen on a budget. So, it's best to select construction materials that offer cost-effective value without sacrificing quality.
There are plenty of inexpensive building materials for your outdoor kitchen. Concrete blocks, wood, and tiles are the most popular ones. Each material has unique benefits that make it an excellent choice for an outdoor kitchen. Let's take a more detailed look at each one of them:
Wood is excellent if you want a more traditional and rustic look for your outdoor kitchen. It's also one of the most economical materials you can use. You can find a variety of woods like cedar, maple, reclaimed, and pressure-treated pine that are weather-resistant, durable, and perfect for an outdoor kitchen.
This material is suitable for structures like countertops, cabinets, and shelves. Just ensure to properly seal and protect the wood from the elements to prolong its lifespan.
This material is a viable option if you're looking for an inexpensive way to build your outdoor kitchen. Concrete blocks are widely available and easy to work with, so you can quickly put together your cooking station. Plus, they're durable and can withstand harsh weather conditions. You can use this material for flooring, walls, and even the countertop.
Tiles are another popular material for outdoor kitchens. They come in various colors, styles, and shapes to fit your design preference. This material is also easy to clean and maintain. You can also use tiles for the countertop, flooring, and walls. Moreover, tiles offer a more sophisticated look for your outdoor kitchen.
Repurpose Or Reuse Some Existing Furniture
As you want to think about what features you want in your outdoor kitchen, it's also helpful to look for things you can reuse or repurpose. Maybe you have old furniture collecting dust in the garage or basement. Why not put it to good use by giving it a new life for your outdoor kitchen?
There are many pieces of furniture you can use for your outdoor kitchen. For instance, you can turn an old dresser into storage space for pots and pans. Also, a table can be repurposed into a prep station or an old bookshelf as a spice rack. Just add some outdoor furniture accessories, and you're good to go.
The possibilities are truly endless. It only takes your limitless imagination and creativity to find new ways to use old furniture in your outdoor cooking space.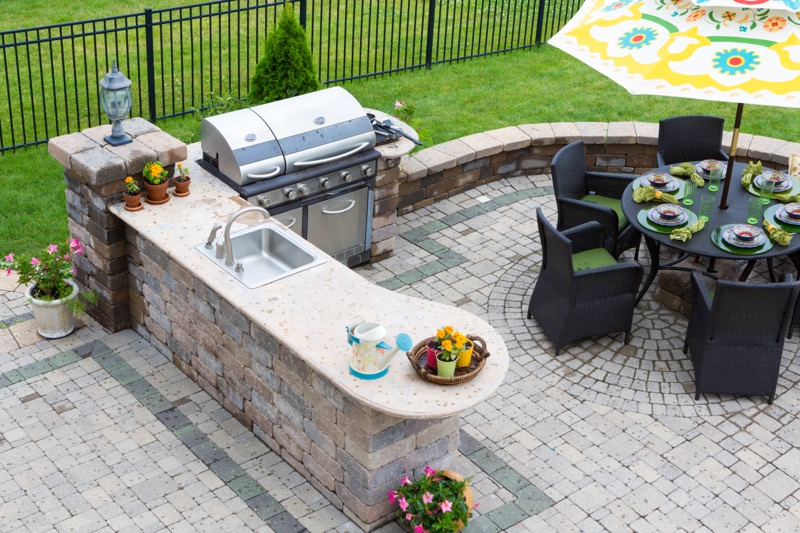 Use Cost-Effective Lighting Fixtures
Outdoor lighting can enhance the look and ambiance of your outdoor kitchen. However, it's vital to select affordable and energy-efficient lighting fixtures.
One of the most popular and cost-effective lighting fixtures in the market is the light-emitting diode (LED). LED lights are more affordable, energy-efficient, and long-lasting than traditional incandescent bulbs. You can use LED lights for the entire outdoor kitchen or just for specific areas like the countertop or even pathways. It's also best to hang this light to create a cozy and inviting atmosphere.
Moreover, this lighting fixture is easy to install and doesn't require special wiring. That means it can work with your existing electrical system. Choosing the right lighting fixtures for your outdoor kitchen can help you stay within your budget while still getting the look and feel you want.
Takeaway
Building an outdoor kitchen on a budget is possible with careful planning and execution. Just be creative, resourceful, and cost-conscious when selecting materials, furniture, and lighting fixtures for your outdoor kitchen.
Use the tips here as your guide to creating a beautiful and functional outdoor kitchen you've always wanted without breaking the bank.