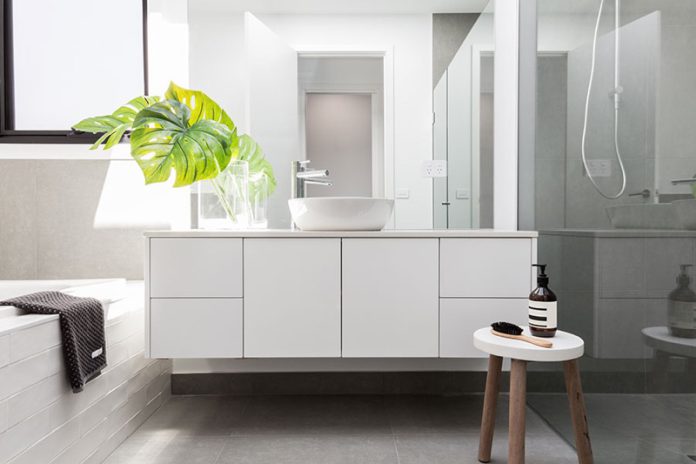 A bathroom vanity is much more than just a cabinet that holds your sink. It is a place where you start your day and keep some of the most important things.
The conventional vanities are rectangular attached to the wall. These vanities have a large open space underneath the sink to keep all your belongings. Furthermore, they typically have doors that keep all the plumbing and storage spaces hidden.
However, there are also some unconventional types that you might like to have in your bathroom.
Corner Mount: These types of vanity are mostly used in small bathrooms with limited spaces. They are usually installed at the cornet with a single door or drawer.
Console: The console is the old style vanity, where the sink rests on the supported legs, and the bottom is all exposed.
Freestanding: This type of vanity is free and simple stands connected to the wall. They have all the spaces you need and, if needed, can move from one bathroom to another.
Wall-Hung: This is the new vanity style super cool and is installed from the walls. These bathroom vanity cabinet are mostly used to improve small spaces to make them feel large.
How To Choose A Bathroom Vanity?
Bathroom vanities are the centerpiece of your bathroom. The style of your vanity can help you bring the whole space together.
But, how do you choose the right style?
Having the right vanity in your bathroom can make all the difference. But buying the wrong vanity can be an expensive mistake.
Hence, it is important that you do thorough research before buying any new vanity.
Below are a few tips that will help you choose the right Bathroom Vanity.
Tip 1: Consider Your Needs
The very tip which we are about to give you is quite common. In fact, you already know about it. The very first thing you need to consider before buying a vanity is your needs. Every individual has different needs, and different needs ask for different vanity and storage space.
The best way to filter what kind of vanity you need is to think about people who will use the space more often. For instance, if you share your home with someone, you might need an extra sink or more storage to keep all your things together in one place.
Tip 2: Measure Your Space
The next important tip is to measure the area where your vanity will be fixed. There are different vanities in different shapes and sizes; you would want to have one that perfectly fits your bathroom – not too big, not too small.
To ensure you are not making any mistakes with size, it is important that you take measurements of the space and look for obstacles that might prevent you from placing the vanity in the place.
In fact, even after the vanity is in place, you would want plenty of space available around the vanity for easy navigation.
Tip 3: Know Where Your Plumbings Are
Before you buy a vanity, know where your plumbings are. Plumbing is an important part of vanity because of the connected sink. Depending on your plumbing, you might have limited options or space to work with.
And if you decide to make the necessary changes in your plumbing to fit your vanity, the changes will not be cheap.
Hence, it is important that you know what you are doing. If you have enough budget to make the necessary plumbing changes, GOOD. If not! You have to be content with all the limited options available to you.
Tip 4: Decide On A Sink Style
Sink styles are one of the most eye-catching things on a vanity. However, knowing there are thousands of designs available in the market, it becomes hard to select one.
The best way to come out of this dilemma is to think about your vanity design and what type of sink would look good instead of thinking about a sink individually.
Tip 5: Decide On A Storage
Do you know why most people add a vanity or upgrade their old bathroom? It is because of lack of space. From cleaning products to cosmetics, people keep many things in their vanity. If you do not have enough space, your bathroom can feel and look cluttered.
However, the size of vanity can become limited if you have a comparatively smaller bathroom. This is where you need to decide the right size and for what products you need a vanity. Knowing these two parameters will help you select the right vanity for your limited space.
Tip 6: Don't Forget About The Faucet
Depending on the style you choose for your vanity, you might not find the right faucet right away. Unfortunately, this happens to almost everyone.
However, it is understandable when you are going with a customized design. Hence, you must ensure that you are planning hard enough to include the faucet in the design as well.
If the faucet doesn't come with the vanity, leave a hole for the faucet. Talk with the professionals and manufacturer to get the right faucet for your vanity.
Tip 7: Pick The Countertop Material
You want your bathroom to be both durable and stylish. This is where you would want to have high-quality countertop material that can actually handle tear and wear better than others.
While selecting the right countertop material, consider who will be using the bathroom and what styles they would enjoy.
Different countertop materials have come with different pros and cons. Hence, be vigilant about what you choose and how they will last in your bathroom.
Deciding Which Bathroom Vanities Are Best For You
Your bathroom vanity is a sacred place in your vanity. It houses all the things you need in your bathroom. In addition, it helps the space look more attractive and functional.
Once you list down your needs and examine your current bathroom, you will have an idea of what you need in your bathroom. While creating the list, consider how often your bathroom gets used and who uses it.
Depending on the size of your bathroom, you might have to compromise on the storage space and what you can use your vanity for.