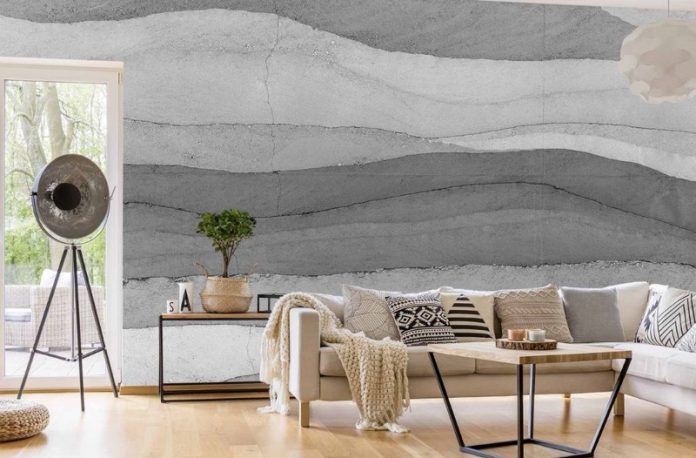 The concrete-effect wallpaper trend has been rising due to its aesthetic and functional qualities. But what are the traits of an excellent concrete-effect wallpaper? It's important to know since there are so many different brands and manufacturers on the market today. If you're looking to redecorate your walls or refresh your existing concrete wallpaper, take note of these qualities first.
1. Professional Quality Wallpaper
Many homes take a design with both form and function in mind in today's modern world. Your concrete effect wallpaper needs to look good, but it must also be safe and functional. If you want quality that lasts, take some time to identify professional quality wallpaper. A few qualities separate professional quality from others on the market. Professional quality wallpaper should have a safe VOC emission rating.
Using a material with a safe VOC emissions rating is especially important if you plan to install wallpaper in any room where people spend significant amounts of time, such as bedrooms or living rooms. It's also crucial if pets or children are present in your home. An A+ + or lower VOC emission rating means that harmful chemicals were not part of the production process. Using a safe fire-rated material is also crucial.
2. Easy to Install
Easy installation is perhaps one of the most important qualities any homeowner should consider when shopping for wallpaper. Some wallpaper can be tricky to install, presenting big problems due to a poor and messy outcome. When looking at different styles and textures, look for one that comes with easy-to-read instructions.
Make sure you understand the installation process, and you can get help if you need it. Then, follow those steps to keep installation as easy as possible. You don't want to start your home decorating project only to find out you're stuck on Step 4 because you didn't quite grasp Step 3. An easy-to-install concrete-effect wallpaper is a way to go!
3. Quality and Stylish Seams
Seams are one thing that many people overlook when shopping for wallpapers, but they can make or break an entire room. Check out walls with concrete and metal wallpapers, and you'll quickly notice how prominent their seams are; if they're not smooth and even, they'll draw your eye to them instead of creating an aesthetically pleasing environment.
It's therefore essential to look for high-quality paper that has perfectly matched edges and is completely free of bubbles or wrinkles. It's also crucial to note that matte finishes are more likely to have visible seams than glossy papers.
4. HD Print Quality
Check the resolution and print quality when looking for quality printed concrete-effect wallpapers. Lower resolution images tend to show pixelation when enlarged. On the other hand, higher resolution wallpapers will be able to cover a larger surface area without showing any signs of pixelation.
The best way to ensure HD print quality is to read reviews from fellow consumers and check the product information before purchasing. If you're still unsure whether a wallpaper image is of high quality, ask a wall decoration professional in your local area to inspect it.
5. A Variety of Patterns and Designs To Choose
There are many different patterns and designs that you can find in concrete-effect wallpapers. Some are more neutral, and some have bolder colors. For your home décor, having an option with more muted colors can be helpful because they'll match more things.
Also, if you tend to change up your design often or you like throwing in some fun splashes of color often, go with a concrete-effect wallpaper that has bolder options. The first thing you will want to consider is how big your room or area is. There are many variations in size and style, so make sure that you get something that fits what you want and needs.
6. Resistant to Light- Lightfastness
If you're looking to decorate your home with something unique, consider using concrete-effect wallpaper. Since concrete-effect wallpaper is helpful in high-traffic areas and some kitchens, it must hold up against environmental wear and tear. Lightfastness measures how well pigments resist fading when exposed to light, so look for papers with UV light protection. Likewise, more coloring can lead to a deeper appearance, so choose wallpapers with at least 65% pigment to get one with a rich coloration.
Conclusion
Concrete-effect wallpapers are ideal for any home decor. However, before buying one, keep in mind that quality is just as important as style. The best paper will look concrete, last longer than other types, and be easy to clean. Remember to checkout for these qualities and test several wallpapers out until you find one that ticks all your boxes! Have fun shopping!