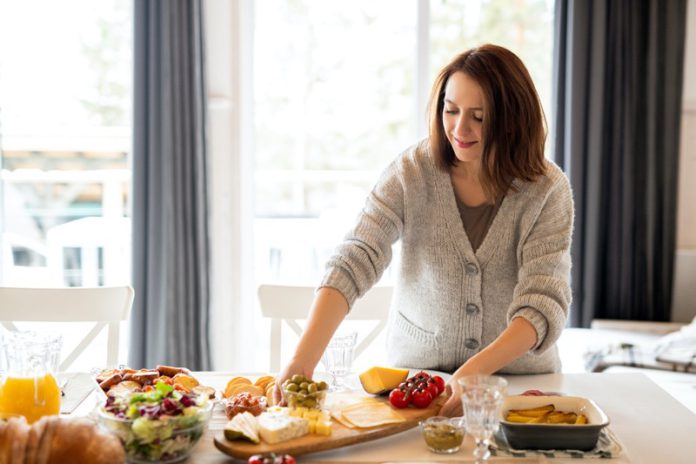 You want to design the perfect dining room, but you're not sure how to do that. Before you grab the paint buckets and fabric swatches, you should read this first. You'll want to get these essentials first.
1. A Convertible Table
You'll want your dining room table to be a convertible one. Why? A convertible table allows you to adjust your table to match the number of guests that are coming over.
If you're hosting a family reunion or big holiday party, you can lengthen the table to fit everyone in one spot. You don't have to drag a bunch of mismatched tables and chairs into your dining room to accommodate everyone—or worse, split up the party into different rooms!
Whenever you're not hosting, you can shrink the table down to a smaller size so that it has the right number of seats for your household. You don't have to sit far apart when you're sharing a homemade meal or playing board games together.
Where can you find a table like this? A website like Transformer Table has dining sets that can expand to larger sizes to suit your needs. They have sets that can expand to up to 12 seats. And they don't sacrifice style for convenience! Their sleek dining sets come in gorgeous finishes like Australian Acacia, American Mahogany and Canadian Dark Oak. Choose the finish that fits your interior design vision.
2. An Area Rug
Now that you've picked out a dining set, you'll want to find an area rug to place right underneath it. An area rug gives you an excellent opportunity to add a pop of colour, pattern and texture to the room. It also serves a great practical purpose: it will be a protective boundary between your dining set and the floor. You won't have to worry about scraping the floor when you push your seat back.
The type of area rug that you choose is important. You'll want something with a low pile—a high pile rug, like a shag rug, will be the wrong fit for the room. It will provide too much resistance when you want to adjust your seats.
You should also be careful when choosing rug colours. While going for a white rug might seem like a good idea, you have to remember that white will quickly turn brown or gray from dirt and dust. A white rug will also collect terrible carpet stains whenever someone spills their food or drink onto it.
3. Mood Lighting
You should install a dimmer switch in your dining room. A dimmer switch will allow you to adjust the brightness of your overhead lighting and match the mood of the occasion. During a family board game night or weekday dinner, you'll want the lighting to be bright. During an elegant dinner party, you'll want to bring the lights down low, like you're at an upscale restaurant.
4. A Little Flair
You don't want to overwhelm your dining room with décor. You can show off your personal style with a few key pieces of flair. Hang a large piece of artwork against a wall. Dress the table with seasonal centrepieces. Choose window drapes in a dramatic colour.
You don't need to go overboard—you just need a little something to complete the room and make it uniquely yours.
Once you have all four of these in your dining room, it will feel absolutely perfect.