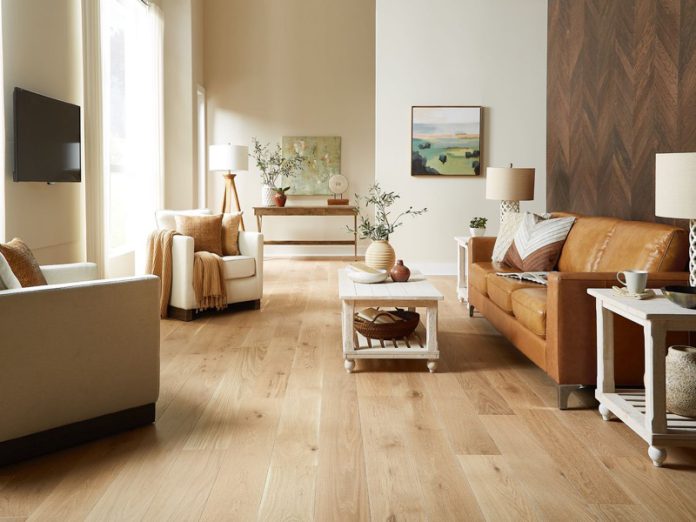 One of the challenges in home decoration is the floors. It's easy to paint your walls, hang a picture, or buy cheap furniture if you are on a budget.
But floors are bigger and replacing them is costlier.
So to help you in your search, this article will tell you about the common types of flooring you can use for your home.
Types of Flooring to Consider
There is no single flooring material suitable for every type of space. Hardwood, for example, is popular because of its classic look but is not suited for rooms with constant moisture.
So it's best to examine popular flooring materials to determine if they are best suited for your house.
Hardwood
People love hardwood flooring because it can go well with any style or décor. It's also very durable, and you can refinish it at least five times if it has any scratches.
The only problem is hardwood warps when exposed to moisture for a long time. So it's not a good idea to install them in bathrooms or the laundry room.
Hardwood flooring is best-suited in halls, bedrooms, living rooms, or places that don't get too much foot traffic.
Engineered Wood
Engineered wood is constructed by placing a natural wood veneer on top of less expensive plywood, And just like solid wood, it can come in different varieties of wood types, board widths, and patterns.
The obvious advantage of engineered wood is that it can give you the look of solid wood at a much lower cost. You can even install some directly on the concrete subfloor, which is something that hardwood cannot always do.
Unfortunately, it's not as durable as solid wood. And, sometimes, you can only refinish it once.
It goes well in the same places solid wood is best suited.
Vinyl
Vinyl is a flexible flooring material softer than hardwood or tiles. It can come in several forms, like sheet vinyl, a large sheet of flooring you unroll, cut, and glue to your subfloor. There are also luxury vinyl planks, which click into places like engineered wood and thick vinyl, textured to look like wood or stone.
Vinyl is durable enough to withstand moisture and heavy traffic. It is also soft and warm to walk on.
Unfortunately, cheap vinyl will have fewer colors and patterns, making them look bland and appealing. You can't also refinish it once it's worn and torn out.
Vinyl flooring is best suited for bathrooms, kitchens, laundry rooms, or wet spaces. You can also install it in mudrooms since it can handle plenty of traffic.
Ceramic Tiles
Ceramic tiles are hard materials made from clay and shale, which can come in different shapes, patterns, and colors.
There are typically four types of ceramic tiles:
Glazed tiles – Ceramic tiles coated with glass-like materials so they can give any color texture.
Porcelain – A type of ceramic tile fired at high temperatures to make it more durable. It can either be glazed or unglazed.
Quarry Tile – An unglazed ceramic tile with a rough texture to make it more slip-resistant.
Terracotta – These are unglazed ceramic tiles that come from earth stones.
Because ceramic tiles can have  many varieties and designs, it's possible to incorporate them with any style. You can also create unique patterns using different types of tiles.
But, they can be cold and hard to step on with your feet. And makes your footsteps louder.
Ceramic tiles are best suited for heavy traffic spaces like your kitchen and mudrooms.
Conclusion
It's essential to choose the right type of flooring for your home. Choosing the wrong one can lead to costly renovations, which is the last thing you need for your budget. So if you know anyone who's having a hard time choosing the type of flooring for their home, share this article with them to let them know what kind of flooring is best.