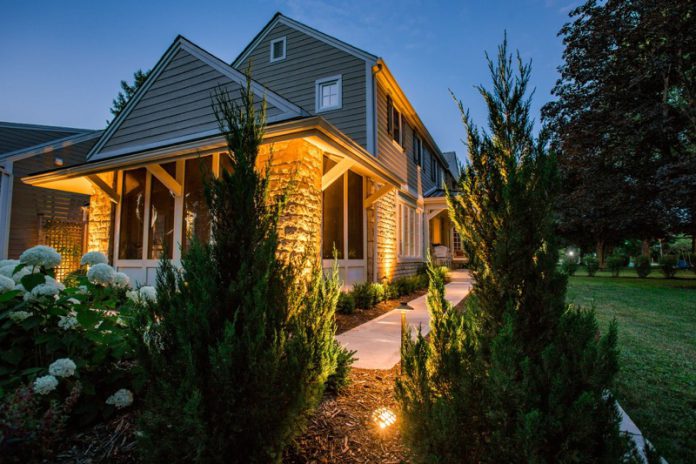 Gardens are attractive on their own during the day, but with the correct illumination, they can become even more captivating at night.  Garden lighting can provide accentuation, highlight garden features, add safety and security to your home, and allow you to enjoy your garden well into the evening hours. When planning garden lighting, there are a few key things to keep in mind:
#1. Consider what you would like to draw attention to.
Lighting can be used to draw attention to specific elements and make them stand out, or it can be used to create a more romantic mood for your garden makeover. You may also illuminate walkways in your garden so that visitors can navigate their way around it more easily at night.
#2. Take into consideration the design of your garden.
While there are many different types of garden lights available, each has its own distinct style and feel, which is determined by the materials used and the way it is mounted in the garden. Some garden lights, for example, can emit a soft, warm glow, but others may be brighter or more modern in appearance, depending on their design. Select lighting that will blend in with the overall design of your garden makeover.
#3. Look for outdoor lights that are long-lasting and resistant to the elements.
Due to the fact that garden lights are exposed to the elements, it is critical to choose lights that can survive the wind, rain, and sun. Remember to read the product specifications to see whether the garden lights you're considering are rated for outdoor usage, and if so, whether they should be set under an overhang or in a sheltered location to avoid being damaged by the elements.
#4. Experiment with different types of garden lighting to achieve a variety of effects.
When it comes to garden lighting, there are numerous alternatives to choose from, including string lights, floodlights, garden lanterns, and garden torches. Blingle! offers a wide variety of options for you to select from. Be sure to stop by Blingle! Nashville for garden lights that will wonderfully highlight your garden remodel while you're in Nashville. Through trial and error, you can create a style that complements your yard and helps to create the perfect atmosphere for any occasion. Your garden will be a true paradise of beauty and charm at any time of day or night if you have the proper lighting installed in it.
Garden lighting does not have to be prohibitively expensive in nature. Generally speaking, garden lights may be found at any hardware or home improvement store, and many internet retailers provide a large selection of garden lights for purchase. Just make sure to take all of the variables listed above into consideration before making your final decision. If you have any queries or need assistance incorporating lighting into your garden makeover, you should consult with a garden lighting consultant for experienced guidance and recommendations. Your garden will be illuminated and ready to host guests at any time of day or night if you have the proper garden lighting installed.