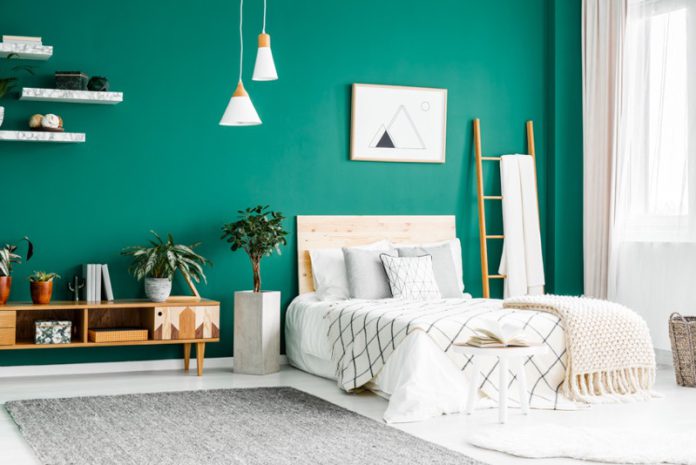 When we talk about the term "green bedroom," we are not referring to the colour in any way. On the contrary, we are trying to highlight a certain type of lifestyle or way of living.
To be honest, it is about the concept of responsible living, where you are not just decorating your room but decorating your room in a holistic way that promotes organic living.
You are choosing your favourite aesthetic while planting a few plants and protecting your planet. If you are someone not remotely acquainted with a green bedroom, in this excerpt below, we will be giving you some of the extraordinary ideas for curtains that will perfectly fit your 'green room.'
Now, you must be thinking:
Do we need to match our curtains to the organic room?
Well, we will not just talk about colours that will accentuate your plants. Instead, we will also be giving you some expert suggestions for curtains that will make your organic bedroom even better.
So, sit back and take notes!
What Is A Green Room?
Yes, there is no harm in painting your entire organic room green. However, when it comes to the paint, needless to say, you should go for the organic one. The one that doesn't reek of chemicals.
A green room is a more fashionable name for an organic room in an eco-friendly home. This is because organic matches the aesthetic of our green Earth.
Here are some of the other notable elements of an organic room which you can experiment with.
Organic materials like jute and bamboo are the signature materials with which most of the accent pieces are made off.
Plants are the essence of an organic room; you are just breathing fresh oxygen when you enter this room.
There is no item made of hazardous plastic in the room.
Any candle or a room freshener should be made of something which is not chemical or paraben.
You check the background history of all the products you buy and ensure that they are vegan and animal cruelty-free.
Curtains For Your Green Room
Now that we have reached the most interesting part of the article, we have been able to scour through the internet, and get some expert advice, and here are five curtain ideas that will be able to accent your 'green room.'
Linens Are the Best
Linens are the best material that can decorate your organic room. Most of the handmade linens are made of natural materials, and disgusting chemical dyes aren't used on them.
Plus, in an organic room with bamboo and jute products, linen curtains are going to give you the most idyllic view. Plus, the material is convenient enough to block the bright sun on a summer afternoon and prevent you from burning into crispiness.
The sombre white and cream colours are perfect if you have a "green bedroom," organic and coloured.
Minimalistic Design
Nothing speaks more organic and holistic other than minimalistic design. Hoarding things in a room to the point that it clustered doesn't really indicate Organic or green.
So, whenever you are looking for curtains, go for straight lines and solid pastel colours, and do not select something which has overwhelming patterns.
Minimalistic speaks a lot of your clear and free mind, plus it accentuates your 'green room' the best.
Get Some Nature In
If you have a lot of plants in your organic room, then you can turn your green room into a sunroom as well.
On a lazy afternoon, this could be the place where you come and relax and read a book in the natural sunlight.
Therefore, you need curtains that look aesthetic but also let mild sunlight in. Plus, you cannot keep the blinds open all the time because that will make the room an oven. So, the best pick would be white net curtains with elegant patterns.
Yes, I can already see you imagining it, and it looks gorgeous. Your plants can also soak in that sunlight.
Neutrals All the Way!
Neutrals are a good colour choice when it comes to a "green room". According to the latest interior decoration trends, neutrals and sombre colours are in now.
Especially colours like lilacs, baby pinks, and pistachio blues. Or, you can go for more neutral palettes like nudes, beige, and even certain shades of brown.
Whatever you choose, ensure that it is not hampering the outlook of your organic room and matching the colour palette.
Natural Wood
Natural wood is probably the best material with which you fit in your organic room like a puzzle piece.
You can have bamboo green curtains or even wooden beads curtains. Some other choices could also be wooden or bamboo blinds which can give your room that rustic countryside look.
Things To Consider Before Choosing The Company
There are certain elements which you should look for before you go and choose a company to purchase your curtains. If you wish to have something holistic and help the environment, you should take some time out and do the rightful research.
Check for the material with which they are making the curtains. Ensure that they are cruelty-free and don't use chemical dyes, which aren't just bad for the environment but also for the workers.
Check the background of the worker as well. Are they paid the rightful wages? Are they manufacturing the curtains in the right environment? Is it fast fashion? These are important.
Ensure that the materials are eco-friendly so that when you dispose of them, they are not harming the environment in any way.
Do they have other green practices for their company where they take the time out to do something for the planet themselves?
Choose Wisely!
Having an organic green room is an excellent way to do something for the planet.
Be a responsible citizen of the Earth.
Be a proud Earthling.
So, your choice of curtains should also reflect that as well. Choosing your curtains doesn't have to be such a complicated decision.
Just ensure that the curtains match the room's mood, and the manufacturers match your wavelength of saving the planet together.