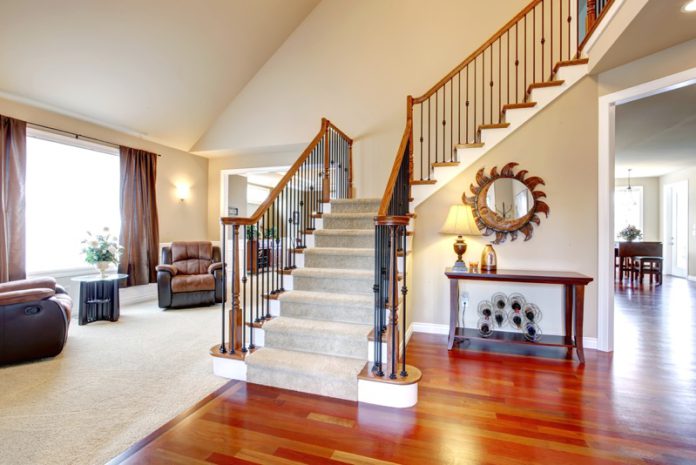 Comfort and safety are two of the most important factors while oscillating stairs. And for this carpeted stairs are the ideal option at present.
However, since stairs are the busiest area of ​​a house; dents, stains or spills spread here very quickly. None of us like to see dirty or damaged stairs. In this case you can think how to protect carpeted stairs?
The fastest and safest way to keep carpeted stairs safe is to clean up spills and stains every day with Vacuum Cleaners for Carpeted Stairs. It is also very useful to install stair treads or protectors and even carpet runners. If all else fails, then replace the carpet.
For your convenience, we will try to highlight some of the most effective methods that will help you to protect carpeted stairs. So let's get started.
We'll tell you five practical strategies to safeguard your carpeted stairs in this post. Examine each choice for advantages and disadvantages, as well as the finest items available.
5 Effective Methods to Protect Carpeted Stairs
If you have a good idea of ​​the methods used to protect carpet stairs, then you can keep the carpeted stairs clean as well as useful for long time use. Let's learn about some great ways.
Discovering how to maintain carpeted stairs in a practical and acceptable manner will help you maintain your stairwell looking current and tidy. You might be able to extend the area for several years. Here's how to maintain your stairwell in top shape.
1. Clean Spills Immediately and Regularly
Due to the stairs being a very high-traffic area, there may be spills, especially liquid spills. Liquid spills are the worst because it makes the carpet damp.
amotaobsthai If carpeted stairs are not cleaned immediately, bacteria or mold can grow there. So it is very important to clean it quickly.
You must use approved carpet cleaning products for cleaning. You can also make a home-made cleaner at home with a combination of baking soda, vinegar and salt. However, if there are large spills, it is better to use a carpet steamer or cleaning machine.
2. Vacuum Stairs Daily
A study on cleanliness found that the best way to maintain a carpet is to do regular cleaning in the right way.
One of the best ways to clean carpeted styles is to do regular vacuuming. This protects the soil particles from scratching the fibers and eroding quickly.
Buying a small and portable vacuum cleaner for cleaning stairs would be most ideal. Vacuum your carpeted stairs at least once a week. This will help your stairs to survive any debris and dirt accumulation.
3. Get a Carpet Protector
There are some people who are not in favor of carpet protectors. According to them, it spoils the beauty of the carpet. But sometimes there are situations when it is necessary to use.
When it comes to protecting your carpeted stairs, using it may be a wise decision for you. You can use it when there is any repair work going on in the house.
Carpets are more likely to accumulate dirt on busy days, so using a protector will help prevent any dirt or stains.
4. Get a Vinyl Carpet Runner and Install it
A special difference between a vinyl carpet runner and a carpet protector is that where the carpet protector hides the beauty of the carpet, the vinyl carpet runner reveals the beauty of the carpet as well as protects it.
Install vinyl runner on the carpet and you can easily clean it later. Most of these are available at affordable prices and all of them ensure superior protection.
5. Hire Professionals to Clean Your Carpet
Carpet stairs must be cleaned daily. However, thorough cleaning should be done once a year if the question arises. And in that case you can take the help of professional cleaners.
This will help clean up the dirt hidden in the hidden areas of the stairs and lengthen your carpeted stairs.
Professionals use sophisticated equipment to perform these tasks. So if you want good and effective cleaning then you can hire professionals.
Closing Words
Maintaining carpeted stairs is critical for enhancing the material's life and ensuring individuals safe from falls. You can keep your carpet looking great for years by taking good care of it. There are several practical techniques to safeguard carpeted stairs, ranging from regular cleaning to carpet replacement for a more efficient option.
Have you found what you require to maintain your carpeted stairwell safe? Please let us know if you enjoyed reading this post. Leave a remark or share our advice with your friends.