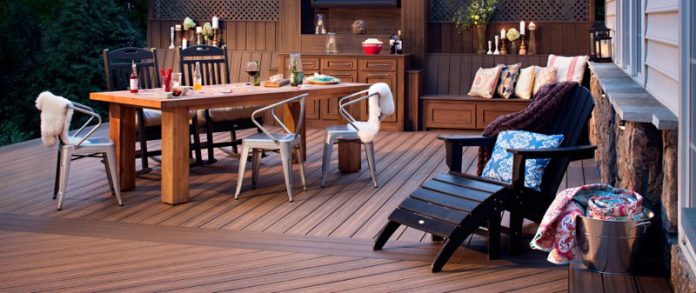 Composite decking is routinely compared to wood decking from every conceivable aspect.
These tw           o have been engaged in conflict for decades. Especially now that composite decking materials have vastly improved, making comparisons much more favorable.
Let's take a look at some of the most commonly compared characteristics.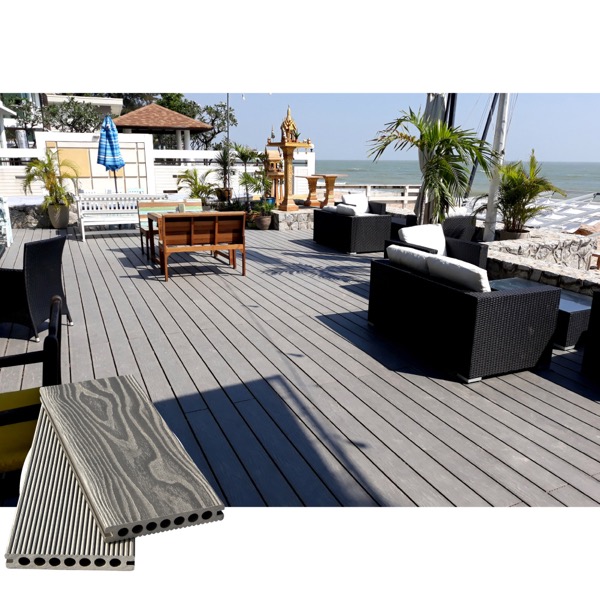 Expenses
Composite Wood Decking
The average cost of composite wood decking ranges from $18 to $40 per square foot depending on the quality of components.
The cost of WPC decking varies depending on the manufacturer. Despite the fact that composite decking is typically more expensive than wood decking, you should not allow the price deter you.
Here is why…
Composite deck boards is a one-time investment that does not necessitate ongoing maintenance costs. Without the need for maintenance procedures such as sanding, varnishing, and tinting, you can save more money.
This is why composite decking is considered to be more economical than wood decking.
Wood Decking
The cost to install a pressure-treated wood deck is $15 to $25 per square foot .
Wood decking prices are highly dependent on the selected wood's quality. Typically, softwoods, such as pine and cedar, are less durable than hardwoods and are therefore cheaper.
If quality is your primary concern, you should choose hardwood, but be aware that the price will be greater.
Here is a crucial point to remember.
Remember that wood decking requires long-term maintenance, and expert maintenance can be costly. Otherwise, the maintenance costs will soon exceed your initial investment, rendering it unprofitable.
COMPOSITE DECKING VS. WOOD DECKING COST
Decking Type
Average Price Per Square Foot
Composite
$18 – $40
Pressure-Treated Wood
$15 – $25
Cedar Wood
$30+

Installation
Wood Plastic Composite Decking
Wood plastic composite decking is typically simple to install and requires little skill. According to the type of composite decking, either hollow or solid, additional installation accessories are required.
Even though composite decking is simple to install, do-it-yourself installation is not recommended, especially if you lack knowledge.
A pressure-treated wood frame is required to provide adequate stability for composite decking.
Wood Decking
Similar to the installation of composite decking, installing wood decking is simple and straightforward.
Typically, concealed fasteners are utilized during installation to provide enough anchoring force.
Installation requires certain expertise, like frame construction, leveling, and screw drilling for a flawless result.
For satisfactory wood decking installation, it is therefore preferable to contact a professional.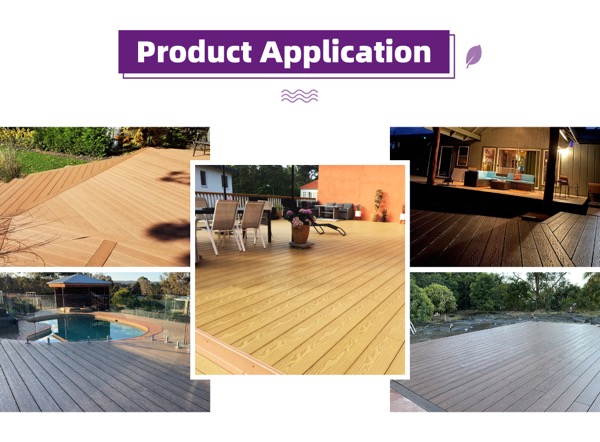 Maintenance and Care
Composite Decking
Many may assert that composite decking brands requires no upkeep, however this is not the case. To be exact, composite decking is a low-maintenance deck material.
The hues and tones of composite decking can be maintained without varnishing or sanding. The appearance of composite decking can be preserved even when exposed to water and sunlight.
It is sturdy and resistant to splitting, cracking, and splintering, requiring no further maintenance like wood decking.
Wood Decking
Wood decking is naturally less weather resistant than composite decking. Sunlight and moisture are its principal adversaries.
Due to prolonged exposure to heat and UV radiation, wood tends to lose its color. Absorption of moisture by wood will result in dimension changes such as warping and cupping.
Such severe conditions will eventually lead wood decking to develop splinters, splits, and cracks.
Therefore, routine maintenance such as sanding, varnishing, waxing, and staining is required to keep its aesthetic appeal. Deck maintenance can be time-consuming and expensive.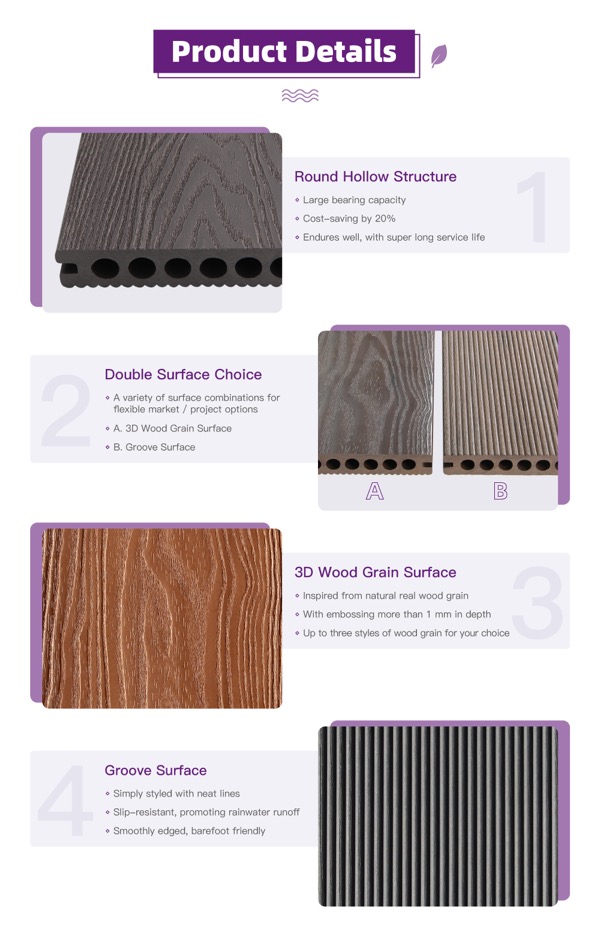 Performance
Composite Decking
When compared to wood decking, composite decking is renowned for its superior durability. Reason being, composite decking is resistant to sun and rain damage.
Composite decking will not crack or splinter like wood decking, making it safe for walking barefoot.
It is also an eco-friendly solution because it is made from recycled materials without deforestation.
Wood Decking
The hues and patterns of natural wood are undeniably captivating in every aspect. Depending on the species of hardwood, wood decking may be resilient and have a longer lifespan.
In addition, wood decking is sturdy and capable of providing appropriate support for foot traffic.
Note, however, that the sun and rain have a significant impact on the durability of wood decking, diminishing its weather resistance.