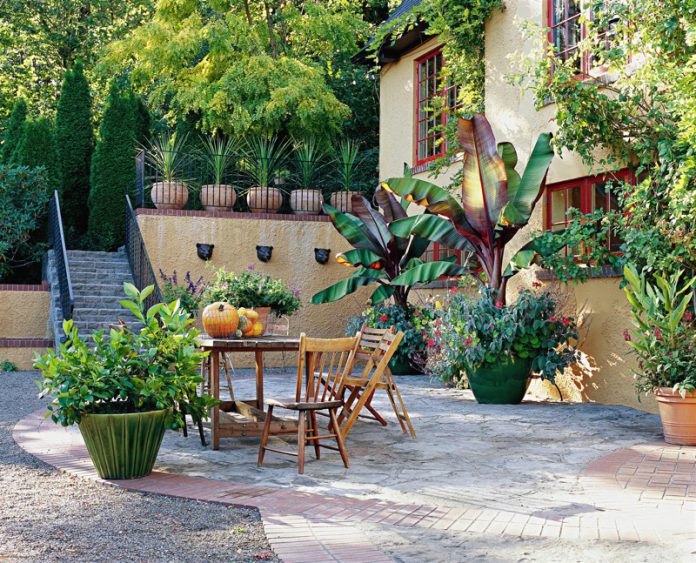 Whether you wish to create a landscaping garden or accumulate design ideas for creating a better outdoor scape, there are multiple ways to decorate the garden. However, huge or small the garden space is, it can attract more flora and fauna by making the space more sustainable, and compiling amazing garden ideas to transform it to boost its property value.
There are certain implications or garden updates for your outdoor space along with some styling techniques and tips for furniture, lights, plants, paving, borders, and so on to help in carving out a beautiful space. But before you move ahead with such design ideas, know your garden well and then proceed with redesigning.
Shape Your Yard
Your yard will be the biggest and the most beautiful space when you look out of your window. Probably your lawn is not in a good shape now, it can be shaped beautifully with a good, strong gesture while bringing your garden back to the right track. Your lawn need not be rectangular in shape, it can be oval, triangle, square, or any other shape. You need the right tools to transform your garden, it can be lawn mowers, ride-on mowers, or any electric mower as well.
If your garden is devoid of sunset and lacks luster, you can contact gardening experts, consider tenets of sunshine, and adhere to soil erosion or showers. You can cut the branches to keep away excess shade. Watering the new branches frequently becomes important.
Plantation Planning
The best garden planning is structured with decorative plants and flowering plants featuring birthday flowers. Use evergreen plants and shrubs at the end of each corner of the lawn. Including beautiful flowering plants such as mahonia can be used to fill up bigger areas of the garden space. Once you know the spaces and recognize the gaps, fill them with vivid flowering plants, they enhance the beauty of the garden.
Stick to four or five types of plants and fix them in a proper arrangement and repeated patterns for a harmonious effect. Make sure there is enough space to keep small plants in the front row and place the taller ones in the space behind. If you are selecting flowering plants, try to bring them out of season with efficient performance so that they bring enough summer bulbs. If you are looking forward to making your garden more sustainable, try applying methods to make it more beneficial with visual interest and texture. Some of the shrubs that can be included are lavender, eryngiums, Ballota, Pennisetum, thymus, verbena, and many more.
Bottom Line
Find out the garden's direction, position, and outlook, and then dictate your outdoor space. Whether your garden is small, narrow, huge, a courtyard garden, or a cottage garden, you need to observe why and where redesigning is required to make it look more beautiful. Think about what your garden needs and what you want to bring to your garden to make it brighter and beautifully accessible, whether it needs plantation or implementation of certain decorations.