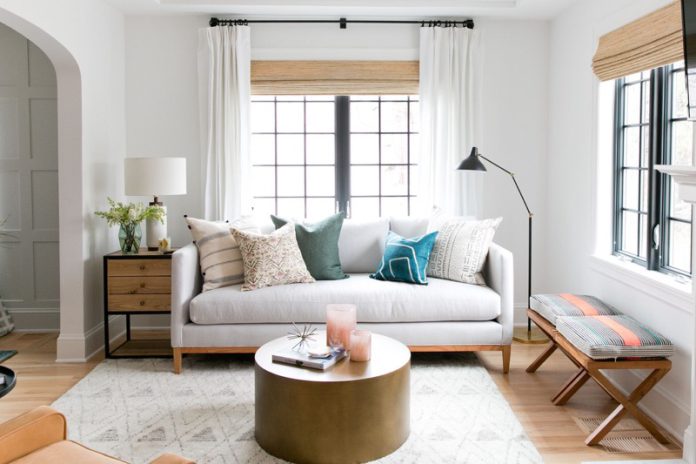 For people living in small apartments or studio apartments, managing the furniture layout well or designing the room perfectly is not the only concern. The bigger concern is to maximize the room's space and make it more breathable. A living room becomes the ultimate hub of your house and if it gets cramped, you will not like it.
Arranging your living room properly might be as tough as a complicated math problem, but once you know the concept, you are all set to rock the stage. And the best news for you is a small living room can be decorated with due efficacy leaving behind sufficient space for you to breathe and enjoy. Some of the basic but desirable ideas for making your space important are as follows:
Emphasize the Room's Features
Try to approach a room strategically. If you are working on it all by yourself, take a bolder approach. If not, appoint an interior designer for the work. Make use of the existing assets in the room, and try to fix them in definite places to make the entire space appealing. Use lighter shades to get an essence of expansiveness.
Track down the Furniture
Furniture plays an important role in decorating a room. Especially, in a compact living room, every piece of furniture is valued. You can use monster furniture to give an attractive look to your room and also create space. Also, select wall sconces and leaner tables to acquire floor space. For seating, you can go for tight chairs or tight-back sofas as they take up very little space. You can consider floating desks over sturdy workstations as well.
Use some Decor for Visual Interest
Different visuals will attract people's attention. For instance, lighting installation at different heights will fetch your attention to various areas of the room and ultimately give a falsified view of a bigger space. Adding a huge attention puller acts as a balancer to the entire happening. This attention puller can be a creative bookshelf or an eye-catchy mirror, wallpaper, or gallery wall artwork.
Be Creative with the Configuration
Limited space narrows down your design capabilities to mere seating configurations. However, this shouldn't be the case as built-in living rooms are a perfect example of efficient and maximized indoor spaces. If your room is small but long, you can bring sofas and place them back-to-back allowing a fresh and comfortable seating area. Also, you can make a layout that creates cafe-style seating to bring out more space in the room.
Conclusion
The key to maximizing space in your small living room is not one, but many. However, the ultimate step is management. You need to implicate various ideas to bring out the best space from your room and make it presentable. Be creative with your layout and furnishings, take proper decor decisions and fill those awkward corners. Whether you are renovating your room or designing it from a scratch, there are permanent answers to your woes, some of which are mentioned in the article.