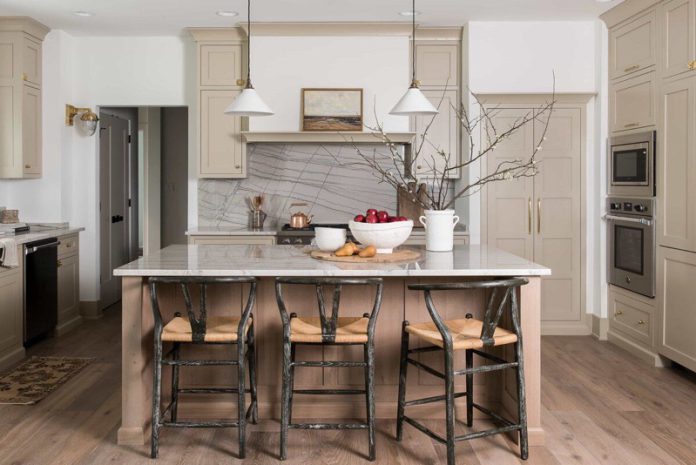 Homeowners who like spending most of their time in the kitchen know how invaluable it is to have a high-quality countertop cabinet for the kitchen. The countertops are the core attraction of any kitchen space, so they can make or break the overall outlook of the kitchen.
That's why most homeowners go for quartz as a countertop material for kitchen space. It is a go-to option for several reasons, such as its striking beauty to the hard-wearing property.
Further, quartz comes in an array of design options to choose from. So, any homeowner who wants to spruce up the kitchen should keep these countertop cabinet for kitchen design ideas in their mind during the kitchen renovation:
To learn how to pair your high-quality countertops with trendy lighting, check out this post on the Caesarstone site.
Design ideas for countertop cabinet for kitchen
Here are some modern design ideas you can use in any kitchen space:
Pair countertop and cabinets with metallic materials
At first glance, pairing countertops with metallic elements might sound like it would give the space an industrial feel. But that's not right. It gives the kitchen a unique and pleasant look.
Pairing countertop and cabinets with metal decor can turn the old boring kitchen space into a beautiful, modern space worth showing off. For instance, homeowners can go for gray countertops with metal-coloured appliances for semi-futuristic and fresh aesthetics.
To take things a step further, homeowners can add dark-coloured cabinets with silver handles. Doing so will add contrast to the space, making other features such as countertops more eye-catching.
White cabinets with black countertops
To pull off the modern white kitchen style, homeowners don't need a white kitchen island or countertop cabinet for the kitchen. To create particularly striking and elegant aesthetics, pair white cabinets with black countertops in place of a white island.
White countertops and cabinets don't necessarily go together; they have different appearances that call for more striking accent colours. Black countertops and white cabinets convey a more appealing tone around the kitchen space.
Complement space with other forms of stonework
Homeowners frequently include backsplashes and eye-catching masonry in their kitchen designs. By doing so, a room may appear warm or cool (depending on how the homeowner decorates the space).
Quartz countertops in both the light and dark shades go well with other types of stonework; the combination gives a kitchen a uniform, well-designed impression.
Homeowners can experiment with neutral or faded tones like brown, beige, white, cream, or ecru to balance the polished light countertop with a stone backsplash. In addition, pink and other delicate hues might be included to provide a hint of mystery.
Conversely, homeowners who wish to combine polished dark countertop-cabinet-for-kitchen and a stone backsplash can try strong tones, such as bright whites and intense blacks. This combination produces a startling contrast and gives a kitchen design depth and personality.
Pair black quartz countertops with gold cabinets
Most colours go well with black. And the gold stands out sharply against the black. The combination gives the kitchen a dramatic and stylish appearance. The ratio of black and gold determines how different a black and gold kitchen countertop would feel.
A countertop can be either highly decorative or subtly understated. One must take into account both personal preferences and relevant kitchen features, accessories, and characteristics. In either case, the combination of a black countertop and gold cabinets will offer a chic and distinctive appearance.
Get creative with white countertop and cabinets
There is no requirement that one must go for solid white kitchen countertops. Instead, homeowners can choose a white quartz countertop or cabinets with veining or pattern on it. This will enable one to maintain the aesthetic of overall white space while also adding a lot of visual interest to the design.
When trying to match white countertops with white cabinets, things may get a little difficult because veining might end up looking a little out of place. So, it's important to be cautious when making a choice.
To eliminate such situations, match white cabinets with gray or black countertops rather than mixing white countertops with white cabinets.
Why choose quartz as a countertop cabinet for kitchen material?
When it's time to select material for the kitchen countertop, quartz is a top priority.
Here's why:
Beauty
The startling beauty, sleekness, and luxury of black quartz surfaces can add stunning vibes to the space. They make the best countertop option for the majority of kitchen designs because of their attention-grabbing colour options, finishes, and patterns.
Low maintenance
Black quartz kitchen countertops are low maintenance, making them perfect for households with young children or adults who lead busy lives. It just takes a few minutes to clean these low-maintenance countertops with water, a gentle detergent, and a soft cloth. In addition to not needing routine sealing, they are also simple to notice when they contain crumbs or even dust.
Durability
Quartz is considered the most durable countertop material because it is one of the toughest. The exterior is non-porous and resistant to chips, stains, and heat.
Consistency
Real quartz crystals and other minerals and colours are used to create quartz countertops, which are fabricated surfaces joined by resin. As a result, each component is identical. Homeowners can be confident that the quartz countertop they choose will appear exactly like the one in the showroom when installed in the kitchen or bathroom.
Stylish
The variety of fashionable options offered by quartz countertops is one of its main advantages. Also, it is available in a large variety of hues and patterns. It can resemble marble, granite, or concrete. Plus, it is available in colours that may be difficult to find in other types of material, including vivid blue.
Every quartz countertop is custom built. This means that quartz can be moulded to fit any unusual circumstance, including those with weird angles, curves, a waterfall edge, or other features.
Countertop cabinet for kitchen designs — Conclusion
These were some design ideas that every homeowner should consider while renovating the kitchen space. Pairing dark-coloured cabinets with light-coloured countertops are one of the most appealing designs for any kitchen space.
Start renovating the kitchen by being creative with these easy and unique kitchen design ideas!