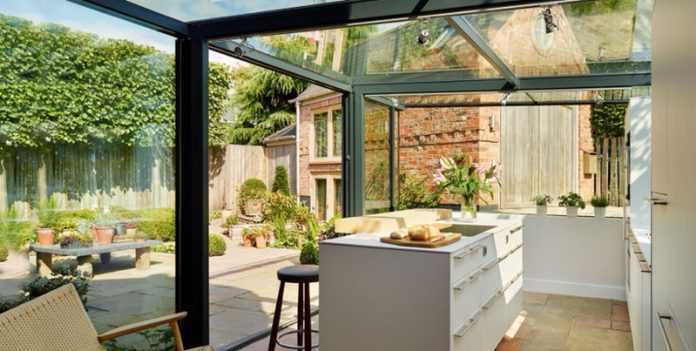 The energy and optimism of a person largely depend on the amount of light entering the room. Increase the volume of your living space and fill it with light by the installation of a glass link. Protecting from all kinds of atmospheric phenomena, such a glass box extension creates comfortable conditions for contemplating the environment.
Open Plan Living with the Glass Link
The fashionable design trend of using glass extensions has become possible thanks to the use of the latest technologies in the production of double-glazed windows. They allow the creation of new types of products that are resistant to possible external influences. Such glass is even used as a floor to connect separate buildings at the level of the second floor or higher.
Advantages of Using Glass Link and Extension in House Design
Protection of listed buildings from destruction
Visual expansion of the house
Panoramic view of the surrounding space
Commercial attractiveness of office space
Universality of solution harmonizing with buildings of any type
Possibility to use as residential premises when glazing with a product of sufficient thickness
Production of Glass Structures Limited: from Glass Link to Roofs and Floors
Expert in the production and installation of extensions Glass Structures Limited https://glassstructureslimited.com/glass-extensions is constantly developing new types of insulating glass units and improving the existing product line. Today the company is engaged in the following types of glazing:
Glass house extension and oriel windows
Glass link to connect buildings
Glass roofs of various designs
Glass stairs and doors
Shop windows and balustrades
Glass floors and elevator shafts
By choosing glass extensions as an integral part of your building, you become closer to nature. A person spends in enclosed spaces, being fenced off from the magnificent environment, most of his life. With glass extensions, your home will acquire much more value and will delight all its residents and guests.