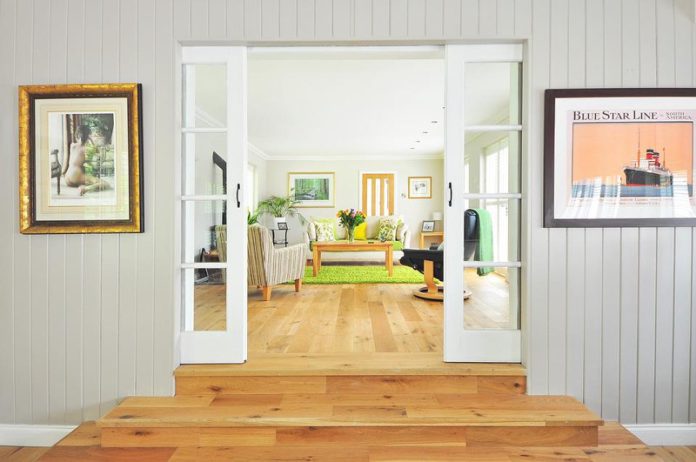 According to research, the average person moves 11.7 times in their lifetime. That's a lot of moves! And while it can be an exciting time, it can also be stressful. So there's a lot to think about and plan for. And in Sydney, the process can be even more challenging, with rental prices and competition for properties at an all-time high.
Imagine the excitement of finally getting the keys to your new home. However, the reality of moving day can be very different with all the packing, unpacking, and general upheaval. Especially if you're moving long-distance. To help make your move go as smoothly as possible, here are some essential things to do when you first arrive at your new home.
1. Give yourself a tour
Once you have the keys, take some time to explore your new home and familiarize yourself with the layout.
This is especially important if you're moving into an apartment or townhouse, as you may not be familiar with the building and its surroundings. Notice any damage to be fixed or replaced so you can bring this up with your landlord or agent. Finally, depending on the location, you may want to change things for security purposes, such as adding extra locks or installing a security system. For instance, in Sydney, many people have an additional lock fitted to their letterboxes to prevent thieves from reaching in and grabbing valuables.
2. Set up utilities
The next thing on your list should be to set up your utilities, such as electricity, gas, water, and internet. This can usually be done online in advance of your move-in date. However, it's a good idea to have the contact details for the relevant companies handy in case you need to call and sort out any issues. Also, remember to notify your current providers that you're moving and cancel or transfer your services. However, don't do this too early, as you may be charged a cancellation fee. The general rule is to give at least two weeks' notice.
3. Change your address
Your address is connected to many important things, such as your driver's license, bank account, and bills. So you'll need to update your address with all relevant organizations. You can usually do this online, but it's a good idea to have the contact details for each company handy, just in case. You should also notify the Australian Taxation Office (ATO) of your new address, as this is where they'll send your tax returns. In Australia, you need to notify the Roads and Maritime Services (RMS) within 14 days if you've moved to a new property so they can update your driver's license and vehicle registration. However, updating your address on your social media accounts and other online platforms is also a good idea, so people can easily find you.
4. Clean the property
When you move into a new home, it's always a good idea to clean it thoroughly. This way, you can be sure that it's clean and free of any dirt, dust, or other allergens that could cause problems for you or your family. If you're renting, you should also check with your landlord or agent about their expectations for the property when you move out. In most cases, they expect it to be in the same condition as when you moved in, minus any fair wear and tear.
5. Unpack your belongings
Once you've cleaned the property and set up utilities, it's time to unpack your belongings. This can be daunting, especially if you have a lot of stuff. So, it's essential to take time and unpack gradually rather than trying to do it all at once. Start with the essentials, such as clothes and bedding, and then move on to other items when you have time. Also, label boxes so you know where everything is and can easily find things when you need them.
6. Meet your neighbors
Meeting new neighbors is a great way to settle into your new home. But, first, introduce yourself and learn a little about them. This can be especially helpful if you have questions about the area or need help with anything. For instance, they may be able to recommend a good local supermarket or let you know about any upcoming events in the neighborhood.
7. Explore your new area
One of the best things about moving to a new place is that you have the opportunity to explore it. So, take some time to familiarize yourself with your new surroundings and check out some of the local attractions. This could include going for a walk or bike ride, visiting a nearby park or beach, or checking out the local shops and restaurants.
8. Decorate
Once you've unpacked your belongings and explored the area, it's time to start decorating your home. This involves hanging pictures on the walls, arranging furniture, and making the space feel like your own. It can take some time to get everything just right, but it's worth taking the time to do it properly. After all, you want your new home to be a place you can relax and feel comfortable in.
9. Stay organized
One of the most important things to do when you move to a new home is to stay organized. This means staying on top of bills, payments, and paperwork. Create a system that works for you, and make sure you always know where everything is. This will save you time and stress in the long run. Also, don't forget to change your address on your important documents, such as your driver's license, passport, and health insurance.
10. Enjoy your new space
Finally, once you've done all the above, it's time to sit back and enjoy your new home. Make the most of your new surroundings and take advantage of everything the area offers. Soon enough, you'll feel like you've always lived there. However, if you're struggling to settle in, don't hesitate to contact family and friends for support. They can provide a listening ear and some helpful advice.
Conclusion
As we've discussed, there are several important things to do when moving into a new home. For instance, cleaning the property, unpacking your belongings, and staying organized are important. Additionally, you should explore your new area and make sure you enjoy your new home. By following these tips, you can make the transition to your new home as smooth and stress-free as possible.