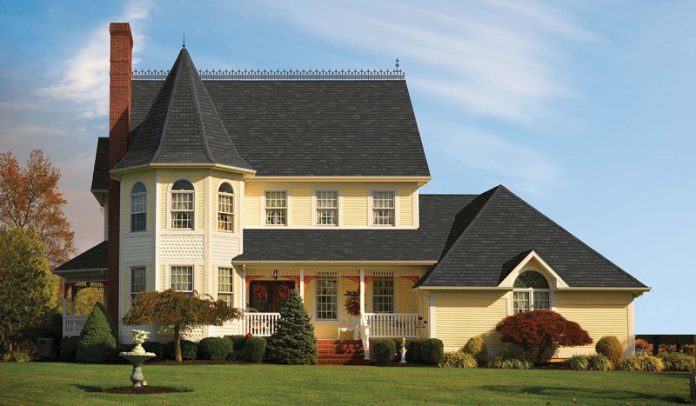 GAF shingles are of the most popular brands of shingles. But what makes them stand out from the rest? Why do many people choose these shingles instead of going a different route?
Most homeowners don't know very much about the subject of shingles. But learning more about this and GAF shingles can make a difference in ensuring your roof is properly cared for.
Regardless of your budget or preferred style, GAF shingles have something for your home. But to truly understand what GAF shingles are and why they could be an essential part of your home, we need to jump into the details.
So what exactly is a GAF shingle?
GAF shingles are made from asphalt. These asphalt shingles are created in a wide variety of colors and styles. In addition, GAF has worked hard to optimize its shingles. Because of this, GAF shingles have risen above competitors and become the most preferred brand among American homeowners.
They've created asphalt shingles that can last by having excellent durability, strength, waterproofing ability, and wind resistance. These shingles are also protected against degrading from algae.
These premium shingles offer something for everyone. GAF shingles are popular among most contractors in the USA. These shingles are also designed to achieve a great level of solar heat reflectivity.
How did GAF shingles start?
The GAF brand we know and love today started as the Standard Print Company in Bound Brook, New Jersey, in 1886. This company first introduced affordable and weather-proof asphalt shingles in 1912. These shingles were inexpensive and easily accessible for homeowners.
In 1921 this company then became the RUBEROID Co., and then in 1967, the company made a big jump and merged with GAF. They then adopted the GAF name and brand. GAF went on to create their Timberline shingle collection and became the best-selling shingle in the USA.
Different types of GAF shingles available and their costs
GAF has made diversity a priority with the shingles they offer. You can find a large variety of styles and colors. The prices range, and they provide affordable shingles that fit your budget. But let's look at some of the different types of GAF shingles available and how much these cost on average. We'll show you the prices per square (100 square feet).
GAF Royal Sovereign, three-tab shingles: Three-tab shingles are the most typically used. These cost around $63-$79 per square.
GAF Timberline, average dimensional shingles: The GAF Timberline shingles are the most popular and are the most widely used type of shingles they offer. These cost around $115-$125 per square.
GAF Woodland, designer shingles: These shingles are more pricey but are excellent quality for your money. They cost around $150-$160 per square.
GAF Timberline Ultra HD, Best Dimensional: These are an optimal choice for any homeowner. The average cost is around $125-$140 per square.
Please keep in mind these prices have the possibility of changing. Therefore, the best way to know precisely how much shingling your house would cost is by having an estimate done.
Other costs to consider
There are some other costs to factor in when shingling or reshingling your house. These costs include:
Labor costs: Labor costs can average anywhere from $125-$300 per square.
Additional add-ons: Depending on what other factors you'd like added on, such as ridge vents, moisture barriers, and ridge cap shingles, costs can vary.
Are GAF shingles suitable for your house?
For most homeowners, the answer is "yes!" This is because GAF shingles are the best on the market right now. But, to determine if GAF shingles are the right choice for your home, you'll want to do additional research; there are quite a few deciding factors.
The best way to find out if GAF shingles are suitable for your home is by talking to a certified GAF installer who can adequately assess your home. They tell you if these shingles are ideal for your home, and they can give you proper estimates and recommendations for which shingles will suit your budget and style choices.
Why you should choose a GAF-certified installer
Finding a contractor in your area who isn't GAF certified may seem cheaper, but you won't receive some of the bonuses that come with GAF shingles. In addition, when using a GAF-certified, your shingles become eligible for the GAF warranty and protection policy.
You can rest easy knowing that your GAF installer provides top-notch services and has received professional training. The GAF-certified label is not an easy one to receive. However, these contractors are committed to bringing you the best results.
What else you should know about GAF shingles
There are a few other things that make GAF shingles stand out. One of these is extended warranties; you can upgrade your warranty and completely protect your roof.
These warranties can also be transferred if you decide to sell your house. GAF shingles can also add value to your home. Some homeowners have found their homes have gained nearly 5% in value after having GAF shingles installed.
GAF shingles are easy to install. So if you decide to do this yourself, you won't have problems doing this yourself.
How long do GAF shingles last?
Because of GAF shingles' sturdy design, they can last anywhere from 15-25 years. But, of course, this depends on different aspects, such as weather elements, heat, natural disasters, etc.
Where are GAF shingles made?
GAF shingles are made in the USA. Since the beginning of GAF and their origin company, they have been based in the USA, and their products were also created here. So if you're looking for products produced in the USA, these are a great choice!
Conclusion
Adding GAF shingles to your roof is one of the best choices for your home. You can rest easy knowing your roof is protected not only by shingles but also by warranty. Find a GAF-certified installer near you and have them assess your home's eligibility. GAF shingles are an optimal choice when you want to shingle your home.