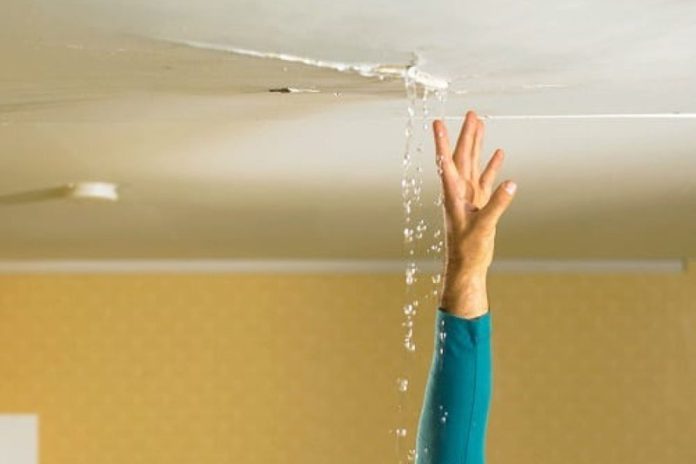 When you notice signs of stain, bubbling, or discolouration on your ceiling, it is a sign that your roof is leaking or there is a leaking water pipe. If the damage changes over time, it is a clear sign that it is a current problem and not a stain from a past problem. Any leak in the roof must be fixed immediately.
Signs That Show Your Roof is Leaking
Small leaks are difficult to notice early on. Initially, faint discolouration may appear on the ceiling or mould forming in some areas of the ceiling. Other signs include dampness and/or bubbling on the paint. Larger leaks are more obvious as water will drip from the ceiling.
On the inside, you should also look for any signs of sagging or spots on the ceiling surface where the light shines through. On the outside, you should look out for the following signs:
Warped, peeling, missing, damaged, or rotting shingles
Signs of wear or appearance of loose material around vents or chimneys
Slow-draining or clogged gutters or downspouts
Why You Should Not Wait for Repair?
When you notice a leaking roof, it is important to take quick action. Leaky roofs will never get fixed on their own. Even when the leak is minor, you should seek the professional services of a plasterer near me. By the time you take the signs seriously, the damage could have become deeper and more expensive to repair. It is important to keep in mind that small leaks don't go away themselves. They will only get worse over time.
What to Do When There is a Leaking Roof?
Once you have confirmed that there is a leak in your roof, you should take the following steps:
1. Minimise the Damage
If it is possible, place buckets and towels to catch the leaking water. This can prevent the water from causing further damage to the floor. It is also recommended to remove furniture and other items from the room where you have a leak. All this whilst, you should keep in mind that water can reduce the strength of a gyprock ceiling.
2. Take Photographs
You should not only take photographs of the damage but also take notes of it. Capture photos of:
Ceiling & walls
Furniture
Electronics & appliances
Bedding
And other items that may have been damaged or affected. This should help you when making a claim on your home insurance. This should be followed by contacting your insurance company.
3. Call the Professionals
This includes calling both a plumbing company and a plastering sydney company. When the root cause of the leakage has been addressed, you will need the services of a plasterer to fix the damaged ceiling and probably the adjoining walls.
It is important to hire a plasterer that has experience in fixing water-damaged ceilings. There are others who are focused solely on new roof builds and renovations and don't have much experience in repairs.
When you have a leaking roof, it is important to know that the source is not always the point where the water is dripping from the ceiling. So, it is best to seek professional assistance in locating the leak before you take any further steps.