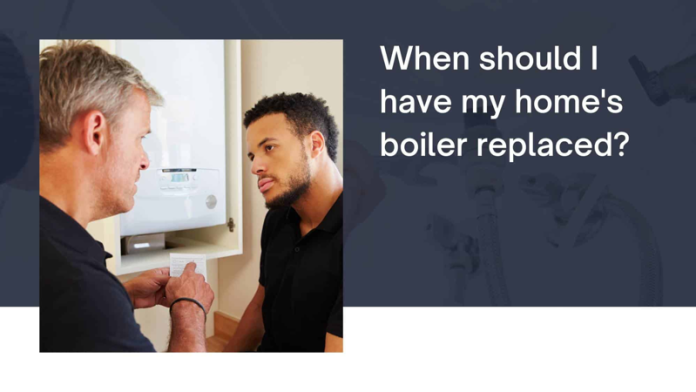 Nobody likes to have boiler issues to start the year. How can you tell when a boiler system needs to be repaired or replaced? Our certified HVAC experts provide guidance on how to assess your existing boiler heating system and select the best choice for your home.
Put your safety first
Safety must always come first when making any choices involving the boiler system in your home. Modern safety criteria are not always met by older technologies. Older boilers that are inefficient provide a risky environment for carbon monoxide exposure and other problems. Although repairs are an option, they are not always able to increase the boiler's safety.
Prioritize system safety before all other considerations when deciding whether to repair or replace a boiler system. Have an expert inspect your boiler and determine whether it will be secure to use following repairs or whether replacement is the best option for a secure and cozy house.
Factors to Think About
Examine the following elements as you decide whether to repair or replace a boiler heating system to make a more informed choice overall:
how old the boiler is
Wear and tear
Costs of energy today
Costs and current repair requirements
Boiler System Age
Electric boilers typically provide a few more years of service than gas boilers, which typically have a lifespan of 15 to 20 years. The decision to repair or replace the boiler heating system becomes more obvious once the boiler has served for 20 years; at this point, replace your boiler.
Older boilers are more vulnerable to issues including leaks, more breakdowns, and higher energy usage. Boilers also lose their warranty after 20 years, so you are now responsible for paying for any necessary repairs and replacement parts. It's possible that when replacement components are required, they won't even be offered for your model.
In the event of a malfunction, replacement with a new boiler offers a fresh warranty term to safeguard your finances and lowers the possibility of breakdowns in the near future.
Damage
When deciding whether to repair or replace your boiler heating system, check your device for issues like corrosion and leaks. Since corrosion is only a problem for boilers for a limited period of time, corrosion is a strong indication that replacement is required. Regular maintenance makes boiler systems more resistant to problems, but over time, corrosion is caused by leaks and other system problems.
Water around the boiler indicates faulty connections and valves. There are times when repairs are feasible. A expert can inform you after an inspection whether repairs can stop leaks or if it's preferable to replace the system.
Energy Prices and Future Potential
Over time, boilers endure wear and tear, which lowers the system's efficiency. Older boilers have severely degraded and no longer provide the homeowner-expected efficiency ratings. Boiler inefficiency is evidenced by recent increases in heating bills. Consider the energy benefits of a new, higher-efficiency boiler when deciding whether to replace or repair one. A new boiler delivers better energy efficiency to reduce your home's heating expenditures.
Currently required boiler repairs
If your boiler breaks down frequently, you'll need to pay for pricey repairs all the time. Both repairing and replacing a boiler unit are expensive, but for homes right now, hiring a Dublin boiler installation agency is frequently a wiser financial choice.
When system repairs are feasible, take into account both their price and how often they will be required. Affordable repairs enable homeowners to patch up boiler systems and keep them in operation for a little while longer, but when the cost of repairs exceeds that of a new system, many opt to spend that money on a new boiler and prevent ongoing maintenance.
Expert boiler replacement Dublin is offered by Dublin Heating Services.
Get in touch with DublinHeatingServices, the best boiler replacement in Dublin, when you need your boiler system evaluated. Our certified heating specialists inspect the boiler in your house, identify any necessary repairs, and work with you to choose if repairs or a replacement are the best course of action. Please get in touch with us right away to set up a boiler maintenance appointment!