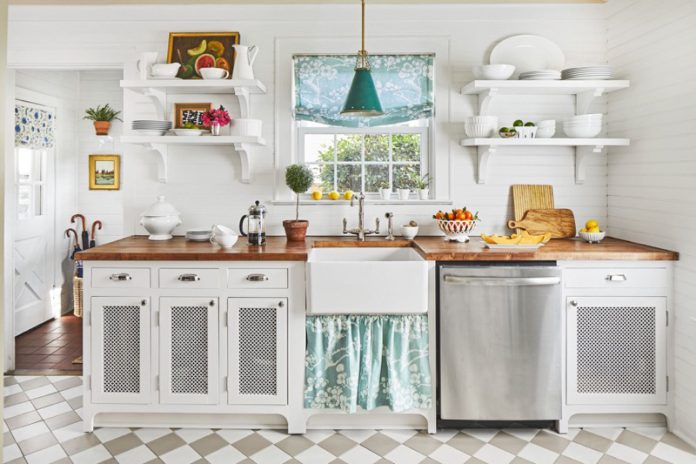 Without a question, kitchens have become the main point of any home, a place where you can show off your taste, lifestyle, and elegance. Kitchens are no longer only practical areas; aesthetics have made their way in as well. As a result, paying attention to design, layout, and the colour is crucial.
Your kitchen should contain everything from fun to utilitarian, traditional to modern. Most importantly, it must have a luxurious feel about it. It might be difficult to renovate a kitchen to appear pricey. However, with the appropriate tips and tactics, you may attain your objective without breaking a sweat. Here are seven kitchen renovation ideas for updating your kitchen's look & adding a luxurious touch!
Neutral Shades Create Luxury
With a new coat of paint, you can instantly change your kitchen. The rich like lighter colours such as champagne, beige, and pastels. Consider darker colours like charcoal and teal if you have a modular kitchen with a lot of cabinets and storage possibilities. These colours combine well with the overall aesthetics and make your kitchen appear luxurious. If you have a limited amount of room, choose a white colour palette. White reflects light and makes your kitchen appear larger. If you don't want to paint the entire kitchen, paint the cabinets for a visible difference. A backdrop wall may add value to your kitchen, although wallpaper is a less expensive choice.
Knob Up
If you are happy with your current cabinets and shelving, consider upgrading your kitchen with modern fixtures. Replace the knobs, door pulls, and hinges with brightly coloured ornamental components. Just be sure to choose components that will fit properly in your cabinets. Don't be afraid to combine metals, such as unlacquered brass or gleaming nickel. Simple, and also inexpensive!
Level Up Your Lighting
When it comes to kitchen design, lighting is frequently overlooked. With dated light fixtures, you won't be able to get a totally opulent look. Low-hanging lights, especially over kitchen countertops, islands, and connected eating rooms, provide the illusion of a larger ceiling. Pendant lights are also an excellent choice, and they may be used in pairs or clusters. Another approach to make your kitchen appear more costly is to use dimmers. Dim lights at suppertime create a warm, brooding glow for an intimate setting.
Marble Makes Magic
Who doesn't want to have marble in their kitchen? It adds elegance and a touch of luxury to the space. Don't worry if you don't have marble countertops! A few tricks can assist you in using this material for its intended purpose – luxury! All you have to do is incorporate subtle traces of it into your present kitchen. A pre-cut block of marble can provide you with a little baking area in your kitchen. Marble tiles may be used to create a beautiful backsplash or to renovate a piece of the kitchen floor. Furthermore, marble complements practically any colour palette and may make your kitchen appear much more costly.
Modular Is Modern
If you have tired wooden cabinets and stone shelves, it's time to upgrade to modular kitchen units. They are multipurpose, have many storage possibilities, create a statement in your kitchen, and make it appear costly. If you want to create a big impression, consider investing in a modular kitchen unit.
Renovating a kitchen might appear to be a difficult and time-consuming operation. It can be extremely overwhelming, especially if you use your kitchen extensively and have to come to terms with the idea that it will be out of commission for a while. But if you know what you want, you can choose an experienced kitchen renovator to help you get that. We suggest The Australian Kitchen Co. as they can incorporate even the smallest elements in your kitchen into your next kitchen makeover!