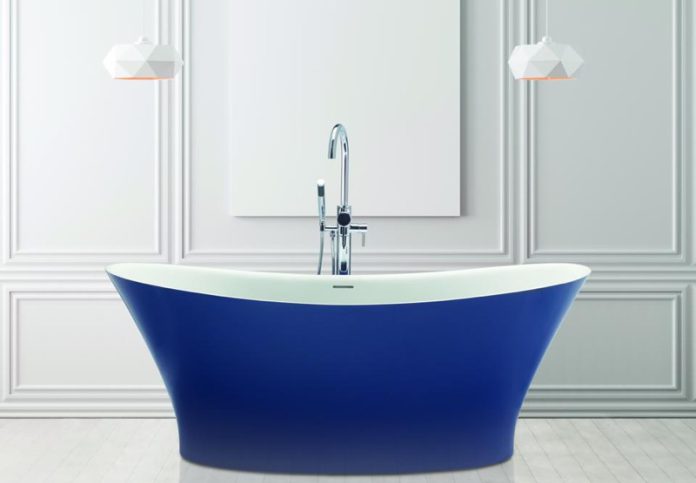 Ever stayed at a hotel and loved its bathroom's luxurious feel? And wished to have a similar bathroom at home? It may not be as difficult as you think. There are many ways to create a hotel like bathroom in your home. Our guide will help you to achieve that dream bathroom look easily.
Creating a luxurious bathroom is all about choosing the right fixture, some thoughtful designs and a little care. Here are some steps and tips to make the best out of your ordinary bathroom into a five-star hotel bathroom.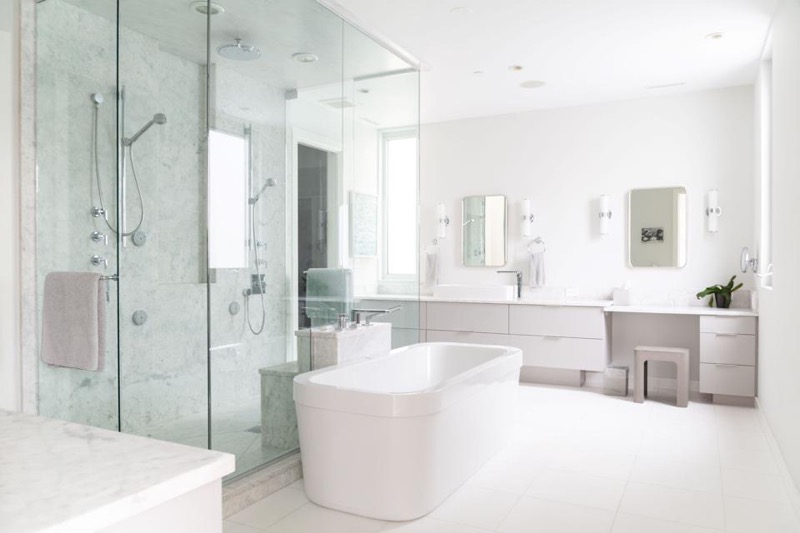 Tip 1. Choose Quality Towels and Bathrobes.  Whenever you visit a hotel bathroom, you always feel that the towels are like marshmallows, so soft! It is all because the fabric of the towels is of high quality, you should also invest in the high-quality towels and bathrobes so that you can have that feel close to you. Make sure to have an extra set of towels for the visitors. Go for the linen which has a greater number of threads preferably in white colours.
Tip 2. Add Bathroom Plants. Modern trends show that bathrooms are trending towards maximum use of nature. And experts recommend various ways to achieve that. One of them is adding bathroom plants. Such plants require less care and thrive in the humidity of the bathroom. Not only it makes your bathroom aesthetically pleasing but brings a luxurious element too. So, opt for some greenery to create a sense of life in your life-less bathroom. Placing a few pots at the right place will ensure a natural look. They make the best out of your bathroom and hotels are opting for this outlook too.
Tip 3.  Upgrade your Bathroom Fixtures and Accessories The high-quality accessories are a must to make your bathroom look luxurious. There are many ways to do it including changing your standard floor standing toilet to modern wall hung toilets or a better showerhead to make the best out of it. For example, rain-like shower heads are increasingly becoming more common in luxurious bathrooms. Another easy way to do it is by replacing your bath or sink faucet to a more modern one to get a new look. For example, a shower bath, a wall hung toilet or a vanity unit from Royal Bathrooms UK is exactly what you need for it. You can further elevate the look by installing a worktop sink vanity unit. However, there are few types of materials that are better than others in creating that luxurious vie.
Marble is a good material; it gives a glossy look and is easy to maintain. It is also durable.
Granite gives an elegant look to your bathroom. Like marble, it is also durable and comes in many colours.
Using stone as a material gives an earthy look to your bathroom suite, making it luxurious and different. There are different types of stones which can be used for this purpose.
Porcelain is a durable material while also being water resistant. It also gives a luxurious look with all its benefits.
Glass as a material gives a modern look to your tiles and bathroom. It creates a sophisticated image.
Wood adds a natural touch to your bathroom, some hotel bathrooms use wooden equipment to give a beautiful aesthetic look.
By installing bathroom fixtures made by above listed materials, your bathroom will give a lot more than a luxurious vibe. While being luxurious, it will also be unique and different. It is all about finding the right balance in all the aspects.
Tip 4.  Making Your Bathroom Smell Great by Using Air Freshener or Candles.  Ever noticed that the hotel bathrooms always have a pleasant fragrance? The use of scented candles is good to make your bathroom smell pleasant. It creates a nice aroma which makes it alive and produces a fresh environment. As a result, you feel relaxed and rejuvenated.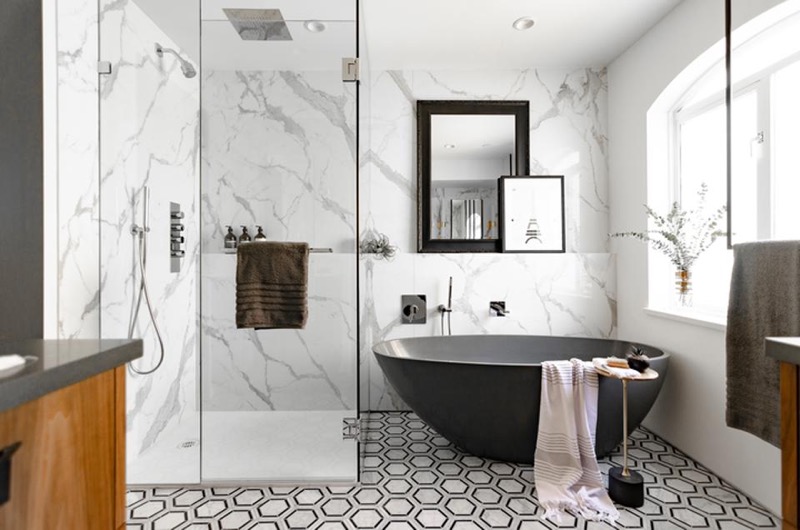 Tip 5.  Put Some Extra Stuff. Having scented soaps and using slippers gives a luxurious vibe to everyone who will go to the bathroom! This little addition goes a long way in making your bathroom like the hotel ones. It gives your bathroom a little extra.
Tip 6.  Ensure Cleanliness. The most obvious thing that you always find in the hotel bathrooms, cleanliness! Of course, if your bathroom is messy, then how can it have a luxurious feel ? Be sure to clean your bathroom everyday with good quality cleaners. Hiring some professional cleaners once a few weeks might be a good idea if you do not have that much expertise.
Tip 7.  Hang Some Art. Putting a nice painting is always a good idea, wherever in your house! But putting a painting in your bathroom elevates its look. The bathroom looks more pleasing. Some decorations help a lot in creating a rich look, like a flower vase or a large painting. Believe it or not! It gives a personality to your bathroom.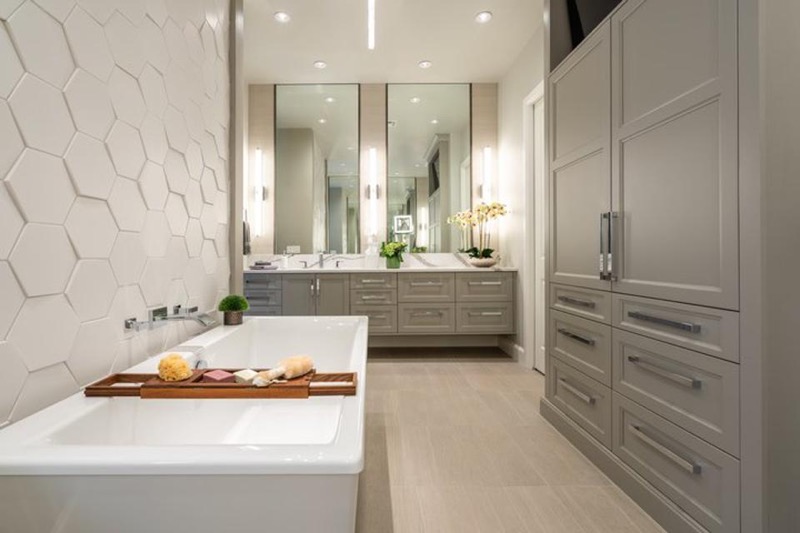 Tip 8.  Use Technology. You will always find some gadgets that you do not even know how to use in your hotel bathrooms. Adding some in your own bathroom will always make your bathroom standout, a towel heat pad or some nice lighting glorifies your bathroom. Some electronics will also add some futuristic themes in the outlook.
Tip 9.  Install Exhaust System. A good ventilation system is beneficial for your bathroom in the long-term. It will help in making your bathroom more open and less suffocating. You will have less to clean because the bacteria will be able to escape through your exhaust system preferably an exhaust fan.
Tip 10. Utilize Natural Light.  While making use of right lighting is important, you should not ignore natural light too. Perhaps, it is always recommended to make use of it as much as possible. So, always try to take advantage of natural light because it gives a bright look to your bathroom suite. The most luxurious hotels have big windows fitted in bathrooms that give a nice view of the outside. It makes your bathroom more inviting.