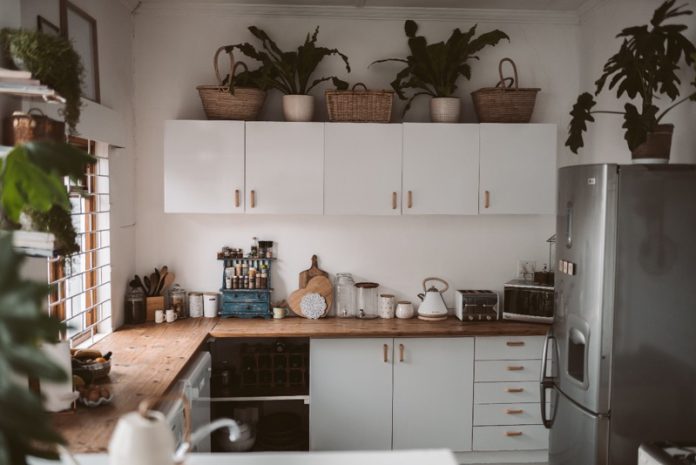 A kitchen is the heart of every home. It is where you prepare meals for your family with love and dedication, and your kids scrabble around in the morning before school. Among other spaces in your house, the kitchen is where the whole household spends the most time together and where you make the most cherished memories. So, are you ready to give your kitchen a much-needed facelift? If you're tired of the same old cabinets staring back at you, you're in for a treat. In this blog post, we will discuss cabinet refacing and explore creative ideas that will make you fall in love with your kitchen again.
We all know a kitchen makeover can be expensive and time-consuming. High-end renovations cost around $100,000, and most of us decide just to make do with the space. You may wonder, "What creative ideas are we discussing here?" Well, get ready for some serious inspiration. There is an easy and affordable way to make a real difference in your kitchen simply by focusing on your kitchen cabinets. Simple cabinet refacing can revamp your kitchen and make it look fresh and new!
It's like a mini-renovation that delivers maximum impact. By simply replacing your cabinets' doors and drawer fronts, you can completely transform the look and feel of your kitchen without the hassle of tearing everything apart or breaking your bank account.
We'll explore various styles and design options for cabinet refacing to suit every taste. We'll also discuss clever storage solutions and innovative ways to showcase your dishware and favorite kitchen accessories. Because let's face it, a stylish kitchen is not just about looks—it's about functionality too!
So, grab a cup of coffee, get comfy, and embark on this exciting journey to revamp your kitchen. Trust us; you don't want to miss these creative ideas for cabinet refacing. Get ready to transform your kitchen into a space that's as beautiful as it is functional!
1. A Coat of Paint
One of the easiest ways to transform your kitchen cabinets is by applying a fresh coat of paint. We recommend using a light shade to brighten up the space. To paint your cabinets, you must first prepare the cabinet doors. Unscrew the door hinges, remove all the hardware, and get a paint-removing solution to strip the existing paint off the surface. Next, use sandpaper grit to smoothen the surface and then start painting. It is a quick and easy project you can complete over a weekend. However, you can contact a professional to do the job if you have a busy schedule.
2. Use Vinyl Wallpapers
Vinyl Wallpapers are an excellent way to upgrade your old kitchen cabinets. Purchase a roll of your favorite vinyl wallpaper print and prepare your cabinets by stripping and sanding them. You can choose to focus on the cabinet doors as with paint, or you can install wallpaper to the back of the cabinet door that can also be used for wallpapering the insides and shelves to create a beautiful interior.
3. Replace the Hardware
When it comes to cabinet refacing, one simple yet visible change you can make is replacing the hardware. Swapping out those old, worn-out handles and knobs with new ones can instantly update the look of your cabinets. Whether you prefer sleek and modern stainless steel pulls, classic and elegant brass knobs, or trendy and unique designs, the options are endless. Replacing the hardware in your kitchen allows you to personalize your cabinets to match your style and give them a fresh, polished appearance. It's a small change that can make a big difference in the overall aesthetic of your kitchen. So don't forget to replace the hardware when revamping your cabinets.
4. Install Undercabinet Lighting
Undercabinet lighting is a small addition that can transform your kitchen into an image straight out of a magazine. Not only does it look incredibly cool, but it also adds a touch of practicality to your kitchen. Imagine having a soft, ambient glow that illuminates your countertops while you chop those veggies or prepare a late-night snack. Installing under-cabinet lighting is a game-changer when it comes to both functionality and aesthetics. It creates a warm and inviting atmosphere while making it easier to see your work. So why settle for a dull kitchen when you can amp up the ambiance with fabulous under-cabinet lighting? It's time to let your cabinets shine, quite literally.
5. Add Crown Molding
Adding crown molding to the top of your cabinets can take them from ordinary to extraordinary in no time. It's like putting a stylish hat on your cabinets, instantly giving them a polished and finished look. Whether you go for a traditional design or something more contemporary, crown molding adds that wow factor that'll have your friends asking, "Where did you get those amazing cabinets?".
6. Replace the Shelves
The inside of kitchen cabinets matters just as much as the outside. Therefore, the next cabinet refacing project on our list is shelf replacement. Upgrading the shelves not only makes the cabinets look more beautiful but also makes your kitchen more functional. We recommend replacing your regular shelves with pull-out ones so you can easily access everything without emptying entire cabinets. As for corner cabinets, install revolving shelves to maximize the space usage in these corner crevices.
7. Build a Dish Rack Extension
Picture this: you're done washing the dishes, and instead of cramming them back into the cabinets, you have a smart little extension that holds your freshly cleaned plates, bowls, and cups. It's like having extra counter space, but specifically for your dishes! You can customize it to fit your cabinets perfectly and add hooks for hanging mugs or utensils. Not only does it make your kitchen more functional, but it also adds to its aesthetics.
Conclusion
Cabinet refacing is one of the affordable ways to amp up the style and aesthetics of your kitchen. Not only does updating cabinets almost always give you better functionality, but it can be an incredible transformation for the space. It makes cabinet refacing the perfect kitchen revamp project, especially on a budget.