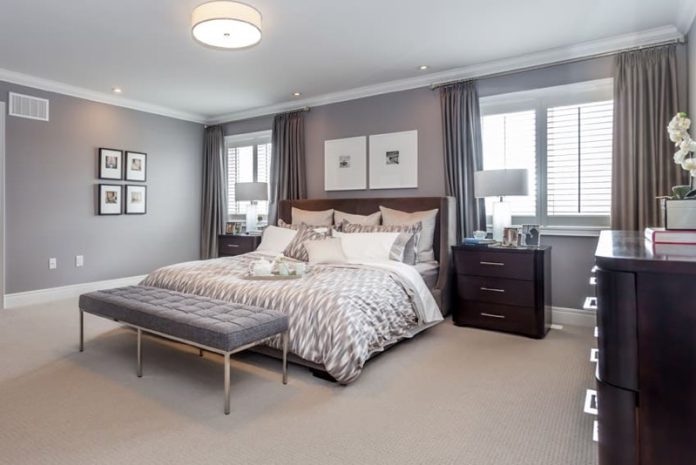 The bedroom's flooring is a very intimate surface. Therefore, one of your most significant decisions, whether you're building a new house or renovating an older one, is the flooring you choose. In addition, the impact of bedroom flooring on a person is physical and psychological. Therefore, the material you choose is a crucial design factor.
The most common flooring option for bedrooms is carpet, mainly because it feels warm and cozy underfoot. This tactile coziness keeps the toes warm during chilly winter mornings and contributes to the room's luxurious atmosphere. But, you should be aware of some other carpeting benefits and disadvantages.
Let's weigh the pros and cons of wall-to-wall carpeting to help you decide whether adding or removing it from your property's floors is best.
Pros of Wall-to-Wall Carpeting in Bedrooms
1. Quieter Bedroom
Wall-to-wall carpeting effectively muffles noise that would otherwise reverberate off of tile and wood floors. For this, carpet is the ideal type of flooring. In addition, the softness of the carpet might assist in lowering the quantity of noise in the bedroom. This is because sounds don't bounce off carpeted flooring as quickly. Depending on the subflooring you choose, the bedroom can be so quiet that you won't be able to hear a pin drop.
2. Economical Friendly
Carpet is less expensive than most other types of flooring. This explains why new home builders frequently install wall-to-wall carpeting to begin with. Another factor that contributes to the popularity of bedroom carpeting is its cost. Therefore, investors consider an expert property manager to coordinate tenants' maintenance needs.
The manufacturing process has been so efficient in recent decades that you can install low-end products as cheap as $2 to $ per square foot, considerably more affordable than many other options. But remember that higher-end materials, such as wool carpeting, can be expensive.
3. Thermal protection
A good-quality pad and carpeting work together to insulate a floor against heat loss, keeping the bedroom comfortable. In winter and summer, carpeting acts as insulation, saving energy. It prevents chills, drafts, and outside heat from entering the room through the floor, which lowers heating and cooling costs. It is cozy. It makes a room feel warm and is comfortable for bare feet.
Cons of Wall-to-Wall Carpeting in Bedrooms
1. Carpets trap allergens
Pollen and other allergen-causing particles can become trapped in the carpet. You can only partially remove allergens deeply embedded in a carpet's padding and backing by vacuuming the carpet thoroughly. For allergy sufferers, carpeting is not a good option for the bedroom.
If a carpet is damaged by water or flooding, you must throw it out. People can become ill from mold and mildew growing in the padding.
2. Difficult to Clean
Stains from liquids may penetrate the padding deeply and remain for a long time. Moreover, carpet tends to draw dust and tiny microscopic organisms, which might affect the bedroom's air quality.
It would help if you vacuumed frequently and occasionally hired cleaning professionals to keep a carpet clean and free of allergens. In addition, there are some excellent treatments available for treating stains on carpeted floors. Still, the process is typically more involved than just dabbing a liquid away with a towel.
3. Installation
Wall-to-wall carpet installation is more labor-intensive, time-consuming, and inefficient than tile installation. This results in additional costs. Yet, there are other ways to save money during installation, resulting in a lower final price than some carpet tiles' qualities.
What Type of Carpet Is Best for Bedrooms?
Numerous materials may be used to make carpets, but not all are of the same caliber or worth. The best carpet for bedrooms is created from a variety of fibers, some of which are listed below:
1. Wool
Wool is the finest option if eco-friendliness is what you're looking for in a carpet for a bedroom. Even synthetic carpets can't compare to a natural fabric's strength and stain resistance. Wool is much more durable than synthetic materials, despite being softer. But the price is high. Options for less than $10/sq. feet are scarce. Wool carpet is now widely considered to be a luxury alternative.
2. Nylon
If you want the most excellent bedroom carpet, or at the very least, the carpet that will last the longest, These carpets provide exceptional heat and moisture resistance, superior durability, and stain resistance. They also resist fading better than regular nylon. As a result, it is the most resilient solution for synthetic carpets and keeps the carpet's color well. On the market, this fiber is the most widely used.
3. Polyester
Regular polyester carpets are substitutes for nylon products; they are okay but don't function as well. Its plush, dense pile has made this carpet popular. Although it costs much less than nylon, it is less durable.
Nonetheless, due to its excellent softness, resistance to fading, and overall longevity, solution-dyed polyester carpet is among the best carpet for bedrooms.
Top 3 Ways to Maintain Wall-to-Wall Carpeting
1. Spills on the carpet should be cleaned immediately
Keeping stains from accumulating is the easiest method to avoid them. After a stain has taken hold, it can be challenging to remove. Thus, make it a top priority to clean up spills as soon as they occur.
When a spill happens, you only need to watch out that it doesn't spread or embed itself in the carpet's fabric. Get some damp cloth, carefully place it on the spill, and allow it to absorb the liquid. Spray some water over the spill, then use the paper to blot it up again; do not rub the spot at any cost. Continue doing it until all of the liquid has been cleaned up. Keep in mind to clean up with extreme care.
2. After cleaning, reapply the carpet protector
Nowadays, many carpets come pre-treated with a stain-resistant protective covering. The protective layer gradually disappears due to cleaning agents or everyday wear and tear. Your carpet will be more vulnerable to long-lasting stains as a result.
Get a protective coating application from your carpet cleaner. Although it is expensive, the money is well spent in the long run.
3. Invest in professional carpet cleaning once a year
This is crucial if you want to keep the carpet clean and in good condition for a very long time. There is only so much one can do to care for something as significant and absorbent as a wall-to-wall carpet, even though the tips above will go a long way in maintaining its appearance and keeping it clean.
Conclusion
The importance of carpeting a house can never be overemphasized. Not only does it act as an insulator, but it also gives a refined look to your space and prevents dirt from being around. That's why you need to invest in quality carpets.
Find the carpet that suits your taste and space. Ensure you also maintain it from time to time. Don't let stains and spills linger on them. Invest in good cleaning materials and carpet protectors. You can also hire professional cleaning services to ease you of all these. In all, what counts is that you have a good carpet and you keep it in good condition.