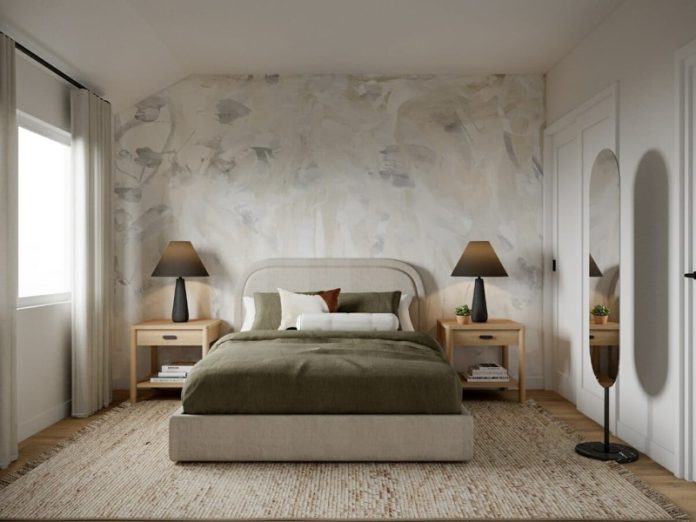 Looking to buy new bedding, rearrange your space or change the colour of your bedroom walls? Then read up on what the 2023 bedroom trends are first. This list will give you a lot of inspiration and ideas.
Remarkably, the trends for the bedroom are quite diverse. So there is actually a suitable design for every living style.
3x trends in the bedroom
Trend 1: Mix & match
Less is more does not apply to this style of living. Next year, we will see brightly coloured bedrooms with different colours, fabrics and prints. Bold eclectic is what this trend is also called. Not surprisingly, we see different wallpapers in one room, bedding with bold prints and even a painted ceiling in a cool colour.
The advantage of this bedroom trend is that there is no need to hold back. Go wild with your favourite shades and style it up with the cutest accessories.
Trend 2: Hotel in your home
Hotel chic has been a popular bedroom trend for a few years now. In the year to come, we will see a lot more of it in bedrooms, but with even more focus on comfort.
Luxury box springs, beautiful headboards and even art in the bedroom. It may not be the cheapest trend, but it is one you can enjoy to the full. Even buying a simple fitted sheet will be a challenge, as we opt here for comfortable hotel-quality fabrics and nothing less.
Trend 3: Japandi dream
This last in this list of 2023 bedroom trends is one for the people who prefer to keep things a little quieter. The Japandi trend involves using only basic neutral colours, combined with natural materials. Think linen or cotton bedding, a lamp made of sea grass and the wall behind the bed features acoustic wall panels made of wood and felt.
Japandi is soft and sleek. Entirely according to the feng shui principle that so many people swear by for a good night's sleep.
More interior developments
What else can you expect in the bedroom area? In recent years, we brought more plants into our homes. Even bedrooms were transformed into urban jungles. But now botanical prints like monstera leaves and palm prints are giving way to romantic floral patterns. Instead of large houseplants, we now bring dried flowers into the bedroom. And when it comes to bedding and wallpaper too, we see big floral designs taking over.
In terms of shapes, designers are increasingly opting for rounded corners and round organic shapes. Think headboards with rounded corners, circles as wall paintings and round carpets at the foot end.
We are also thinking more and more about comfort and health. So we invest more in a good mattress and fine duvet covers. In addition, coffee corners are appearing more and more in bedrooms to keep that hotel feeling
Devices such as humidifiers and air purifiers should ensure that we wake up even more rested and refreshed. And thanks to smart home innovations, we can control things like light and music from bed.
And last but not least… sustainability will also continue to play a major role in the coming year. The bedroom trends of 2023 are not complete without circular mattresses and bedding made from ecological and natural materials. We save energy by removing the heating from the bedroom and replacing all the lamps with energy-efficient LED lighting.