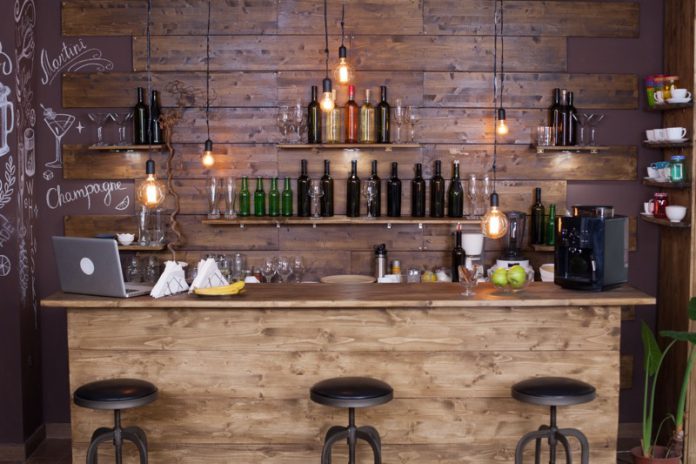 Part of having a home is appreciating every inch of it. Imagine you had a tiring day and need a break when you are back home or need to throw a party, a modern home bar makes for the perfect setting. From adding sleek countertops and bar stools to minimalist woody designs, there are endless possibilities for transforming your home bar into a stylish and functional space. And this is sure to impress your guests and provide a relaxing retreat for yourself. Here are some modern home bar design ideas you can have at your place.
Install an Island Counter
We all know that home bars are a great place to have fun and celebrate. One popular move to enhance your bar setting and add a touch of vibrance in the bar is having an island counter. The island not only increases the utility of the bar unit but also acts as an interactive space where more than two people can sit and relax comfortably. Moreover, an island counter can also serve as a storage space for bar accessories and can be used as a drinks and food serving area during parties. It adds a modern touch to the overall design of the home bar.
Incorporate Appliances
As per your convenience, you can install built-in appliances like a microwave or a refrigerator. These appliances can add to the functionality of the bar and make it easier to prepare and serve drinks and snacks. Additionally, they can also enhance the overall aesthetic appeal of the home bar by providing a sleek and modern look.
Storage and Display Units 
The liquor bottles, the glasses– all such items need a proper place to be stored at. The storage and placement of the bar is important when you want your space to look good. Go for some creative ideas of shelving and storage that include polished and glazed showcases. You can also consider installing a built-in bar cabinet that can be closed when not in use to keep the area clutter-free. Additionally, adding some decorative lighting can enhance the overall look of your storage and display units.
Suitable Lighting
Use lighting fixtures to add a pop of colour to your space. Pendant lighting or ceiling-mounted lights and bars often pair really well together. It serves a practical purpose and is a great way to dress up the space. Additionally, consider using task lighting such as floor lamps and sconces  to provide ambient lighting and create a cozy and inviting atmosphere in the room. On the units, sconces make excellent accents and are a terrific way to amp up the space. When in doubt, never hesitate to approach a highly experienced home interior designer to help you choose the perfect lighting fixtures.
Bar Accessories
When setting up the bar, you must overlook the bar accessories. Bar accessories play an important role, whether you're resting with a glass in your hand or making beverages. Adding a mid-century or contemporary art glass will further enhance the experience. Among the accessories, it's also essential to have a bar tray. A stunning gold or vintage-styled glass makes it ideal for you to pour the ideal cocktail. The seating at the bar is another important factor. Put bar stools on the counter to complete the look of the design. Try something that absolutely suits the design scheme you have.
Invest in Bold Colors and Accents 
Deciding on the right colour combinations for the interiors and texture for the appearance of your home bar is crucial in the design process. Bars typically embrace wooden textures as part of their interior design scheme. If you are looking to create a natural vibe for your bar setting, you might want to try a more rustic or woodsy theme. And of course, you can go with dark colors with dim lights for a lighter and relaxed setting.
Crafty a Worthy Space 
To further enhance the natural ambiance of your home bar, consider adding some greenery or plants to the bar area. Additionally, incorporating natural textures such as stone or leather finishes as textures or part of the design scheme can also add to the rustic feel of the space. A professional interior design company can help to create the home bar that you have always dreamed of.