Roohome.com – Choosing bohemian style for an open floor living room design will not be wrong. You might be confused to decorate your own living room sometimes and some accessories needs to be used along with the arrangement of the room. Do not hesitate, because the usage of bright colours and unique furnitures will be a perfect combination for designing. Creating a perfect design to your living will bring friendly and good atmosphere as well.
Open floor living room with bohemian style
To make your family feels pleasurable in spending daily activity, living room can be the best space to spend it. Yet, most of people have trouble to design open floor space in living room becomes interesting and fancy. Get your brilliant idea by looking how Becki Owens creates an open floor space in living room becomes friendly and stylish with bohemian style. This room will inspire you to design your own open floor living room in your house or apartment because she uses brilliant furnitures to decorate the room looks shiny and cozy. She knows how to create the room will not look monotone and narrow. You have to take a look the design below.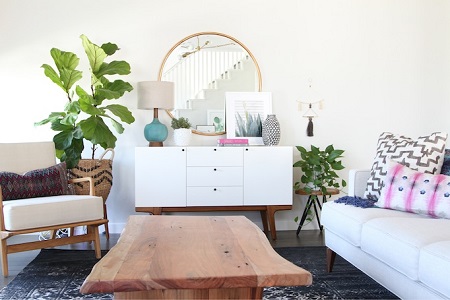 First of all, Becki Owens uses a soft neutral palette as the main material for this living room design. For the wall itself, she chooses Benjamin Moore Stonington Gray as the main colour for a whole wall. Afterwards, she tries to put some furnitures such as overdyed rug in order to interest guest or your family to sit all day in living room. Beside that, it creates bohemian style inside of it.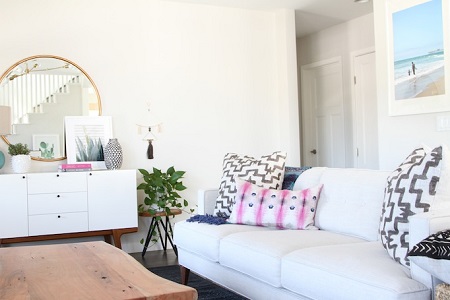 A gold round mirror can be a good choice to decorate your wall as well. The mirror itself is combining with a mid-century buffet as the point of this room. White colour of the buffet makes the room fresh yet stylish. Above of the buffet, Becki Owens puts a turquoise lamp, two vases with different colours white and grey, also books to make the room alive. Bohemian style for an open floor living room design is suitable for you.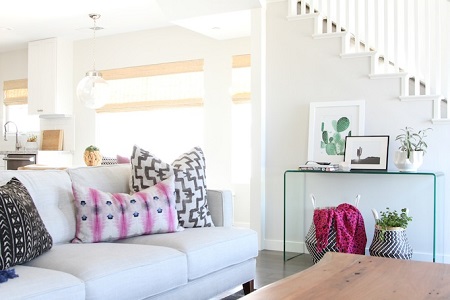 Move to another angle you will see a chair along with coffee table in the middle of space. Interestingly, she chooses a mid-century chair and wood material for the coffee table. The reason she puts a wood in the middle of bohemian style is to warm your feel and to give more energy. Beside the coffee table, there is a white sofa which is decorated with colourful pillows.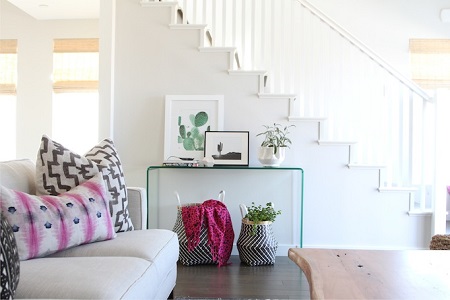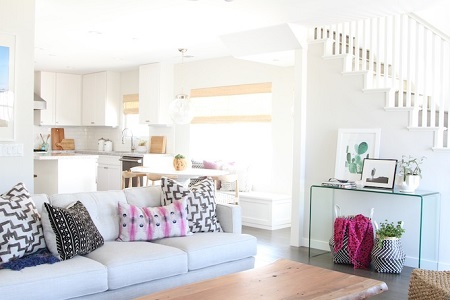 Applying a mid-century furniture in bohemian style makes your open floor space in living room becomes stylish and fresh. Now, you will not be confused because bohemian style for an open floor living room design inspires you to create your own amazing living room. If you want to find other awesome design, you can visit and check here.