Roohome.com – Nowadays, many people have a huge desire to have an elegant view of their kitchen in the apartment. They do not know how to make one space but can be divided into two parts. Becki Owens has a brilliant design to make your kitchen more luxurious by combining dark grey and brass details like the european style.
Becki Owens only focus how to design the kitchen look more enticing firstly. Having a small apartment does not render difficult her to divide one space becomes two parts. She begins with the kitchen room, takes a look how she combines dark gray and elegant brass details near the kitchen.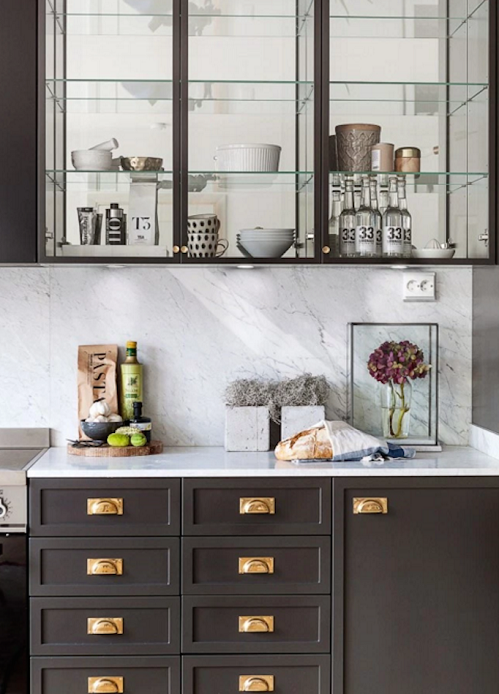 For kitchen cabinet, she chooses a dark gray color to adjust the white color on the wall. If you see, there are many glass cabinet with mirrored backing above the dark cabinet. Meanwhile the lines, she creates modern lines which are mixed with an incredible brass pulls details.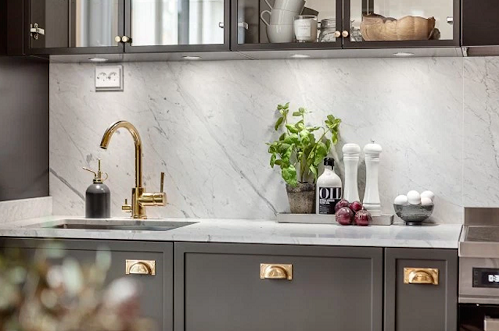 Luxurious brass details are matched with dark gray, indeed. Like the picture above, an elegant faucet is placed to make the kitchen look like the european style.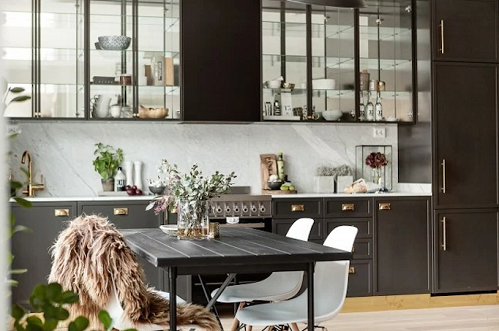 Notices the dining table near the kitchen. Becki picks a dark wood table to combine with the cabinetry. To make the table more elegant like European, she puts a fancy flower onto the table. Look, she makes it amazing!
Across the kitchen, there is another part in the same space. For the living room, she only focuses on enlightening the room with bright shades which is combined with some furnitures.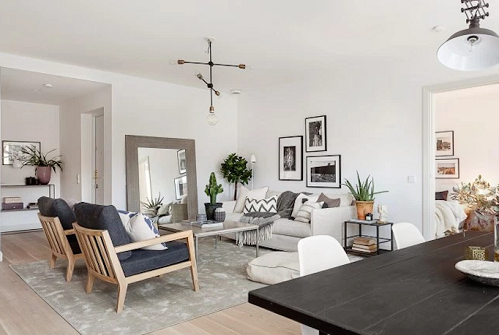 Becki Owens has shown her incredible design to create your kitchen more luxurious with a touch of dark gray and deluxe brass details for your kitchen. Go and try it now!