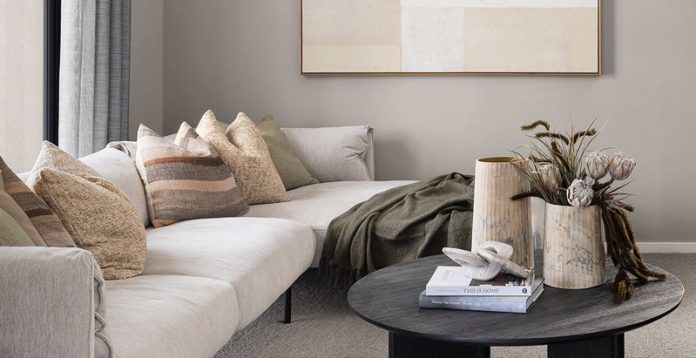 Warm orangey brown tones are introduced again during the Autumnal months. We understand your outdoor living space is an extension of your indoor home. We have selected a few ideas on how to transform your garden into a more cosy Autumn vibe yet maintain the original design of your garden.
Ambient lighting
Introduce decking lights into your garden to help set the mood during the dark evenings. Not only does this prolong your time outside, but it can also bring life and atmosphere to your garden. Adding warmer tone lights such as warm white will help create a warm cosy feeling to your outdoor living space. You may also wish to introduce hanging lights which have a yellow/ orange glass shade which can also help create this mood.
Firepit
Keep your evening cosy by adding a firepit to your outdoor living space. Keeping warm and cosy toasting marshmallows is a perfect way to utilise your garden in the colder months. This is also a great addition when entertaining friends and family. This can also be used in the summer as an outdoor grill.
Add an outdoor kitchen
Implementing a kitchen into your outdoor living space will also help utilise the space all year round, not just seasonal! This is a perfect way to entertain friends and family without having to go indoors. Extending your indoor living space to the outdoors makes this homely and welcoming and could be your new favourite place to host!
Flooring
Choosing more natural neutral tones for your composite decking can add an Autumn feel to your garden. Not only does this match the current season, but this suits all seasons around. Many homeowners opt to choose a more traditional natural aesthetic rather than using the on-trend grey tones that are also being used. Wood-like composite decking comes with many benefits to wood, such as no warping, splintering etc., which enables you to use this all year round with little maintenance. While UK-based decking suppliers sell affordable flooring materials for your outdoors, ensure you buy high-quality, reliable and durable ones.
Hot tub
A hot tub is a great accessory to have for your composite decking area. This ensures your garden is used all year round and is perfect for hosting! Whether you are jumping in to warm up from the cold winter weather or relaxing on a mini holiday in your garden, these are a great addition to have!
Add Autumnal Plants to your garden.
Make your garden more natural by adding a variety of plants and trees. This not only adds colour and character to your garden but attracts wildlife which can help you to feel at home with nature. Planting a variety of trees, shrubs, and flowering plants in your garden can create a vibrant, natural environment that can be enjoyed by you and the wildlife around you. You can also add bird feeders, nest boxes, and ponds to your garden to encourage more wildlife.
Add furniture to your outdoor living space.
Adding an outdoor dining table or BBQ area would be suitable for your entertaining area; if you enjoy having friends and family around, you may wish to add an outdoor kitchen area for hosting. Outdoor furniture such as chairs, loungers, and benches would be perfect for creating a comfortable and inviting atmosphere for your guests. Woven rattan furniture is a popular style to add to your garden this Autumn. You could also add an outdoor rug with orange and brown tones to enhance the autumn feel of your outdoor space.
Add a pergola
An outdoor pergola is a perfect addition to a decking area as it will provide both a stylish and practical solution by adding shade during the warmer months. In addition to adding aesthetic value, adding shade to your decking area will allow you to use this all year round. Installing one of these will ensure that come rain or shine. You can still use your newly constructed outdoor space.
Add a pop of colour with accessories.
You can add some personality to your garden through your colour pallet! Opting for a more minimalist theme with lighter colours can create a sense of space and relaxation to your garden. Whereas bright colours grab your attention and help liven up your garden. Add lanterns and candles during the colour months to help create a cosy feel yet maintain warmth and colour in your garden.
Add an outdoor rug
One of the easiest ways to add an autumn vibe to your outdoor garden is to add a rug. These are easy to swap and change during the seasonal months, and they are more cost-effective than changing your decking colour. Accessorise your furniture with cushions to match, adding a cosy feel to your garden.