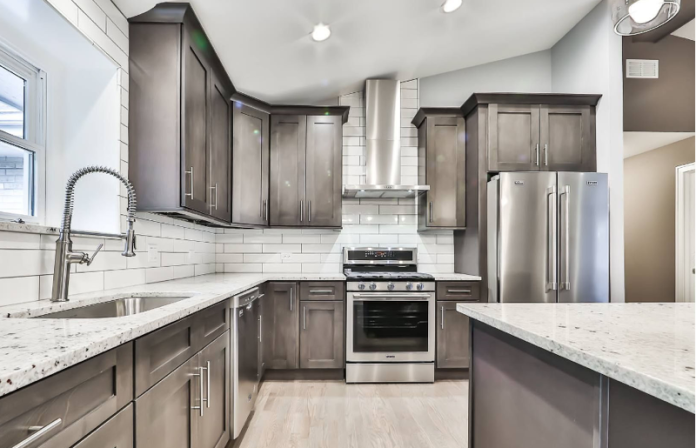 Cabinets adorned with an old and rustic natural wood appearance are ideally the most notable highlights of country-styled kitchen interiors. While the popularity of vintage kitchen designs continues to surge in the post-modern interior design industry, distressed cabinets are getting a newer lease of life, thanks to their classic properties.
In this article, we aim to explain everything about distressed kitchen cabinets. Continue reading to find out whether or not distressed cupboard designs are trending and what you stand to benefit from if you choose to buy them.
About Distressed Kitchen Cabinets
Distressed cabinets are defined by an old or weathered natural wood appearance marked by scratches and swirls. Widely regarded as reputable highlights of country kitchens, as we have already observed distressed kitchen cabinets are popularly known for a range of finishes, from finishes depicting small warm holes to cracked solid wood and rasped finishes.
Generally, apart from their weathered natural wood outlooks, the following are the most notable highlights of distressed cupboard designs.
1. Natural Wood Material
As their outlooks suggest, distressed cabinets are generally crafted from natural hardwood. If you try searching for distressed drawer designs today, you are most unlikely to find them in artificial materials but hardwoods like oak, teak, cherry, mahogany, etc. all of which are weathered or old-looking in appearance.
Because of their material features, distressed kitchen cabinets are a popular cabinetry choice among modern homeowners. They are strong, longer-lasting, and flexible, all of which are the important features that contemporary homeowners look for when buying kitchen cabinets.
2. Simplified Designs
As is the case of most classic trends, distressed cabinets are simple in terms of styling. Typically, they lack extraneous detailing or ornamentation and are marked by angular and square shapes. Because of their simplified designs, distressed cupboards can easily fit in not just classic-styled kitchen interiors but modern kitchens as well, provided you do the following;
Incorporate modern industrial accessories, for example, stainless steel, golden, or chrome accessories
Incorporate mixtures of different materials in terms of cabinetry fixtures and kitchen hardware
Blend different colors
3. Focus on Function rather than Form
Considering their simpler design features, distressed kitchen cabinets seem to be made to enhance functionality in interiors. Generally speaking, these drawers come in functional layouts, for example, farmhouse layout designs, of which one of the most identifiable features includes open-shelved construction.
Because of their functional designs, distressed cupboards are convenient in terms of usage and maintenance. They are considerably easier to accessorize and can complement a cooking space in terms of enhancing storage capacity while making the interior atmosphere feel light and cozier.
Are Distressed Kitchen Cabinets in Fashion?
As we already noted, distressed cupboard designs are currently enjoying a new lease of life in the contemporary interior design industry. In browsing the web to unravel their fast-rising popularity, we found out that the majority of modern homeowners admire distressed kitchen cabinets for the following three reasons.
#1: Convenience in Kitchen Interior Designing
Because of their simplified design features, distressed cabinets can match multiple types of interior décor items, from rustic to modern implements. Moreover, these drawers can fit in different types of cooking spaces and can rhyme with a lot of colors, depending on the natural wood stain adorning their surfaces.
Therefore, leveraging distressed cabinets in kitchen interior design is all about convenience, from the enhancement of functionality to styling or beautification. With distressed cupboards, you can easily alternate between different kitchen interior designs as fashion changes over time. This is all because of the limitless design options these drawers can let you access based on their compatibility with different designs.
#2: The Functional Aspects of Distressed Kitchen Cabinets
Because distressed kitchen cabinets are easy to work with in terms of styling, cleaning, and maintenance, they have stood out as a great admiration of many modern homeowners. Besides the ease of working with them, distressed cupboards are longer-lasting and so, cost-effective.
Unlike the shiny surfaces of contemporary-styled kitchen cabinets, the natural wood finishes of distressed cupboard designs boast unequaled toughness against scratches, spills, all kinds of smudges and effects of tear and wear.
#3: Access to Multiple Design Options
Generally speaking, distressed cabinet designs are versatile. Apart from coming in different types of natural wood, these drawer designs feature all kinds of styles, from classic to contemporary fashion. While classic designs are entirely cut from natural hardwoods, modern distressed cabinets feature a blend of natural and artificial materials.
Moreover, you can find distressed cabinets in all kinds of design layouts. In this respect, with distressed cabinets, it is effortlessly possible to achieve any kitchen design of your choice, regardless of whether it is classic or modern.
Trending Ideas on Distressed Kitchen Cabinets
Now that you've discovered why distressed cabinets are trending, you are probably inspired to install them inside your kitchen. If this is so, then you should discover the latest ideas courtesy of distressed kitchen cabinets unless you don't want your cooking space to remarkably stand out with them.
Here are the top-trending ideas courtesy of cabinets with a weathered natural wood appearance.
Accessorized Distressed Kitchen Cabinets
If you want to blend classic and contemporary fashion in your kitchen interior design, simply opt for accessorized distressed cabinets. They are currently the top-trending modern-styled cabinets with distressed outlooks. Apart from the gorgeous visual appeal, accessorized distressed cabinets are attractive based on their compatibility with different interiors, from traditional to contemporary-looking kitchen interiors.
Distressed Cabinets Mixed with Rustic Interior Décor Materials
Do you have a taste for traditional kitchen interiors? If yes, then install distressed kitchen cabinets in your kitchen then mix them with vintage décor materials, from kitchenware to hardware like sinks. Distressed cabinets blended with classic décor materials, for example, farmhouse sinks and rustic wood appliances are currently on top of trending kitchen interior design ideas.
Open-Shelved Distressed Kitchen Cabinets
As the demand for functional cooking spaces continues to skyrocket, open-shelved cupboard designs are fast rising to prominence. These types of drawers are widely admired for their functional features, of which the most notable include enhanced storage capacity and ease of usage and maintenance.
Conclusion
Although they are more often linked to traditional kitchen interiors, distressed cabinets are enjoying enhanced popularity in the contemporary interior design industry. Generally defined by simpler designs marked by natural wood material and minimal ornamentation, distressed kitchen cabinets are notably adorable, thanks to their immense functional characteristics, all of which make them perfectly convenient in interior design.