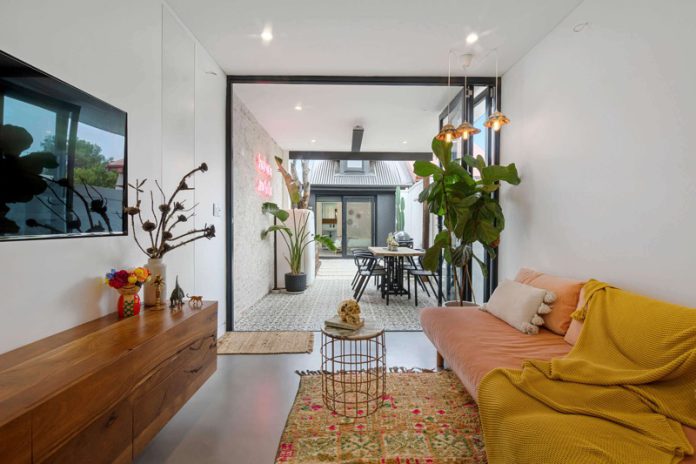 Looking to renovate your home but worried about the costs?
Fret not! Renovating on a budget is not just possible but can also yield fantastic results. With some creativity and smart decision-making, you can give your home a stunning makeover without draining your savings. By focusing on cost-effective solutions and maximising the potential of your existing resources, you can achieve significant changes without compromising on quality or style.
Moreover, if your renovation plans extend beyond your current budget, don't worry! There are several finance options available, such as a salary advance scheme to help you out.
Whether you're planning to sell your house or simply want to update your living area, this blog will walk you through a variety of low-cost home improvement ideas to help you modify your space on a budget.
Let's get started!
1. Update Your Doorway
When it comes to home renovations, we generally don't give much attention to doorways. That, however, should not be the case as your doorway serves as a gateway into your home.        It is the first thing that our visitors notice and it sets the vibe of their overall experience.
One affordable and effective way to update your doorway is by repainting the door. A fresh coat of paint can instantly breathe new life into your entrance, enhancing its overall appeal. You'll be amazed at the dramatic difference a simple paint job can make.
Moreover, updating your doorway goes beyond just repainting the door. Don't forget to address any exterior revamping requirements, such as siding remodelling. Neglected sidings can diminish the overall impact of your efforts. Thus, by paying attention to both your doorway and siding, you will be able to design a captivating exterior for your home.
2. Pick Wallpaper Over Paint 
The choice between paint and wallpaper can significantly impact the overall cost and longevity of your renovation. While painting a room is generally more affordable it's important to consider the long-term value of wallpaper. Despite its higher initial cost, wallpapers are highly durable, making it a cost-effective choice in the long run.
One more advantage of choosing wallpaper is the availability of a wide range of design options. From bold patterns and intricate textures to subtle prints and faux finishes, wallpapers provide endless possibilities for adding character and personality to a space.
Lastly, applying them is comparatively easier. Many modern wallpapers are designed to be self-adhesive or peel-and-stick, eliminating the need for messy glues and complicated installation processes. By following the instructions properly you can apply it yourself, that almost looks like done by a professional.
3. Revamp Your Furniture 
Instead of replacing your old furniture entirely, consider breathing new life into the pieces and revamping them. It is an excellent method to give your home a fresh look without exceeding your budget. This approach will also allow you to showcase your creative ideas and make your space feel more personal.
You can renew your furniture's look by reupholstering it. Consider updating the fabric on your chairs, sofas or ottomans to instantly elevate their appearance. Also choose a fabric that suits your style and durability needs. This will allow you to transform your outdated or worn furniture into stunning statement pieces.
Another, simple way to renew your furniture is by repainting it. Choose a colour that complements the overall aesthetic of your home. Give them a modern or vintage vibe, depending on your preference. With a little sanding and a few coats of paint, you can integrate your worn-out pieces with your home's decor.
4. Use Carpets for Flooring
Carpets are less expensive than other types of flooring, such as hardwood or tile. As a result, they are becoming increasingly common for individuals trying to refurbish on a budget. From enhancing the overall aesthetics to creating a cosy ambience, carpets can transform any room into a welcoming haven.
One way in which carpets can beautify your home is through their wide range of design options. Whether you prefer plush textures, modern geometric patterns, or traditional floral motifs, there's a carpet style to suit every taste. By carefully selecting the right carpet design, you can instantly elevate the visual appeal of your floors.
Furthermore, carpets can be a practical choice for households with children or pets. They offer a cushioned surface that helps prevent slips and falls, making them safer for little ones to play on. Additionally, carpets can trap allergens and dust, improving indoor air quality and making it easier to keep your home clean.
5. Try Tiles for the Kitchen 
When it comes to affordable kitchen makeovers, one fantastic option to consider is using tiles.Tiles are a cost-effective and versatile option for transforming your kitchen's appearance. From practical benefits to aesthetic appeal, tiles can renew your kitchen space without costing a fortune.
One of the primary advantages of using tiles in the kitchen is their durability and easy maintenance. They are designed to withstand high foot traffic, moisture and stains, making them an ideal choice for this busy area of the home. Furthermore, with regular cleaning and minimal upkeep, tiles can retain their appearance for years.
Additionally, like carpets and wallpapers, even tiles are available in various designs and textures. Whether you prefer sleek and modern subway tiles, or rustic and textured terracotta tiles you will get it. By using tiles you can instantly add depth, colour and texture to your kitchen.
6. Make an Artistic Statement 
Adding art pieces like paintings and wall art can instantly elevate the charm and character of your home. Contrary to popular belief, great art pieces are not always expensive. You can find unique and budget-friendly artwork at garage sales, second-hand shops, thrift stores and flea markets.
These places often have a wide variety of artwork ranging from paintings to prints, sculptures and decorative wall hangings. Visit these places with an open mind to experiment with new styles. You never know when you'll come across a hidden gem that speaks personally to you.
Remember that art is subjective, and its beauty is in the eyes of the beholder. When choosing artwork for your home, don't be scared to experiment and think outside the box. You can also bring out your creative genius and take on some DIY art projects.
7. Decorate with Fake Plants
While nothing quite compares to the beauty of live plants, fake plants offer a practical and cost-effective alternative. They can instantly refresh and elevate your space, add a touch of nature and create a lively ambience without the need for constant maintenance.
One of the significant advantages of using fake plants is their longevity. Unlike live plants that require specific care and attention, fake plants can withstand various conditions and retain their vibrant appearance for years. This means you can enjoy the benefits of greenery in your home without worrying about watering, sunlight or seasonal changes.
Additionally, they are an excellent option for those with allergies or homes with low natural light. By strategically placing them in key areas, such as living rooms, bedrooms or even bathrooms, you can create a lush and inviting atmosphere.
To Sum It Up
Not everyone can afford the expense of a major home renovation. Fortunately, there are plenty of ways to refresh the look of your home on a budget and with minimum hassle. By strategically spending small amounts of money and considering where your investment can make the most significant impact, you can transform your home one step at a time.
The key is to implement clever design ideas and make small changes that have the power to redefine how you enjoy a space. Whether it's a fresh coat of paint, updating your old furniture or hanging wall art, these simple modifications can breathe new life into your home without breaking the bank.