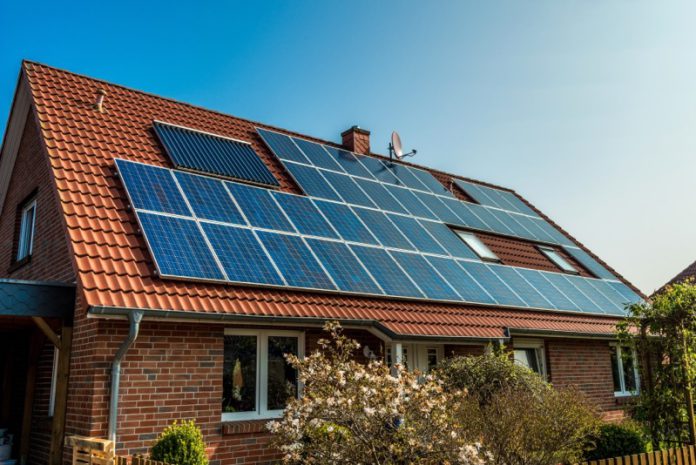 Philip Wadge Architecture in Newbury, Berkshire are experts on low-carbon technologies.  Here, they outline the benefits for your home and the best solutions for energy-efficiency.
The benefits of investing in low-carbon technologies for your home include:
Slashing your energy bills in summer and winter
Becoming self-sufficient in energy and therefore immune to power cuts
Future proofing your home, boilers are due to be phased out
You can get a £5,000 – £6,000 government grant for a heat pump installation
The satisfaction of helping, not contributing to, climate change
While it can be a minefield to explore the options available, here's information about the two solutions that Philip Wadge Architecture recommends first and foremost to homeowners.
New battery tech has transformed solar panel effectiveness and aesthetics.
Photovoltaic (PV) solar panels can be fitted to any roof or be ground mounted. Panels don't need to look ugly any more as they can instead be inset in line with your tiles or even be incorporated in solar slates for minimal visual impact.
Panels are more efficient by the year, working even on cloudy days and can often generate more power than a household can consume in a day.
Not only have panel prices fallen, but the battery storage enables all energy produced to be used throughout your home, powering lighting, household appliances, heating and hot water systems, as well as charging your electric car.
With the latest technology and current energy costs, savings can be large with payback in as little as 5 years.
Heat-pump central heating can increase energy efficiency by 300%.
Heat pumps are efficient and now a common alternative to oil and gas boilers, which the government is planning to phase out over the coming years.
Heat pumps can provide over 300% efficiency when combined with underfloor heating for a more comfortable and consistent living environment. Indeed, some heat pumps can be reversed in summer to ensure a cool home through our increasing common heat waves.
When and how to upgrade?
PV and battery storage can be installed at any time, and many firms offer finance. However, if you're extending or refurbishing your home this is the perfect time to include solar panels, heat pumps and underfloor heating into your plans.
At Philip Wadge Architecture we offer whole house energy efficiency assessments and improvements when extending or remodelling – it's the perfect time to future proof your home and insure an integrated and effective solution. Find out more about sustainable architectural design at Philip Wadge Architecture
Contact Philip Wadge Architecture to see how you can make your home more energy-efficient: www.philipwadge.co.uk