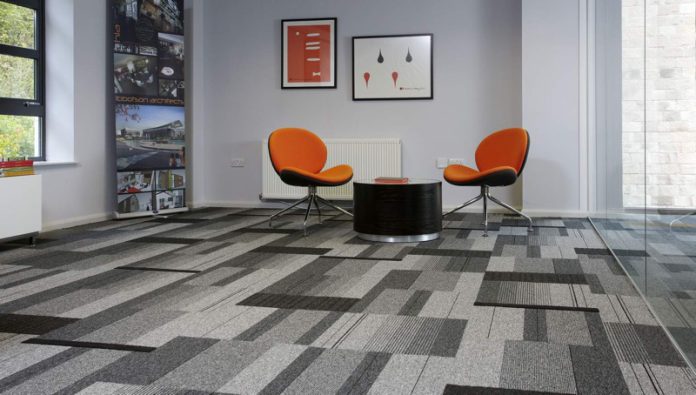 Designing an office space requires a keen eye for detail and a deep understanding of how aesthetics and functionality can merge to create a conducive work environment. One of the key elements in office design is flooring, and more specifically, carpet tiles. Carpet tiles not only add to the visual appeal of the office but also provide comfort and noise reduction.
In this article, we will explore the top 5 Burmatex carpet tiles that can transform your office into a stylish and sustainable workspace. We will also provide a bonus suggestion for those looking to take their commitment to sustainability a step further.
Tivoli Planks are vibrant range offering a palette of 24 colours and a very unusual but very fetching rectanglar carpet tile. This allows you to create distinct breakout areas using both colour and shape, making it an excellent choice for large offices. The tiles are made from 100% regenerated ECONYL yarn, making them a sustainable choice.
Balance Ground tiles offer a subtle, textured design that can add an element of sophistication to any office space. They are available in 18 colours, providing flexibility in design. The understated elegance of Balance Echo makes it a perfect choice for a posh office in the city.
The Hadron range offers a unique, modern design that can add a touch of style to your office. The tiles are available in 8 colours, each providing a distinct look. The contemporary design of Hadron tiles can help create a cool and trendy office environment.
The Burmatex Goto range tiles offer a simple, yet elegant design that can complement a variety of office decors with the added advantage of a very cost effective price – always an important consideration in a l;arge office. They are available in many, many colours, allowing you to create distinct areas within your office. The versatility of Go to makes it a popular choice for many office spaces.
The Burmatex Alaska range offers a plush, luxurious feel, making them a great choice for a posh office space. They are available in 14 colours, providing a good range of options for design. The plush texture of Alaska tiles can add a touch of luxury to your office.
Bonus: Burmatex Arctic – The Carbon Neutral Choice
For those looking to make their office space more sustainable while also maintaining a high-end, stylish look, the Arctic range is a perfect choice. Made using Universal Fibers' ground-breaking Thrive matter yarn, the world's first carbon negative recycled yarn, and Burmatex's unique BioBase recycled backing, the Arctic range is carbon neutral.
The Arctic range is inspired by the changing Arctic landscape and offers a softly directional but organic design. It is available in 12 colours, in both tile and plank formats, allowing for unique structures and patterns to suit your project.
Choosing the right carpet tiles can significantly enhance the look and feel of your office. Burmatex offers a wide range of options that cater to different design preferences and sustainability requirements. Whether you're looking for vibrant colours, subtle elegance, or a carbon-neutral option, Burmatex has got you covered – just make sure you buy them at Fenston Carter to get them at the best price!.