Roohome.com – A small modern apartment with colorful interior might be effective who live in the middle of urban. People who do not have much time or in other names a busy person, they will choose loft to stay. But, what if they do not know how to create a cozy loft with a modest space? This design will inspire you to make it true. By choosing a modern design and combining with a colorful interior, it will be great. Now, let's take a look!
Modern Design For Mini Loft With Colourful Interior
Pavel Pisanko shows us one of his brilliant ideas about designing home living. If you have the problem in creating a cozy mini loft in the middle of urban, his design will help you. You do not need to worry anymore in dividing one small space to be some spaces inside of mini loft. Colorful interior is also the second reason for Pavel Pisanko why he is very confident to your dream mini loft. Do not waste your time to take a look any details of his design below.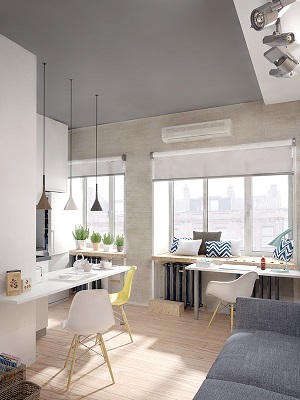 Having many windows inside the room is simplifying the designer to make it bright. For the wall itself, white and light gray are combining on some parts of the wall. For instance, in the workspace is painted by white as same as work desk too. The work desk is positioned against the windows so make you keep spirited in working. The kitchen is also colored by white.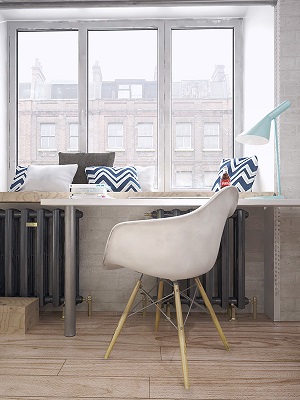 For the kitchen, white is still the main point on this mini loft. Modern furniture is used in this space, such as kitchen cabinets, kitchen sink, and a mini dining table. Even though only a small kitchen set, but modern design can be felt in this space. The dining table is merged to the wall in order to make space more efficiently. Choosing this small modern apartment inspired you, right?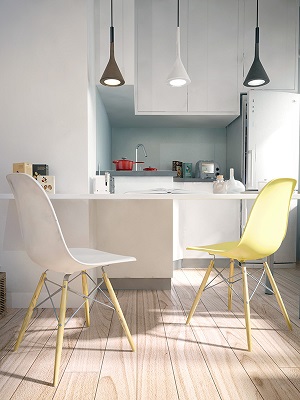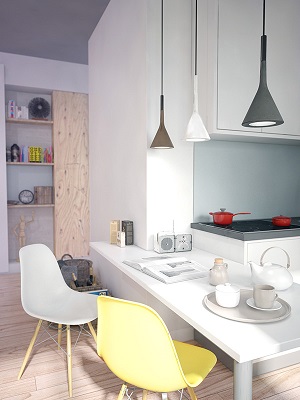 Move to a living room, Pavel Pisanko puts floor bookcase on the wall. The bookcase itself decorates the room by colorful interior as well. You can see from the arrangement of the shelf is colored by many bright colors such as red and blue. A blue sofa is also chosen by the designer to make it suitable. Modern furniture is used in this room because he wants to give a cozy atmosphere for you.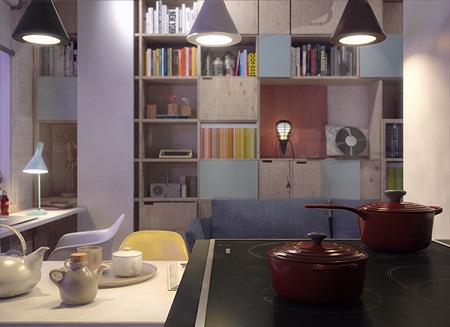 Having a modern mini loft design with colorful interior now it is possible to be created. Under constructing a brilliant designer, your dream mini loft becomes true. Are you interested in this design above? Do not waste your time, just grab your chance and make it happen! If you want to see other design, just visit and check here.