Roohome.com – Are you looking for a modern interior design inspiration to be applied in your apartment? Well, you are in a right way! This is your great chance to create a modern appearance for an apartment by using this design below. The design itself will show you how an architecture interior design creates an ordinary apartment becomes modern and stylish. Do not waste your time, now it is your turn to create your own amazing apartment by using this design below.
Interior Design Inspiration By Using A Modern Appearance
If you have a modest space in your apartment, do not be confused. This is because Denis Krasikov creates his brilliant idea to you. For this design, he uses a modern appearance in living room firstly. Although the size of this space looks limited, but he keeps placing a medium sofa in the center. Afterward, a unique sliding door as bulkhead between kitchen and living room. For the kitchen itself, a mini wood dining table a dark kitchen set are the main points in this space. Although there is only one window, but the kitchen still can be bright and clear.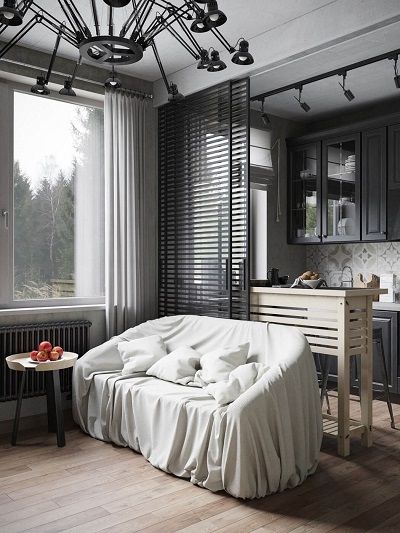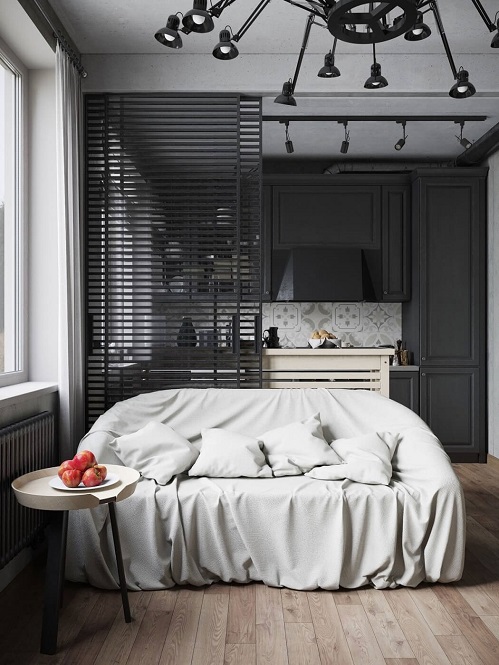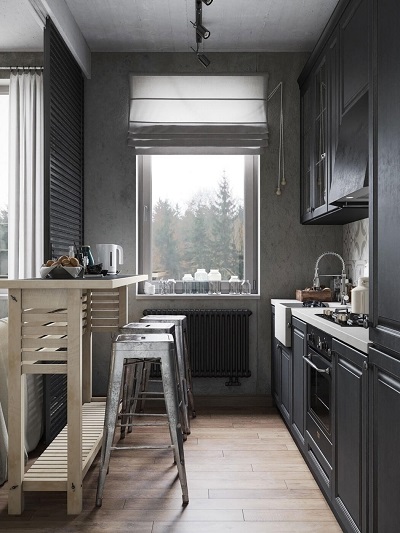 A Cozy Work Space With An Inspiration of Architecture Interior Design
If you are a workaholic, you need a cozy work space to produce a good result of your work. That is why the designer gives an inspiration of architecture interior design to build a cozy atmosphere as well. First of all, he divides 1 space into 2 different parts between workspace and relaxing space. For the workspace itself, there some creative furniture such as work desk, floor reading lamp, and stationeries for working. Meanwhile in relaxing space, the designer places a medium white sofa, a wood coffee table, and bookshelf onto television. this is a modern interior design inspiration in order to help you having a dream apartment.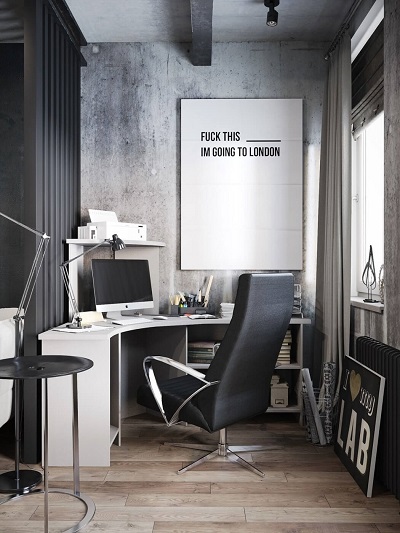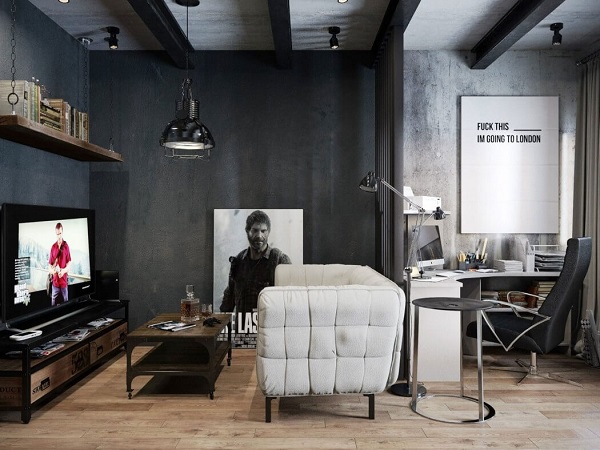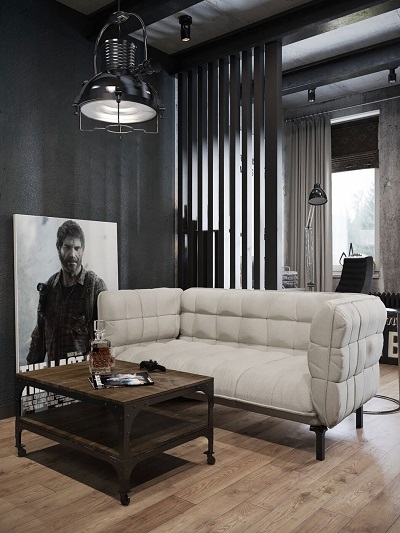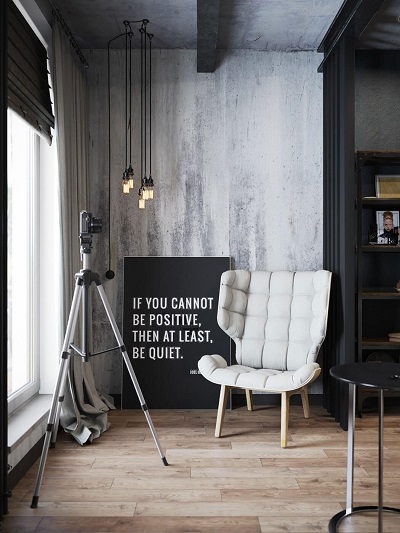 A Perfect Decoration With A Modern Style For Bedroom
You must be careful in choosing the decoration for your bedroom because you will lose a cozy bedroom if you get a wrong decoration. Denis Krasikov shows you his interior decorating style to beautify your favorite bedroom. Firstly, he makes big black lines as bedstead's decoration. He keeps adding smart and creative furniture such as 3 spherical lamps on the ceiling, black curtain, and Scandinavian element. If you are inspired after seeing this awesome design, grab your chance to make your modern bedroom appearance start from now.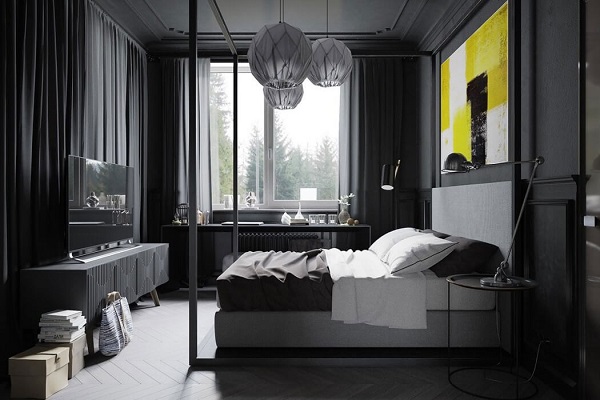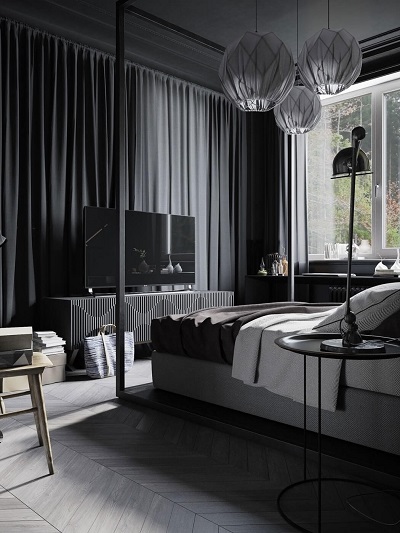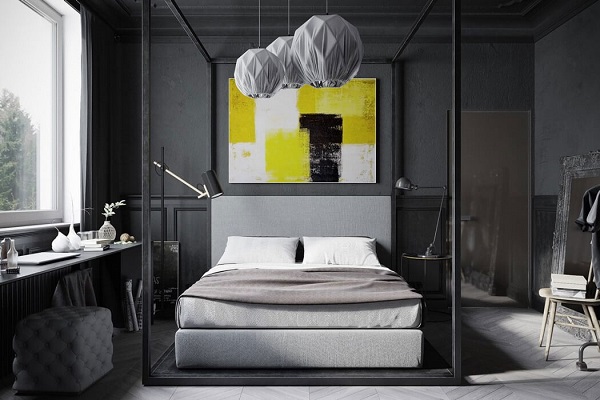 A Modern Appearance For  A Simple Bathroom
Denis Krasikov shows you how he creates a simple bathroom becomes enticing and stylish. Interestingly, he uses a hexagonal pattern for the floor. It is filled with black and white colors. You might admit if the designer is brilliant in placing the bathtub, toilet, and washstand. You will never have an idea if a simple bathroom can be changed into a modern bathroom appearance.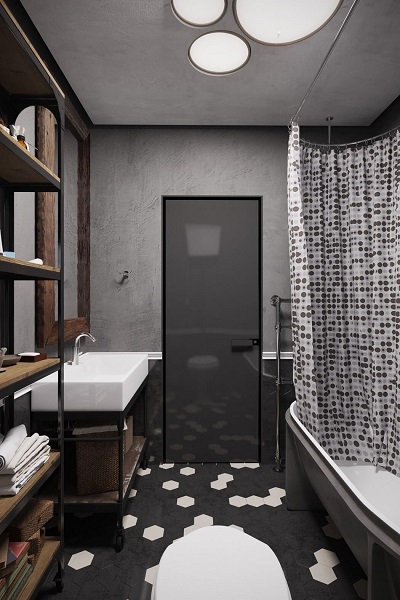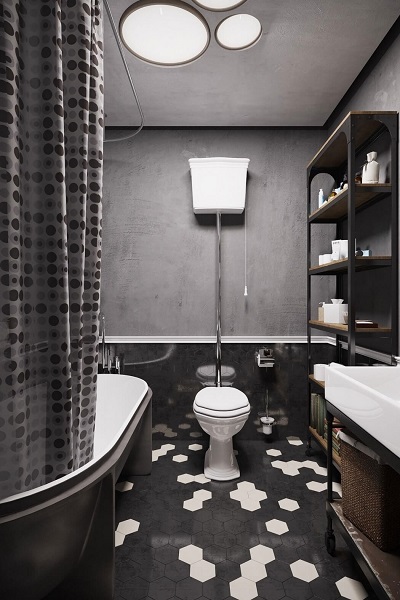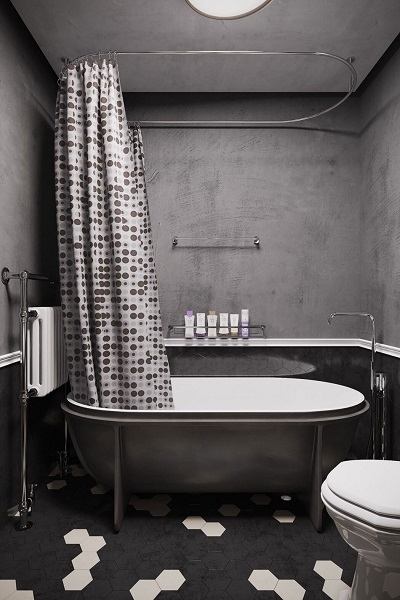 Now, you have had a modern interior design inspiration on your mind. It is your turn to create your dream apartment by using Denis Krasikov's interior design inspiration 2016. Your living room, kitchen, bedroom, and bathroom need to be renovated. Change it now! If you want to see other designs, just visit and check here. Have a nice day!