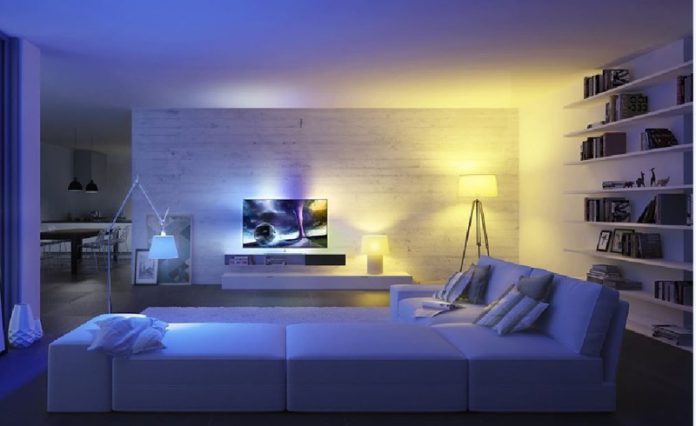 One of the most typical introductory devices of home automation is smart lighting. It may transform your décor, establish routines for your family, assist them in securely navigating the house at night, notify you of events and alarms, and even allow you to wake up or begin getting ready for bed gently. The choices are practically limitless, and there are several things you can do to make your entire family happy!
And the Philips Hue lights are often regarded as the "best of breed" in the colored smart bulb market (with a price to match). Hue bulbs are unique light bulbs that interact with your smartphone or tablet with the aid of special applications, allowing you to personalize the illumination in your house entirely. You can customize a wide range of moments throughout the day. Phillips Hue bulbs, which are LED lights, are also excellent energy-saving options for your house. They are also intelligent as they are capable of learning about you and your lighting preferences over time and automatically take care of your lighting demands depending on your preferences!
You can check out the detailed creative Philips Hue setup ideas to light up your homes for beginners. Once you have installed your Hue lights, you will discover many entertaining things you can do with them. Hue bulbs are a terrific way to add additional possibilities to your home and family life, whether you want to create lighting that tells you the weather or if you wish to simplify a sleep ritual for a little kid. We have highlighted the best of Philips Hue ideas for your home below –
You can set your customized wake-up alarm
These smart lights may be programmed to wake you up by simulating the dawn effect and gradually fade in as an alternative to a traditional alarm clock. So, in place of a startling noise—which might raise blood pressure, pulse rate, and stress level—you will be now waking up naturally, as though reacting to the sunshine flowing in through your room windows early in the morning. To get started, open the Philips Hue app on your smartphone, click to Routines, and then pick 'wake up.' Then, create a new customized alarm by specifying the time, day/days of the week, which specific bulb you would want to switch on, what will be the fade-in time, and switch off time.
Set your Hue bulb to get alerts and notifications
The incredible "If This Then That" app allows you to connect your apps to smart lights like the Philips Hue bulbs. So, you might program your bulbs in a way that it switches on whenever a mobile contact calls you — ideal for people with children and elderly members who do not want to disturb their sleep. You can even set up your Hue lights to turn green whenever your smart security system detects someone approaching your front door through this app.
Set your Hue Bulbs according to your daily routine
You should know that it is possible to customize the Hue bulb lights to turn on/off or change to a certain hue to set the tone for your daily activities. Yoga in peaceful blush pink, working out in energizing red, and reading in warm yellow light to not stress your eyes are some of the options. With the help of the dimmer switches, you can easily control the intensity of the light as well. So if you want your environment to be light, you can adjust the light to less bright tones and lower it further for your bedtime. All of these may be configured in the Hue app's Routines page, much like how you set up the wake-up alarm.
Upgrade your gaming experience with thematic lighting
It is extremely easy to connect your Philips Hue lights with third-party applications and reactive lighting gaming accessories to fill your game area or living room with thematic lighting. The Hue app enables you to have your lights mirror the action in the game after installing the hueDynamic app and connecting a suitable gaming accessory, such as Razer Chroma. Once the gaming console is connected to the app, the lights will mimic the screen and give an unreal gaming experience.
Get the experience of thunderstorms at home!
Thunderstorm for Hue allows your Hue lights to generate a convincing storm, whether it is to set the scene for a horror story night or you are one of the many who prefer sleeping during thunderstorms. The app allows you to choose the intensity of the thunderstorms that you want – from weak thunderstorms to strong ones. With your smart speaker, the thunderous noise adds to the unrealistic experience.
Enhance your music experience
There are various programs available on app stores that allow you to synchronize music with your smart lights, causing them to change colors and even flash and flicker in time with the beat of the music. Our favorite is iLightShow, which is available free for both Android and iOS users. This app provides a variety of customization choices without charging extra. Choose a setting – chill, party scenes, etc. – or design your own experience by controlling the effects like brightness, energy, color, etc.
Set a customized timer for yourself
It is very common for you to have prepared something to cook and you have actually forgotten about it because you got busy elsewhere. These days are over because now with Philips Hue, you can set 'light' timers which will change the light around you to give you a direct sign to indicate whether your food is prepared, your washing is finished, or maybe just a reminder to a chore that you need to do in the next ten minutes! With Philips Hue, you can now complete your chores without forgetting them.
Conclusion
These unique ways to use Phillips Hue Bulbs clearly show that these smart bulbs have the ability actually to transform your home in every smart way. With its crazy features, you have a unique sense of control through which you can personalize your space as you want it. The best part about it is that the personalization of your home environment can happen according to your mood. So for your next party or movie night, you now know which lights will make your place stand out from the crowd!