Roohome.com – Choosing Japenese style ideas are frequently used by people who live in the middle of urban life. Therefore, this small apartment decorating is combined with Japenese style ideas. You will be amazed seeing this design amazing below because the designer creates all over the spaces with multifunctional ideas in it. The Japanese style makes your small apartment becomes modern and style by using minimalist interior as well. Do you want to see the small apartment decorating below? Let's take a look.
Small Apartment Design With Multifunctional Japenese Style Ideas by Art Buro
What will you do if you have a modest space in an apartment? You want to give a huge effort for your apartment, don't you? Therefore, Art Buro designs a gorgeous small apartment with Japenese style ideas in it. The designer pours a modern appearance of Japenese in the living room firstly. This is a modest space with three half-round big windows. The designer decorates the living room with soft accent of light gray color. Besides that, the living room is beautified with a unique chandelier on the ceiling, a white couch, and another wood furniture.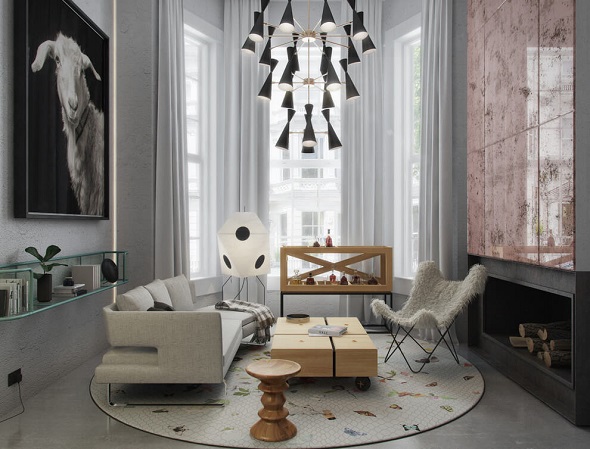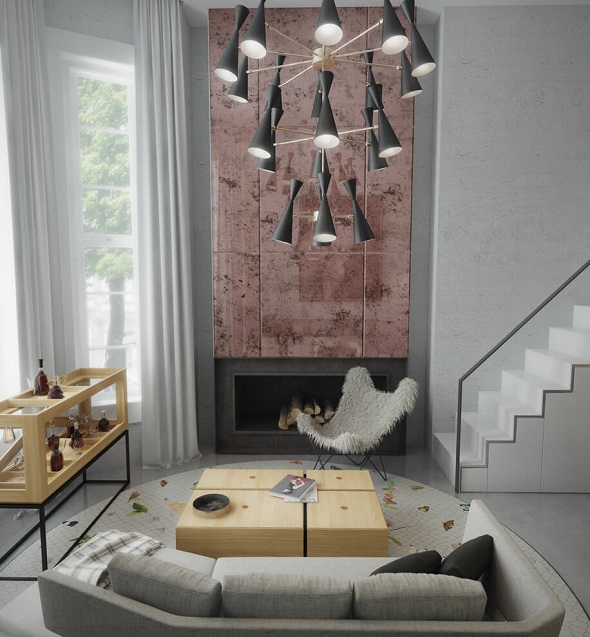 Move to another space there is a small tea table right under the stairs. The designer is really brilliant in utilizing a modest space becomes a multifunctional space. Decorating a small apartment it means you need to decorate some modest spaces as well. The designer chooses wood as the main point in this space and places a rounded tea table along with two black simple chairs. Uniquely, there are multifunctional storages which can be a bookshelf or display cabinet on the wall.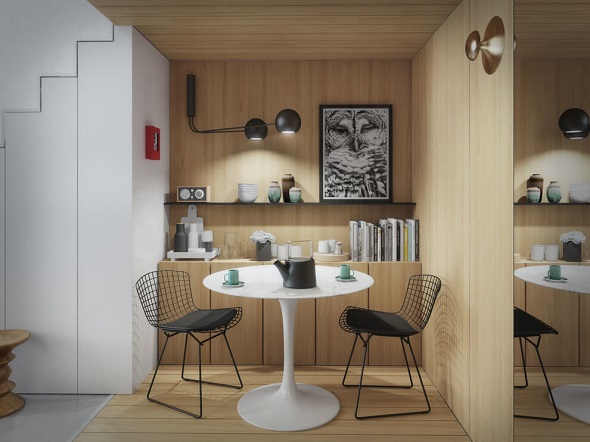 Small Apartment Decorating Combined With Japanese Interior in Kitchen Area
You can call it this is a small two-storey apartment. Because the designer utilizes under the stairs as a kitchen. The kitchen itself is designed with a contemporary interior without getting rid of the Japenese style. The designer places a black kitchen table with greeneries onto the stuff in order to make the kitchen more livable. Interestingly, the designer conjures a wooden cabinet becomes a multifunctional cabinet in order not to eat up space too much. This arrangement is one of small apartment decorating ideas which are suitable for you.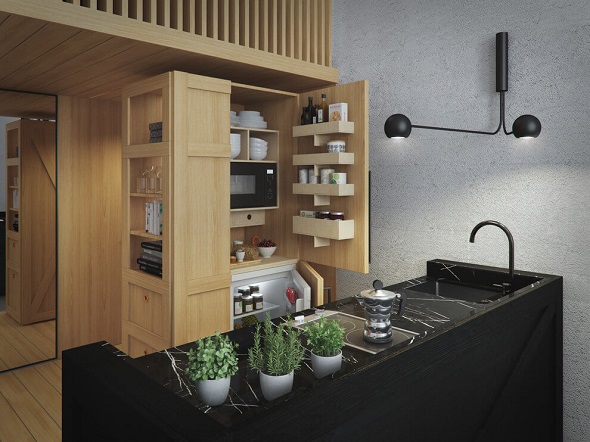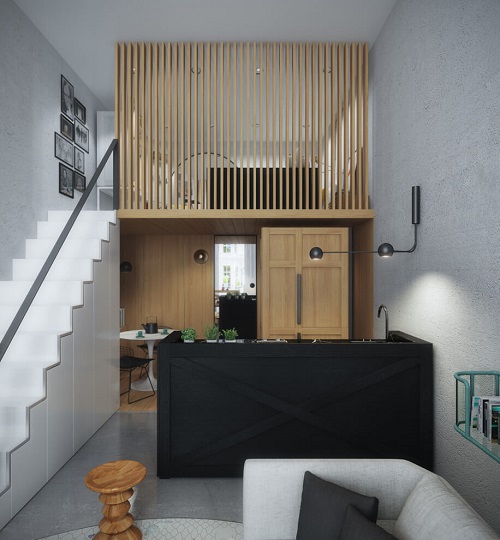 Small Apartment Decorating With Japenese Style Arrangement Applied in Bedroom Area
Move to the main bedroom which is decorated with Japanese arrangement in it. The bedroom is filled with bright color and monochrome interior. This small apartment design applies the placement of modern interiors all over the bedroom. You can see two side tables and a unique reading lamp above the bedstead. Across the view, there is a modest wardrobe with a multifunctional storage inside of it. The designer chooses this furniture in order to keep the space still tidy and stylish. A big rounded mirror can be the best decoration as well.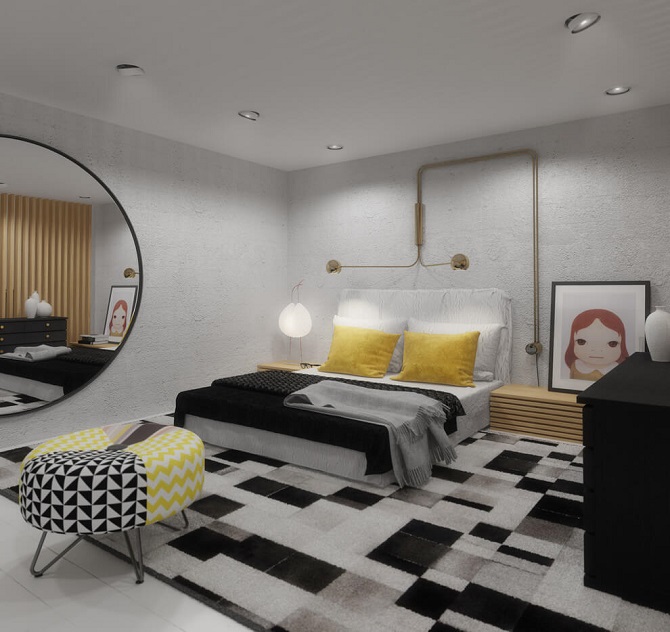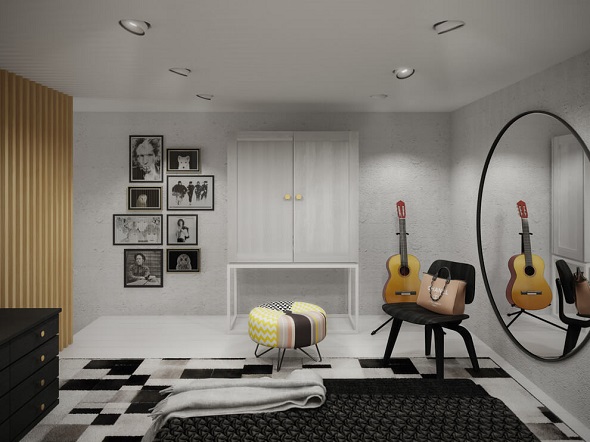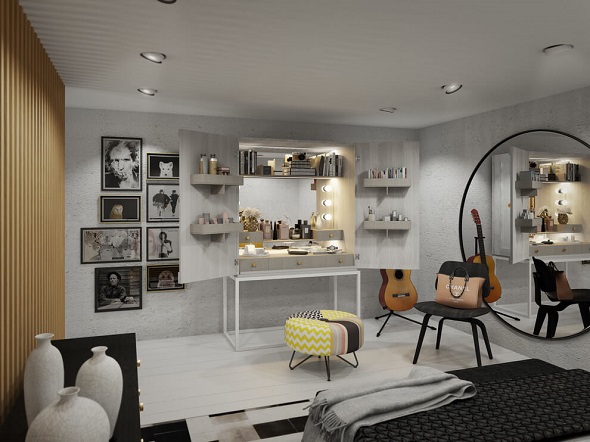 You do not need to hesitate to choose this small apartment decorating with multifunctional Japanese style ideas into your apartment. Grab your change because Art Buro has given you a lot of inspirations to you. If you want to see other designs, just visit and check here. Have a nice day!