Roohome.com – Would you like to sneak peek this modern apartment decorating design below? This is design is suitable for you. Why? Because the designer uses contemporary interior ideas in designing the apartment. The designer knows how to renovate an ordinary apartment becomes stunning and stylish. Therefore, you will get a lot of inspiration after seeing this design below. Do not forget to see a perfect arrangement under an expert of interior design. Do you want to see? Well, here there are!
Modern Apartment Decorating Design Using Contemporary Interior Ideas by Roman Izquierdo Bouldstridge
Roman Izquierdo Bouldstridge as an expert of interior design wants to tell you a brilliant way in designing an apartment. The first of all, you need to check a suitable color for your apartment whether it will generate a good appearance or not. Like this design below, the designer uses a bright white color. The presence of the white color in order to create a wide and clean appearance of the apartment. You do not worry if you have a modest space because white color tones can solve your worries. Besides that, the designer opens up every space in this apartment only by using a wide sliding door as the divider between the main room with privacy room of yours. Two wide glazed windows are important in generating a natural sunlight comes into the apartment. This contemporary apartment design also uses contemporary interior ideas on the whole.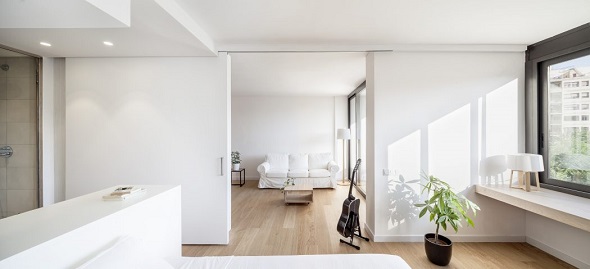 Easy Way To Decorate Simple Kitchen Combined Contemporary Interior and Traditional Patterns
The kitchen is placed near the living room along with the dining table. In this kitchen, the designer uses a traditional flooring pattern. The flooring pattern itself is also used in the mini terrace meanwhile, the main room uses wooden flooring. The designer does not use a fancy interior but only use a contemporary interior. The wooden accent keeps being dominated in this kitchen in order to produce a warm atmosphere. A white kitchen set looks clean and minimalist all at the same time. Do not hesitate to apply modern interior for an apartment like this way. The designer gives you some brilliant ways of apartment decorating design.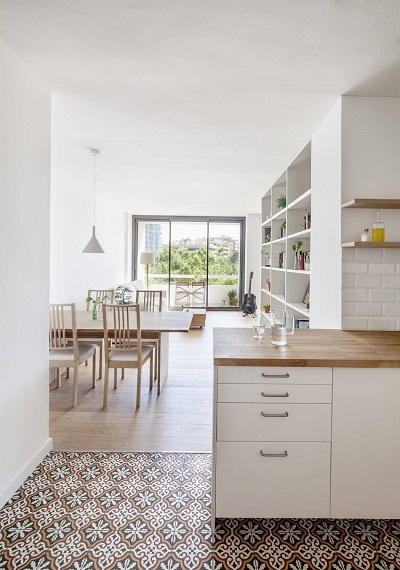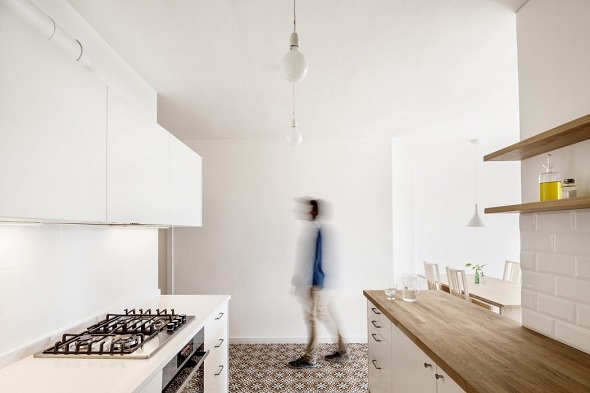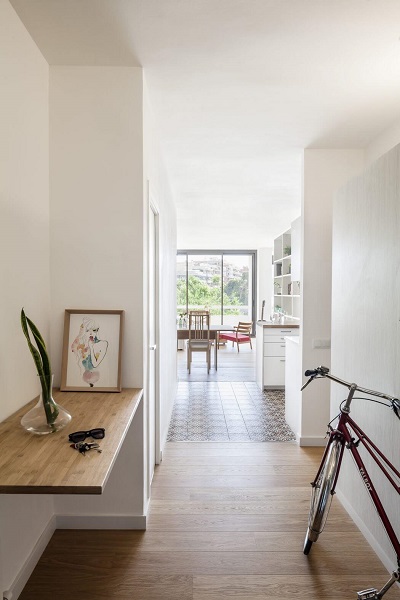 Innovative and Creative Way in Linking Simple Bedroom To Natural Light
For the bedroom, the designer decorates it beautifully. Through a wide sliding door, you can see a simple bedroom is linked to the natural light. You can call this concept with an innovative and creative way. If you have a modest bedroom space, do not worry to place a simple bedstead against the window. Do you need a work desk in your bedroom? Do not use it but create a creative position in order to get your own work desk. You can follow the way Roman Izquierdo Bouldstridge creates a simple work desk but looks creative and innovative. Besides that, there is a big white bookshelf behind the bedroom. This concept is amazing, right?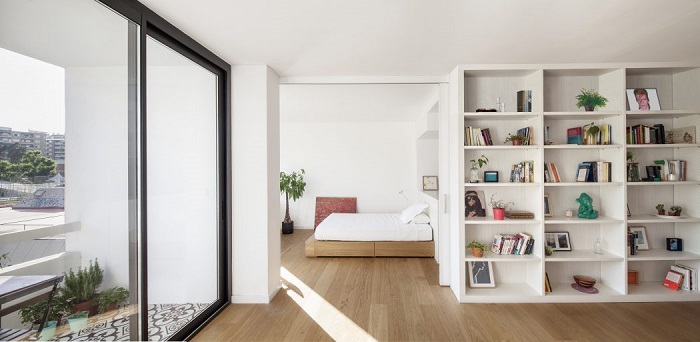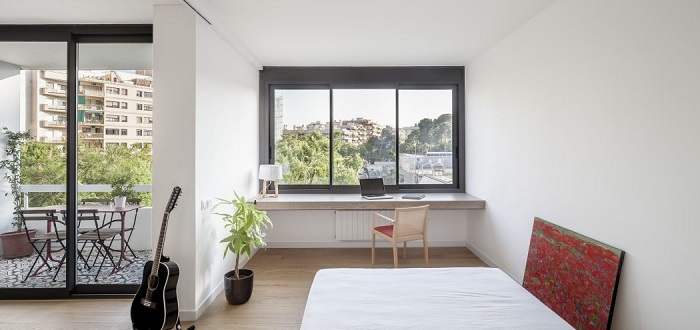 Try to apply this modern apartment decorating design right now. Otherwise, you will miss a brilliant chance to create your dreaming apartment decorating ideas 2016. If you want to see other designs, just visit and check here. Have a nice day!