Roohome.com – Let us introduce you a new home design of minimalist single house design ideas which will inspire a whole of your life now on. The design is clearly designed with a contemporary interior that supports the minimalist concept well. Besides that, the designer will show you a perfect and modern application for a single house that suits you. Do not worry, the designer will give you some helpful tips in order to help you if you want to apply it to your home living. Grab your chance now because this is your time to make your dreaming house come true.
Minimalist Single House Designed With Contemporary Interior and Application by Cymon Allfrey Architects
Have you ever had a dream to have a cozy and minimalist single family house? If so, your dream will come true. Why? Because Cymon Allfrey Architects as a brilliant interior designer has many amazing ideas to create an ordinary single house design becomes extraordinary. In this design, first of all, you need to take a look what foundation color which is suitable for your house. If you have a large living room area and the area looks like an open space, try applying a shade of dark tone colors. Do not worry about applying a dark color because it can generate gorgeous appearance and will make your living room becomes classic yet modernist at the same time. You can see a consistency of using dark tone colors from outside the house. As an exterior, the designer keeps using dark shades all over outside the building.
Meanwhile, the interior looks calm and warm. The designer combines a contemporary interior with wooden accents. When you enter your living room, your eyes will get a smell and view of wooden features. In this cozy living room, the designer utilizes many windows that can be glazed beautifully. One of them is a big window which links the living room into a natural view outside the house. Meanwhile, the furniture is equipped with dark tone colors as well. Cymon Allfrey Architects place two classic gray couches combined with a retro armchair style. Because of using wooden flooring, you can add a furry gray tapestry in order to beautify the living room as well. Have you not been enough for this design and application? Do you still wanna find out a modern interior for a single house? Just keep going.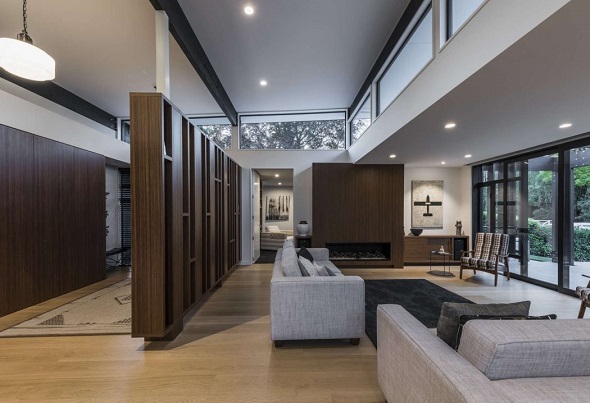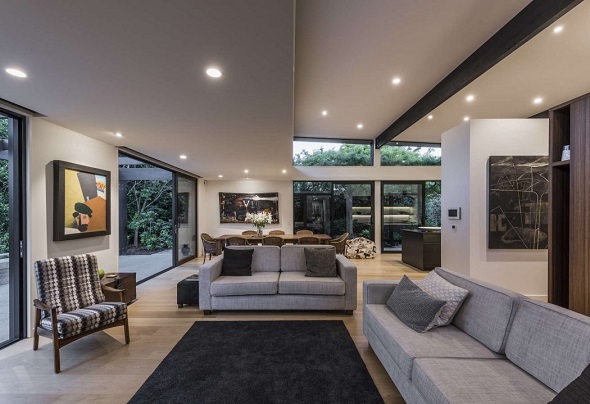 If you have a large living room with open space look, do not worry to divide it. Do you see? A modest area for dining room can be placed near the living room. But, you need to measure the distance between the living room with the dining room. It is a contemporary interior home design way which is chosen by Cymon Allfrey Architects in decorating a living room and the dining room all in one. This is taken out from minimalist single house design ideas.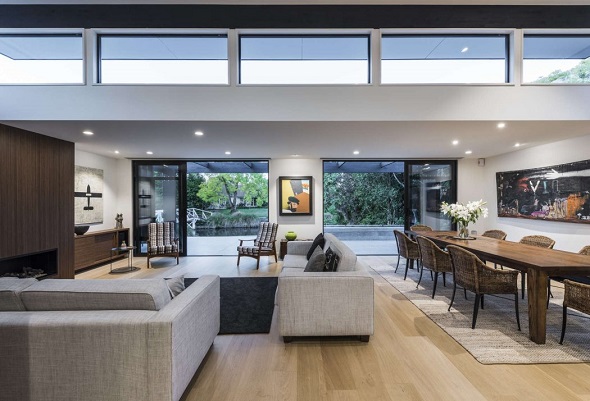 Combining Contemporary Interior With Natural Appearance Generates Natural Vibes
It will be great if you can utilize your big window in the living room to be functioned into a door that linked to outside the house. Why? Because it is such a perfect combination of a contemporary interior with natural vibes. This idea will generate natural vibes inside your living room as well. Because of the main concept of this home design is contemporary single house design ideas, therefore the designer keeps using contemporary features.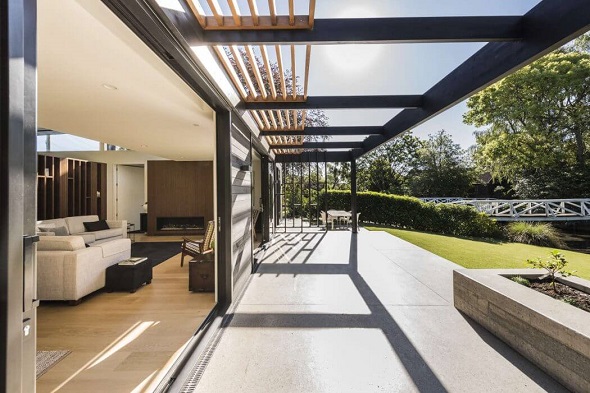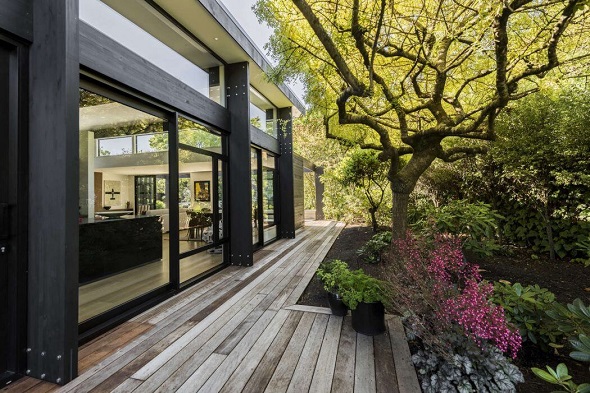 Well, your problem has been solved by seeing this idea. Minimalist single house design ideas are suitable for you. Cymon Allfrey Architects show you many great ideas in designing a single house. If you want to see other amazing single house designs, just visit and check here. Have a nice day!