Roohome.com – Having a spacious living room needs you to be more creative in decorating. Well, this elegant interior is suitable to be applied for a spacious living room decorating design. The interior has amazing ideas to help you arrange and decorate it. Do not forget, there will be some tips for you in where decorating a spacious living room in your home living. Wanna take a look? Here there are!
Spacious Living Room Decorated With Elegant Interior by ihouse
The first impression when you enter this spacious living room, you will feel cozy and peaceful. The designer, ihouse, has been successfully decorating a spacious living room becomes stylish and modern. The designer chooses an elegant interior in order to generate a cozy atmosphere. But first of all, the designer wants to show you if this is an open living room space which has many spaces to placed. But the designer only focuses on the living room. By applying a shade of dark tone colors, this living room becomes elegant and masculine all in one. Uniquely, the designer chooses stone brick textures that give a natural look. Besides that, the textures be a main interesting point in this living room.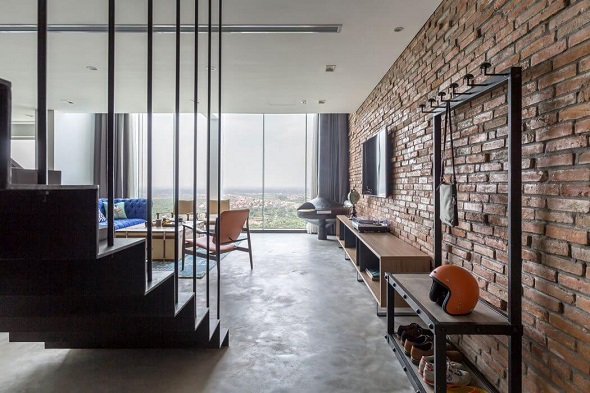 Furthermore, for the interior is an elegant accent. You can see from the couch is designed elegantly with blue tone colors and combined with classic two armchairs near the couch. You do not need placing any display cabinets in your spacious living room because it can make your living room becomes full and crowded. Therefore, be smart in placing some decorations or you can try placing a multifunctional cabinet. An elegant interior for a living room is frequently used by some people nowadays. That's why house wants to decorate your spacious living room with elegant accents. Utilizing a big window in your living room can be a good choice. In the afternoon, you will be spoiled with a natural sunlight. Meanwhile, in the evening you will be spoiled with a shade of glimmer through the chandelier and the window.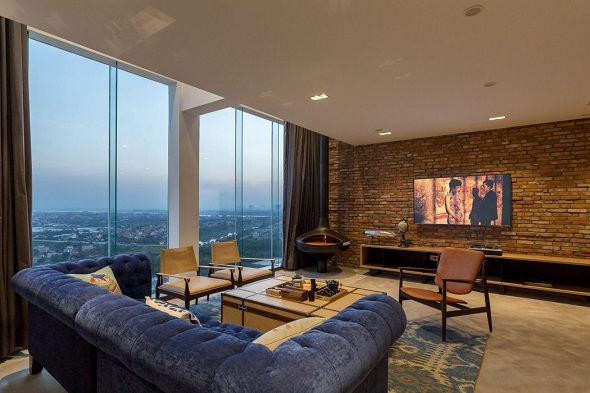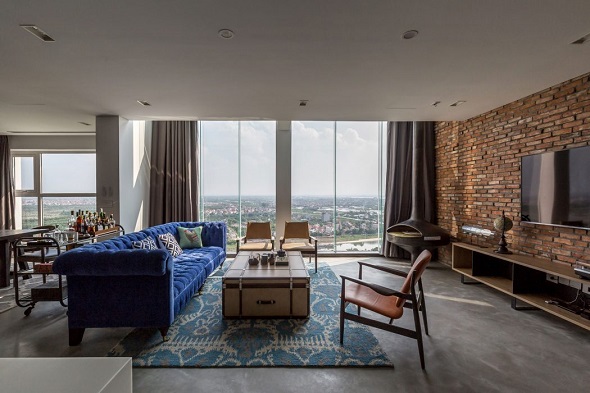 Combining Modern Arrangement with Elegant Interior Will Give The Best Inspiration
Talking about an interior, you are able to combine a modern arrangement with an elegant interior into your spacious living room. This idea will give a lot of inspiration certainly. The designer, house, has a brilliant idea to decorate and arrange a spacious living room becomes stylish. Firstly, you must check other areas in your home living can be placed near the living room or not. Because this is an open living room space, so the designer creates a smart way in arranging other spaces near the living room. If you want to add other decorations, it will be great. A spacious living room decorating design also needs modern decorations.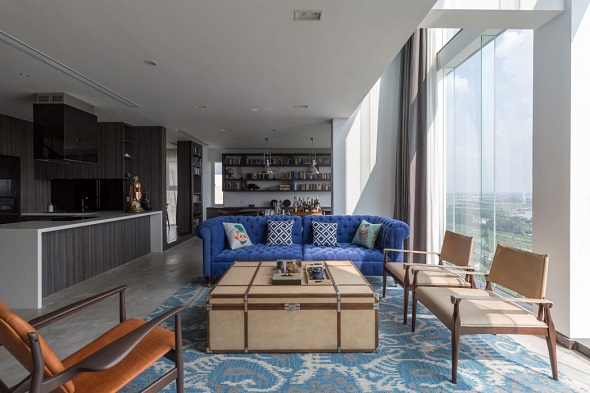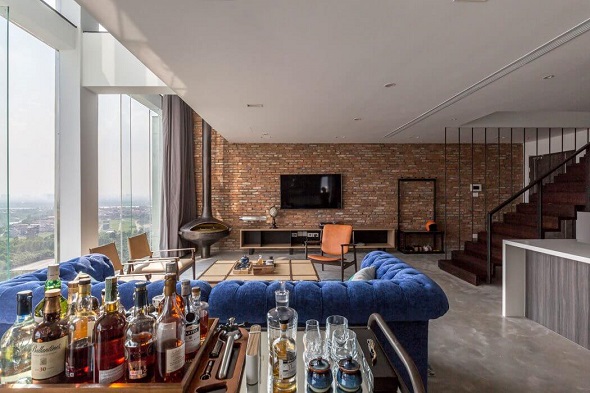 This inspiring spacious living room decorating design has been inspiring you a lot. By using an elegant interior, your living room becomes stylish and fashionable. If you want to see other modern living room decorating ideas, just visit and check here. Have a nice day!