Roohome.com – Do you wanna know what is the latest design of an apartment nowadays? This luxurious apartment design is the answer. The design is created with a luxurious concept yet, the designer combines it with a modern interior and classic features. Classic itself can be related to a luxurious accent meanwhile, the modern interior to make your apartment keep being stylish and fashionable. Do not forget to see every detail of the design well. Let's take a look!
Luxurious Apartment Designed Beautifully With Modern Interior and Classic Features by
Ekaterina Fedorchenko
Ekaterina Fedorchenko decides to design this luxurious apartment by using a modern interior and classic features. The designer also uses a luxurious apartment interior design in order to support the main concept. First of all, the designer paints all areas in the living room with a shade of light gray color. This color is great to make your living room looks classy and luxurious. After that places some ornaments near the living room in order to beautify the space. You can place two gray couches with L-position and a glass coffee table as the set. Interestingly, the designer creates a classic fretwork on the ceiling along with a crystal chandelier. Ekaterina Fedorchenko does not hesitate to add a gray curtain as an ornament for the window. Do not worry to combine modern interior with classic features.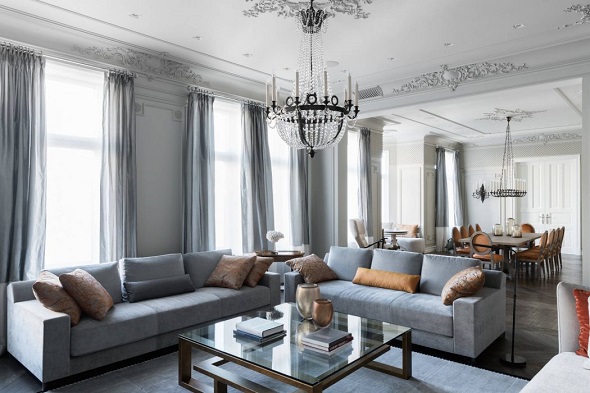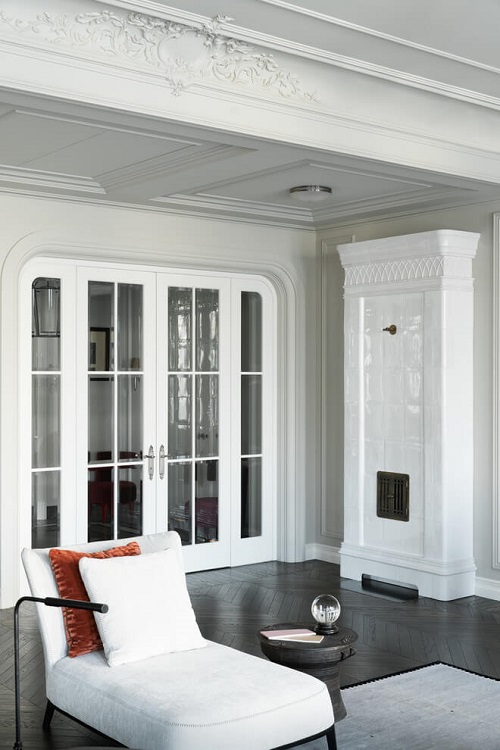 This is a large apartment who has some free or empty spaces in the living room. Therefore, the designer decides to decorate some corners in the living room with living room furniture. Make a classic corner view like these designs below. The designer only places a simple couch and coffee table as the set. You can put some pillows with simple patterns. A dark purple for a couch on the corner would be great because of gray is a neutral color. How about adding a contemporary wallpaper? That's good! If you want to have a beautiful corner, you can add a contemporary wallpaper.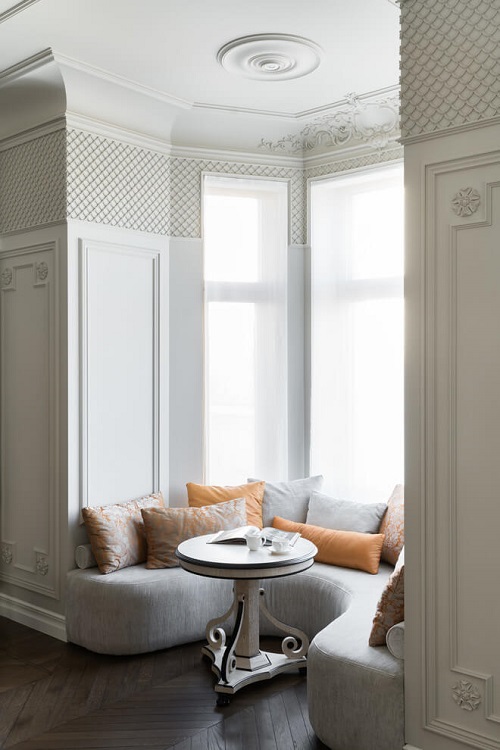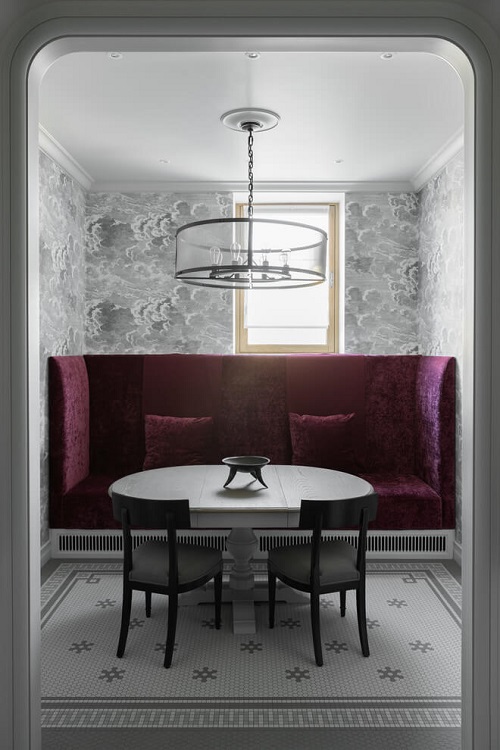 Applying Modern Interior for Apartment Design It Brings Luxurious Appearance
Move to the another area in this apartment, this is a dining room. In this design, the designer places a wooden dining table along with classic dining chairs. The wooden accents make the dining room looks luxurious and classic all in one due to its curving. The wooden flooring looks as gorgeous as the dining table. Ekaterina Fedorchenko chooses a chain chandelier in order to create an aristocratic view. Meanwhile, the kitchen looks cleaner and wider just because of a combination between gray and bright white color. The kitchen set is painted with bright white colors which have the same tone with kitchen cabinets. The designer keeps adding some classic curving in the kitchen. If you want to apply a luxurious apartment design, do not miss to decorate your kitchen to become luxurious as well.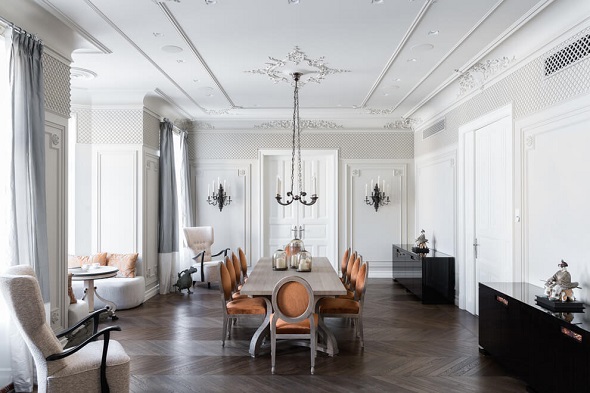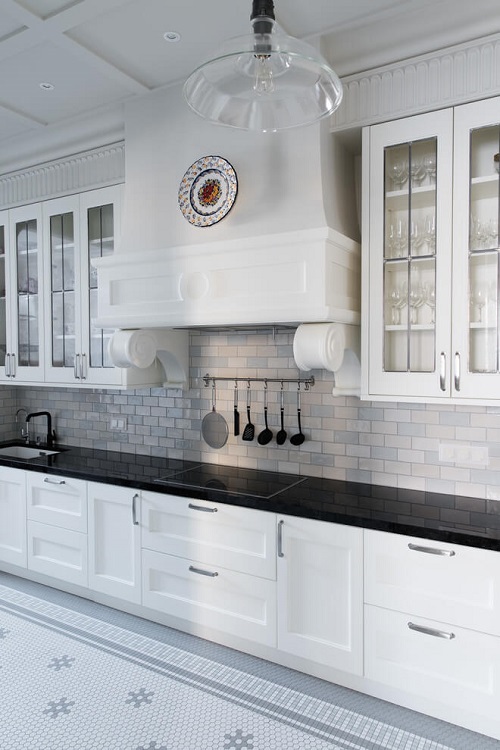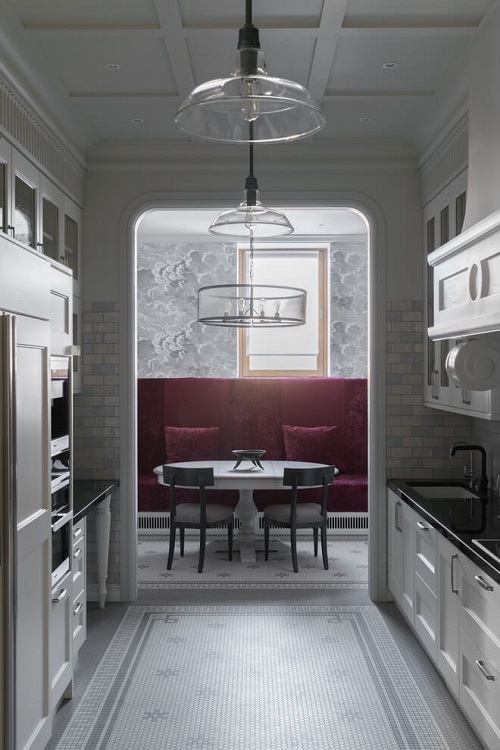 Combining Soft Tone Colors With Classic Interior Bring Luxurious Vibes
If you want to apply soft tone colors in your bedroom, it would be nice. A Bedroom needs a calm atmosphere therefore, Ekaterina Fedorchenko combines soft tone colors with classic interior. You do not know if that way can generate luxurious vibes like in this bedroom. The color tones look suitable with a gray bedstead and pillow pattern. The bedroom is equipped with a classic interior as classic as the bathroom. The bathroom itself is decorated modernly and stylish. Yet, the designer keeps using a classic interior and classic carvings near the bathroom. You do not have an idea if this is a bathroom inside an apartment because it is designer luxuriously.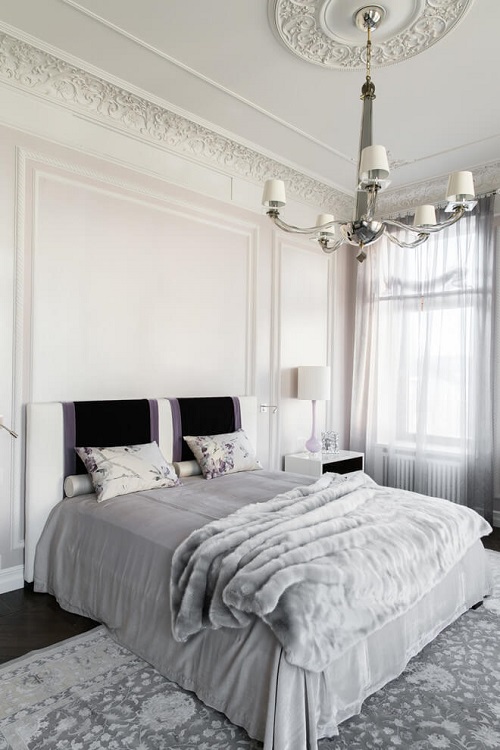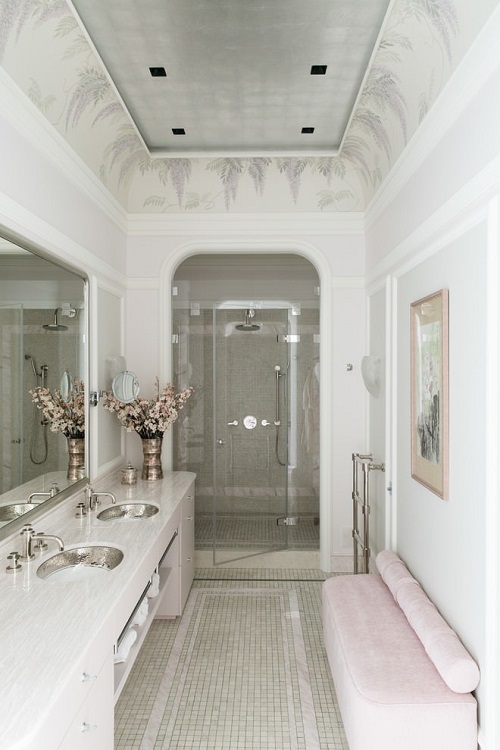 Do not waste your time to apply this luxurious apartment design start from now on. If you want to see other luxurious designs, just visit and check here. Have a nice day!