Roohome.com – Finding you best living room design ideas in here. Because there are many brilliant ideas in designing a specific space especially for a living room. You can try these contemporary living room design ideas which each of them will show the good mix and match ways. The three amazing designers will competently help you how to mix and match shades of soft and bright tone colors which will beautify your living room perfectly. Get a lot of helpful tips as well. Take a look the three contemporary living room design ideas below.
Contemporary Living Room Design Ideas Beautified With Shade of Bright White Tone Colors And Wooden Features Designed by Lofting
Lofting introduces a power of bright tone colors combined with wooden features in this living room. The living room is placed right under the room so it looks like a modern loft apartment which has a living room within. For the roof, the designer paints it with the shade of bright white tone colors in order to add lighting slightly though it has been added with natural sunlight through dormer windows. Around the living room, you can see the wooden features cover the area perfectly. The room is almost being covered with wooden features because it can generate a warm and cozy sensation while you are resting or chatting with your family.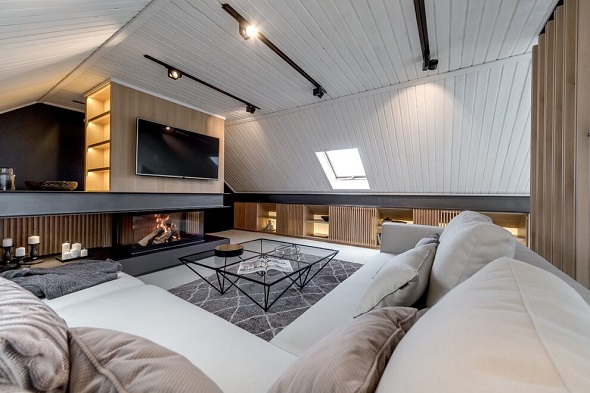 Meanwhile, the white coaches are matched with a glass coffee table and black frames around it. Do not worry if you have a modest living room but you want to apply one of these modern living room design ideas, you can follow this living room idea which is designed by Lofting.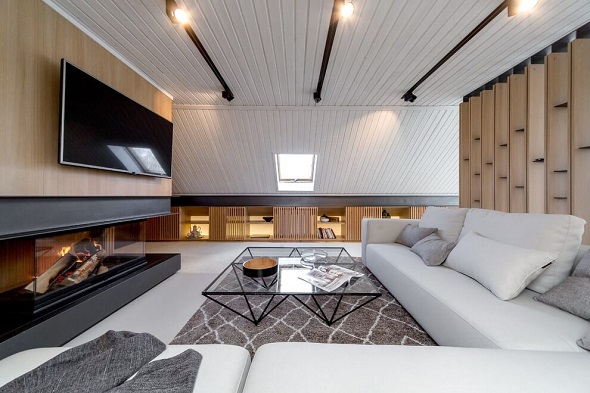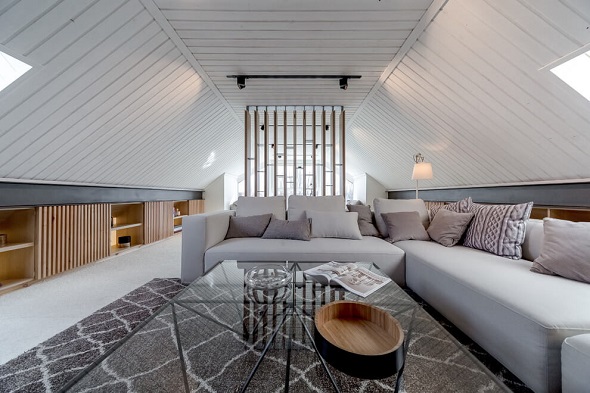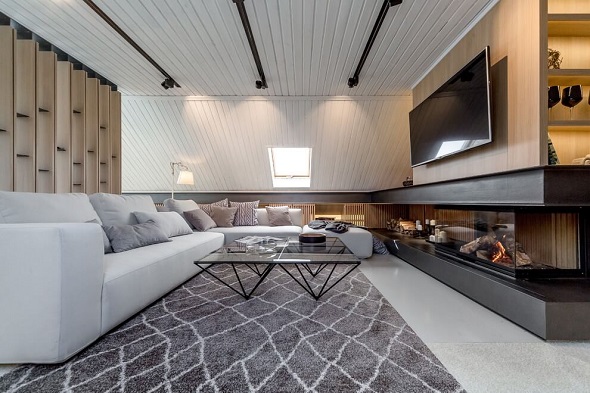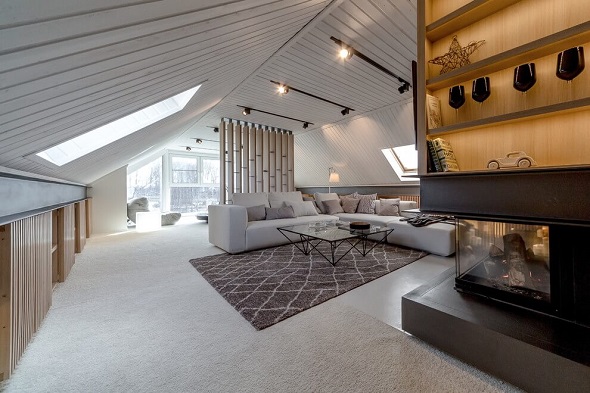 A White Living Room Design Idea Brings Coziness And Calmness Successfully Designed by Ofist
The second contemporary living room designs below designed by Ofist. The designer decides to create a white living room but mixes and match it with contemporary interior and features in it. The first time when you enter this living room, you can see a big white bookshelf near the living room. The big white bookshelf is placed in the middle of a living room in order to link to the second floor. Besides that, this bookshelf becomes the main important point in this living room.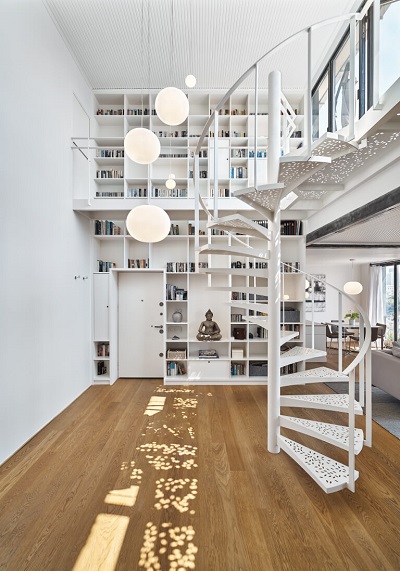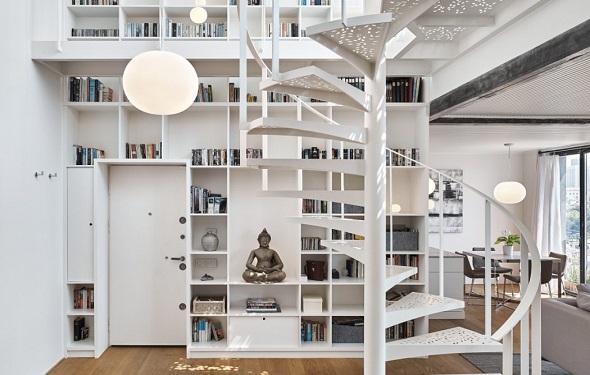 Move to the center living room, the designer combines a shade of white tone color with a light gray couch. Not only a coach but also two gray armchairs. Even, the carpet also colored with gray accents. Besides that, the designer places a multifunctional display cabinet opposite the living room. The display cabinet is beautifully decorated with the gradation of gray and white.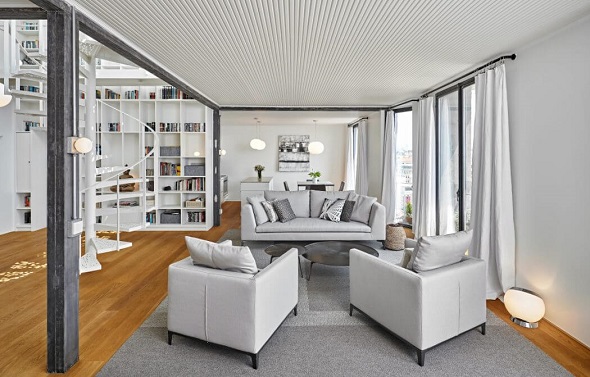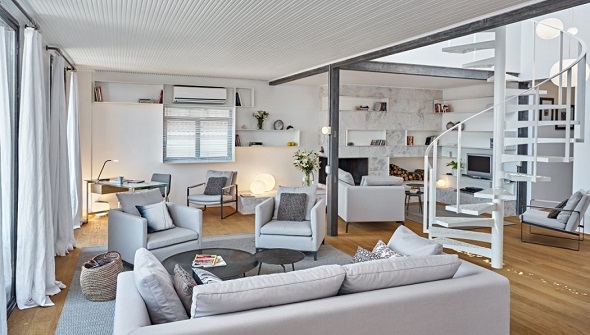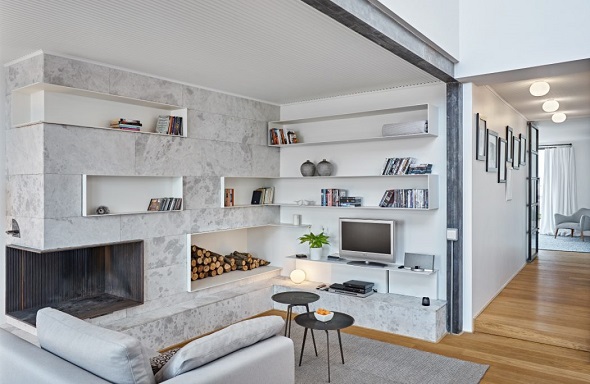 Do not hesitate to keep looking for other designs. Just move below and you will get amazing designs!
Minimalist Living Room Design Idea Simplistically Decorated With Soft And Simple White Textures Designed by
The last living room design is simplistically decorated with soft and simple white textures. This is proudly designed by Or Kochav with the minimalist concept. First of all, the living room is extremely placed near the balcony with adding sliding door as the divider. Besides that, the designer needs much lighting and natural sunlight into the living room in order to make the are brighter and cleaner. For the furniture, the designer uses simple furniture accents which are colored with gray and orange colors. Gray is a neutral color, therefore, it is suitable to be applied with other bright colors.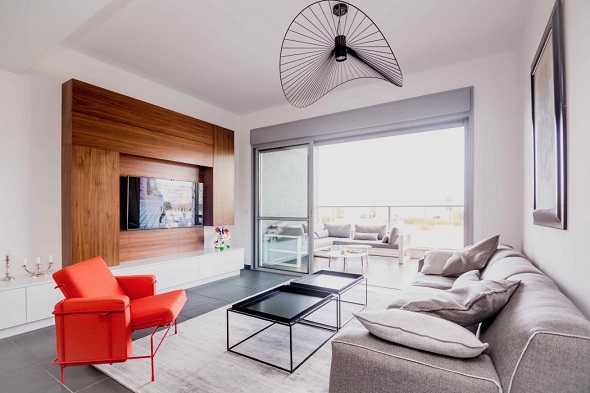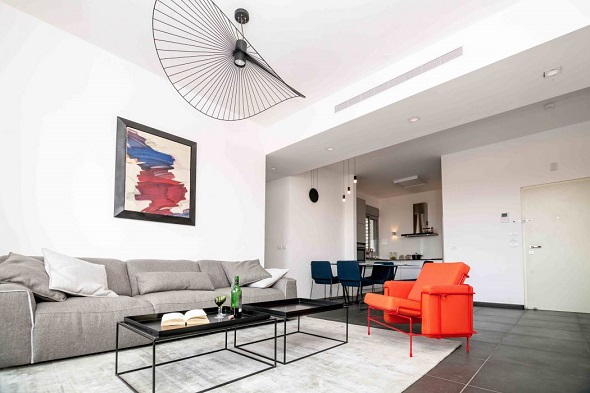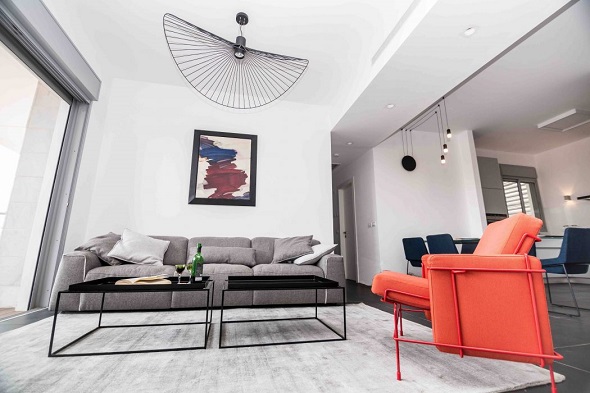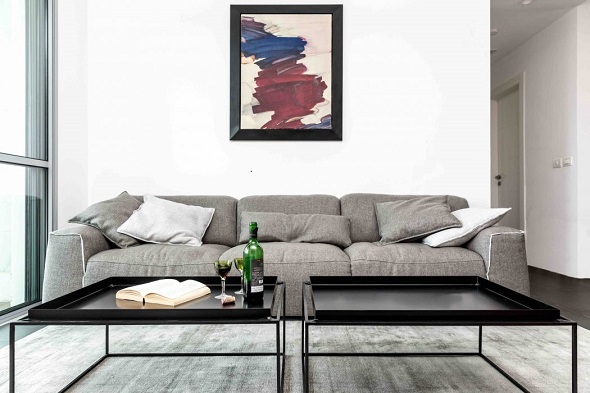 Do not miss your moment to create your own bright living room. The three designer have presented the amazing living room design ideas above. If you want to see other living room design ideas and tips, just visit and check here. Have a nice day!