Roohome.com – This contemporary apartment design will inspire you in designing your own apartment. Do you not believe it? This apartment is decorated with the aesthetic of soft white tone color which will modify your apartment more stunning and enchanting. Do not waste any ideas or tips from the best interior designer below. The designer is extremely brilliant in decorating an apartment. Are you curious about that? Let's take a look a super inspiring contemporary apartment design which inspires people nowadays.
Contemporary Apartment Design Proudly Designed With The Aesthetic of Soft White Tone Color by AD Architects
AD Architects has many ideas in designing an apartment. One of them is using the aesthetic of soft white tone color into a contemporary apartment. The designer decides to pour white accents in order to modify an ordinary apartment becomes extraordinary by having an aesthetic value. You can see from the living room firstly or known as a family zone. Because of a family zone, therefore the designer shows a cozy space which is suitable to spend activities all day long with your family. This coziness is made by white accents such as the basic color of the room and the interior around it. The designer is very consistent in using white accents, therefore the living room looks brighter and wider.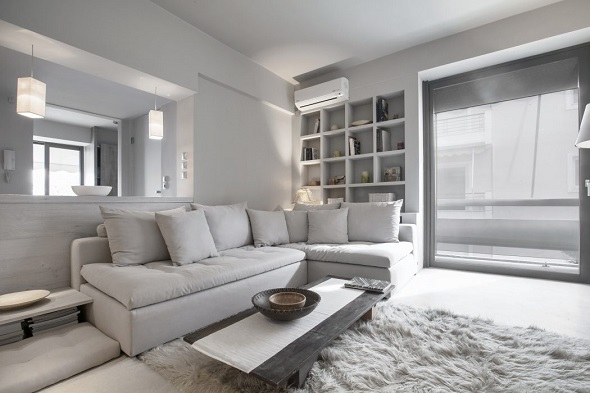 A white couch with L-shaped looks elegant along with a wooden rectangular coffee table shaped. In addition, the designer places a soft furry carpet under the coffee table. This white couch is equipped with an amount of tender white pillows in order to generate a coziness for whoever who sits there. Near the couch, there is a white bookshelf which is made creatively because it is being merged to the wall. This is an option for you if you want to minimize your living room space. Meanwhile, There is big window near the bookshelf in order to spread a natural sunlight from outside to the living room.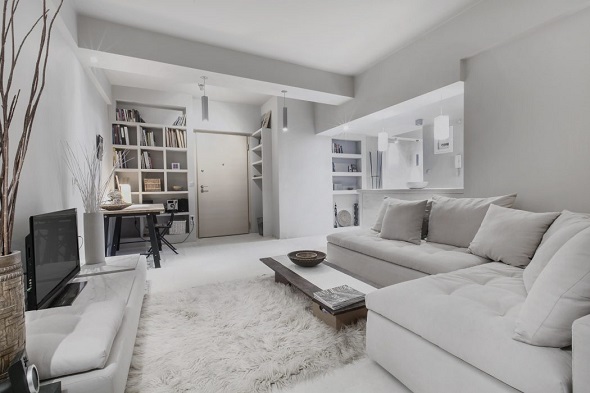 Interestingly, the designer does not use any cabinets in the living room. It will eat up your living room space. Therefore, AD Architects utilize multifunctional things which can be made by yourself. Do not hesitate to apply this modern interior apartment design.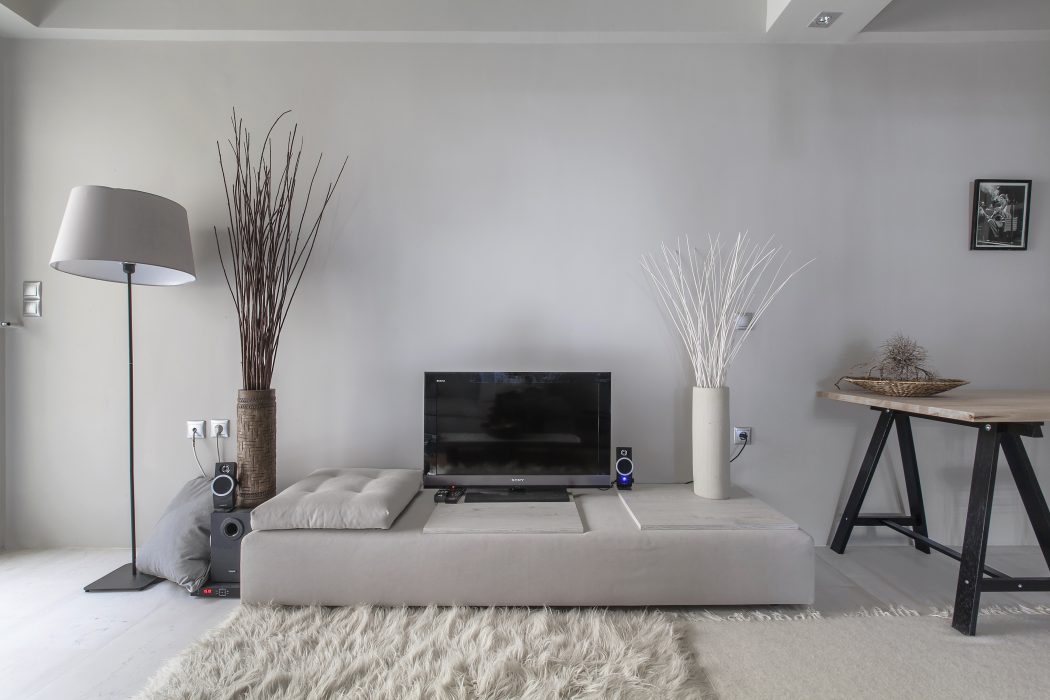 Bring Shade of Happiness And Coziness by Using Contemporary White Interior And Features
Move to the bedroom which is a necessary room for you to take a rest or sleep. The bedroom is dominated with contemporary white interior and features also combined with classic wooden accents. If you have a modest bedroom, do not worry to apply contemporary white interior along with classic wooden accents as the set. It will bring a shade of happiness and coziness all at once. Besides that, the designer keeps utilizing a natural lighting from outside through a square sliding door shaped in the bedroom. If you apply a contemporary interior for an apartment, do not forget to apply it into your bathroom. The bathroom must be as stunning as the bedroom as well.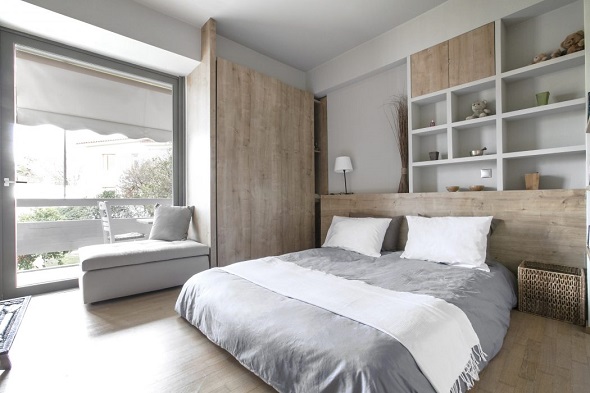 If you apply a contemporary interior for an apartment, do not forget to apply it into your bathroom. The bathroom must be as stunning as the bedroom as well. For the bathroom, the designer combines a shade of white tone color with gray gradations. The interior is clearly decorated with contemporary bathroom stuff and features. For your information, there still many ways of combining other concepts to contemporary apartment design.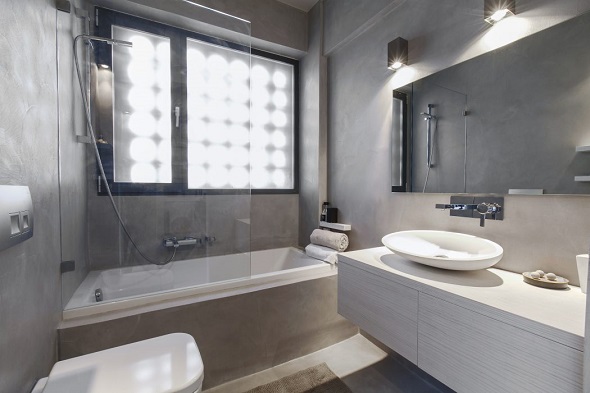 Easy Way To Decorate And Modify by Using Modern White Accents And Features
Talking about food, you will relate it into a kitchen. Yes, AD Architects modify an ordinary kitchen becomes stunning and has aesthetic values. For the kitchen is totally decorated with classic wooden accents and combined with modern white accents and features. The kitchen has L-shaped and modest space but the designer conjures it to be an inspiring kitchen design. It is easy to combine soft white accents with classic wooden accents. This design is as easy as placing a dining table. The dining table is made from a classic wooden. The most important thing, do not place a big size of dining table if you have a modest apartment. Therefore, the designer only places a medium size of wooden dining table in order to beautify the area.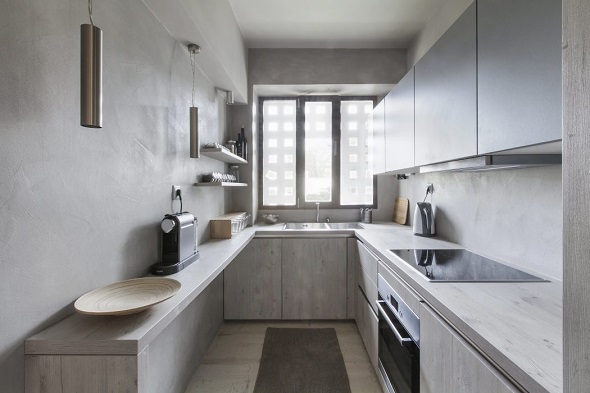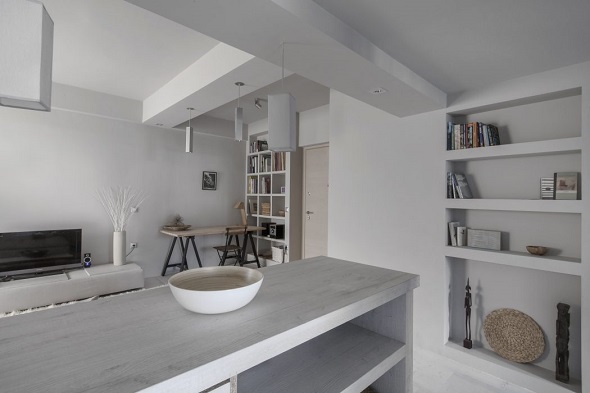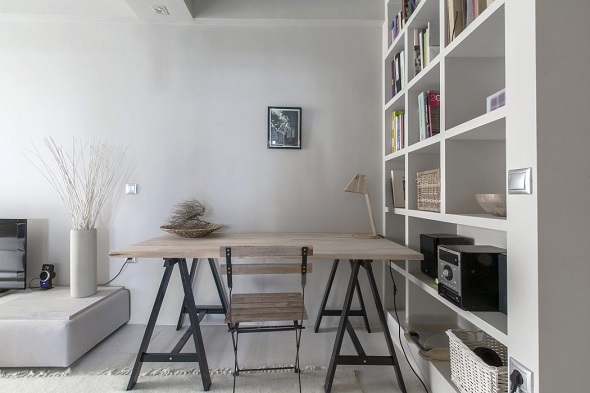 Are you interested in this contemporary apartment design? Do not hesitate to follow AD Architects' ideas. If you want to see other apartment design ideas and tips, just visit and check here. Have a nice day!