Roohome.com – Having small apartment would not make you stop your creativity to design it into a stylish design. Using the whole space splendidly, it would make your flat looks interesting. If you want to make your residence looks wide, simple, and nice to see, a simple small apartment design with open layout ideas is the right concept for you. Your flat becomes stylish even awesome because the decoration design inside can support this design very well. Different style decor that applies for each apartment here produces a good ambiance inside. Do you want to know how the details of simple small apartment interior here? Check this out!
Simple Open Layout Apartment with Wooden Decor
You should suit your apartment space with the concept design that you want applies inside. An open plan concept is a good arrangement which can manipulate your small apartment looks wide. To make more interesting, you might support with the material decor that suitable and neutral to be applied inside. Here the details of the open layout apartment include the living, kitchen set, and bedroom area. Check this out!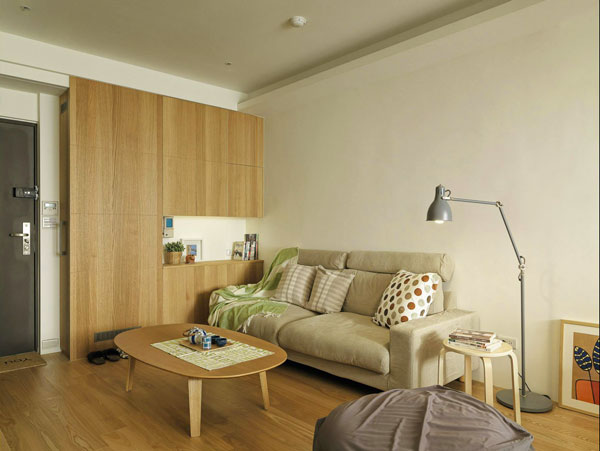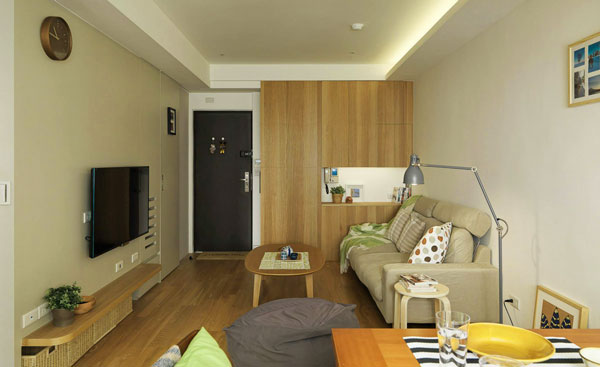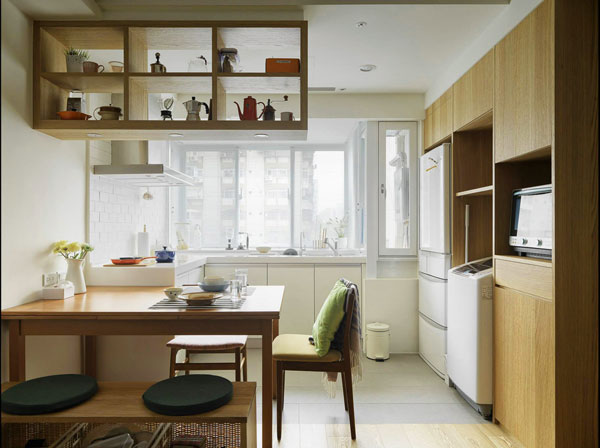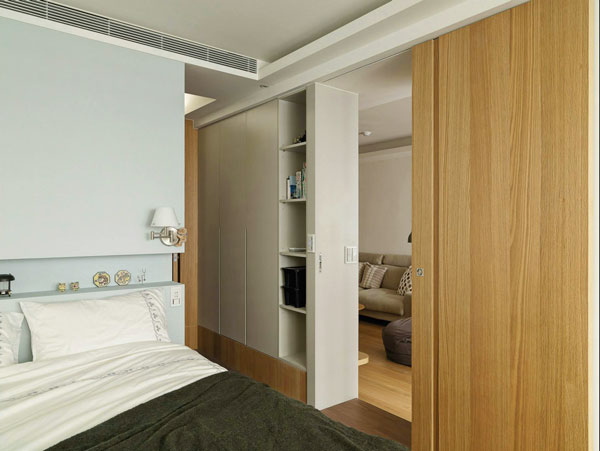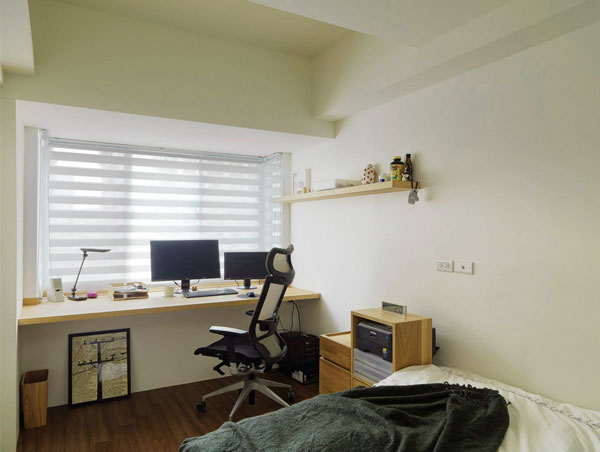 Simple Open Layout Apartment Detail Designs
Because it applies an open concept design idea, so you might see how is each space of the apartment design look likes. For designing the whole part of this flat, the designer choosing a wooden material as an appropriate material design which can use to decorate the apartment. Here the details design:
Living room design
This room designed with a simple concept that applying a wooden for the furniture like a big cabinet which you can use also as the multifunction storage. A simple small coffee table and pastel sofa would beautify this small living room. A floor lamp and other ornaments that put inside also suitable to support the simple small apartment interior ideas here.
Kitchen set area includes the dining room design
Next side to a living room, there is a dining and kitchen room, because this flat has a limited space, so the designer uses all space splendidly. Still using a wooden material, they put a big storage in the corner and creative small shelves on the ceiling to place your display and ornaments. Almost all the space inside apply with a white color to make it looks natural. For the dining, using a classic chair and table also might support the concept design.
Bedroom Design
Then inside the bedroom, there is a bathroom and small office inside. The whole room still using a white color to match with other space. Then, use a wooden for the divider, floor, and furniture also. A big window in front will produce a good natural light to your bedroom. The furniture and decoration inside look simple but keep stylish because of using the right material that applies in.
Simple Small Open Plan Apartment Looks Stylish and Cozy
Even you have a limited space, you can renovate it in order to make wider. By applying an open plan design, it makes the whole space does not look stuffy. Adjust with an appropriate decor includes the material that used inside also might help to beautify the design. That is why you could see how the designer arrange the whole space.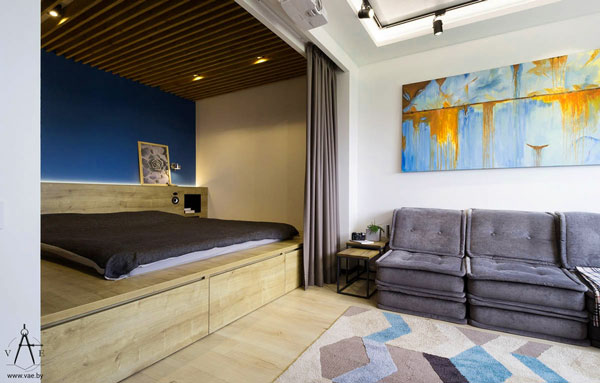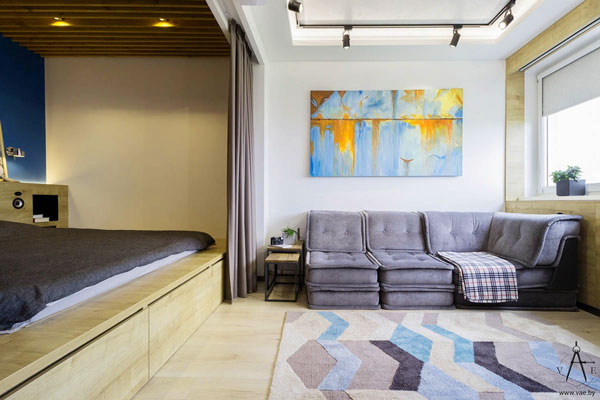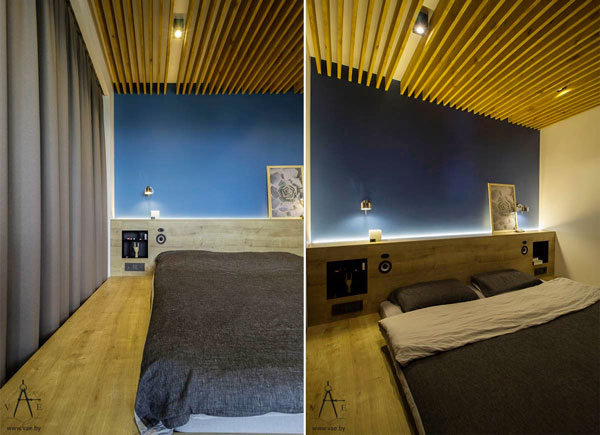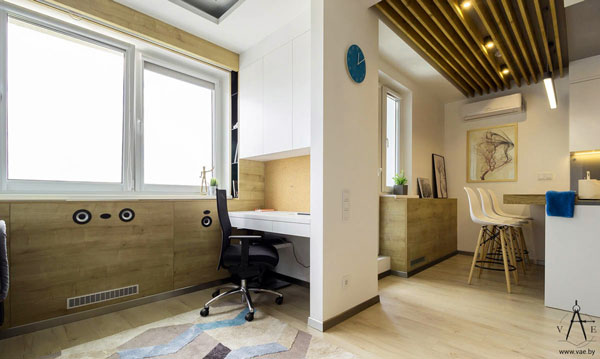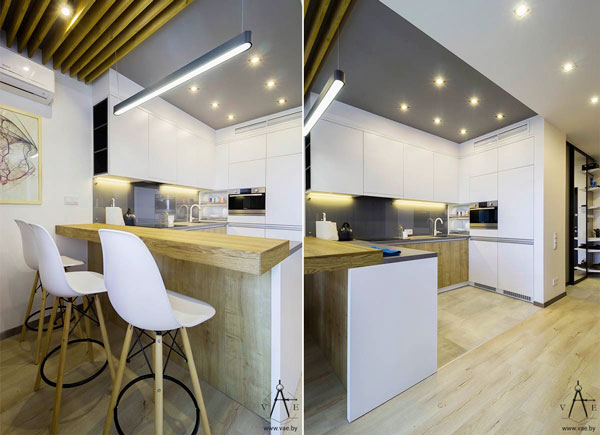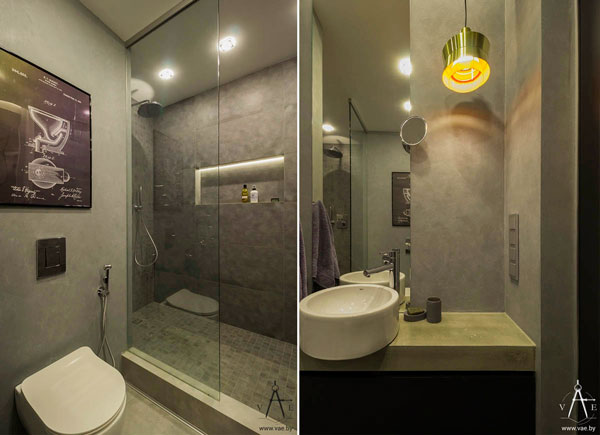 Simple Open Plan Apartment Detail Designs
To make your open concept for the small apartment looks stylish and elegant, so you have to plan a good arrangement like a decoration inside to make it more perfect. You should see the details design for each part of this flat design here:
Living Room Design
In the open living room, the design looks very simple and restricted. Therefore, the designer applies an open layout between the living area and bedroom. Only put the gray sofa and small coffee table on the corner it is enough. But, to make a space does not look plain, put a smooth pastel rug colored and artwork display on the wall to bring out a colorful impression.
Bedroom Design
A blue watercolor looks matching for the small apartment here. A wooden ceiling also suitable that makes this area more stylish. Flat bed and wooden storage inside also support the concept itself, a warm light is blending perfectly with the color and decorate surrounds.
Kitchen Set Design
Move to the kitchen set, there includes with a dining room also. But next to kitchen area, a simple small workspace is perfect for this flat. The kitchen set has been designed with a white and gray color, a wooden furniture and barstools make this area looks a bit stylish. Then, support with a modern lighting to make it perfect.
Bathroom Design
For the bathroom area, it looks simple but stylish because of a gray color and decor inside is matching. Concrete and marble tile design become the right material to be used for the wall accent design. Put a modern gold light to bring out a good illumination.
Simple Stylish Small Open Apartment Design with Concrete Gray
Make your simple small apartment design looks sophisticated and stylish by designing with open concept, concrete material, wooden, gray and white color decor. An open concept design would make the whole part of the small flat does not look crowded. You might see the details below!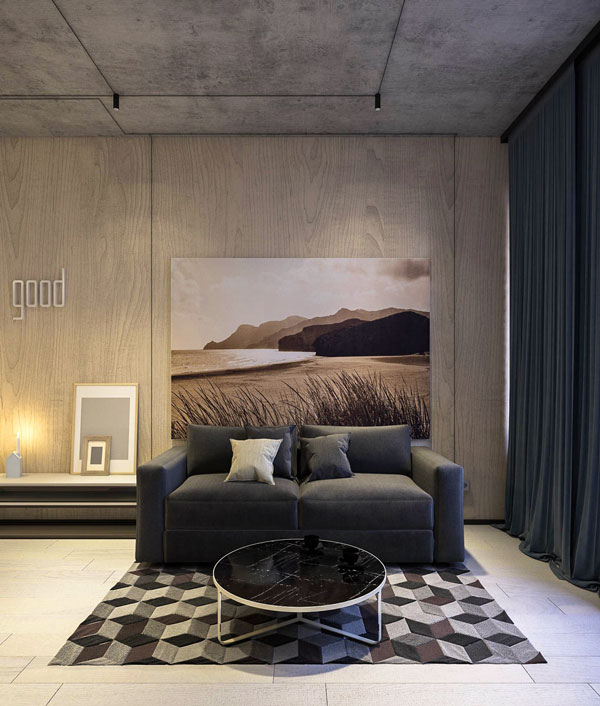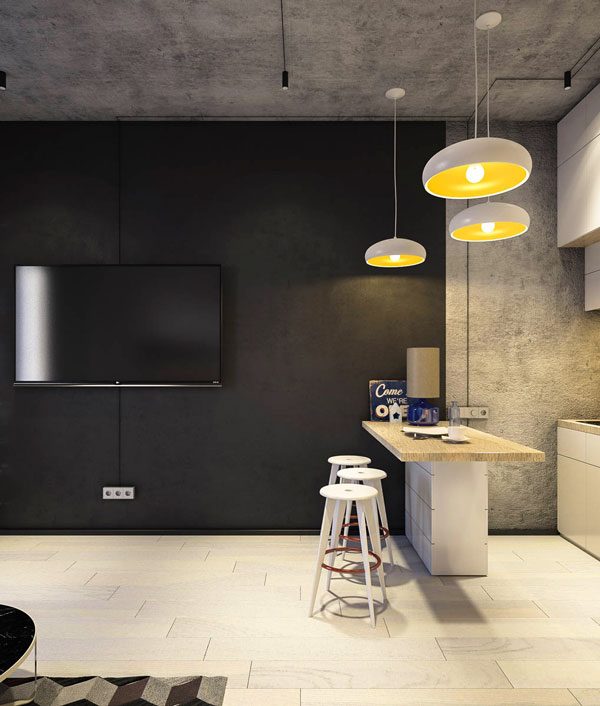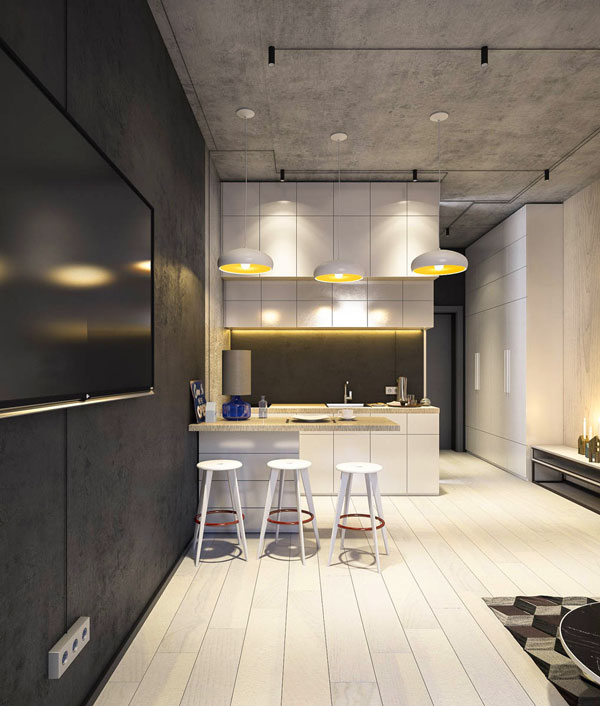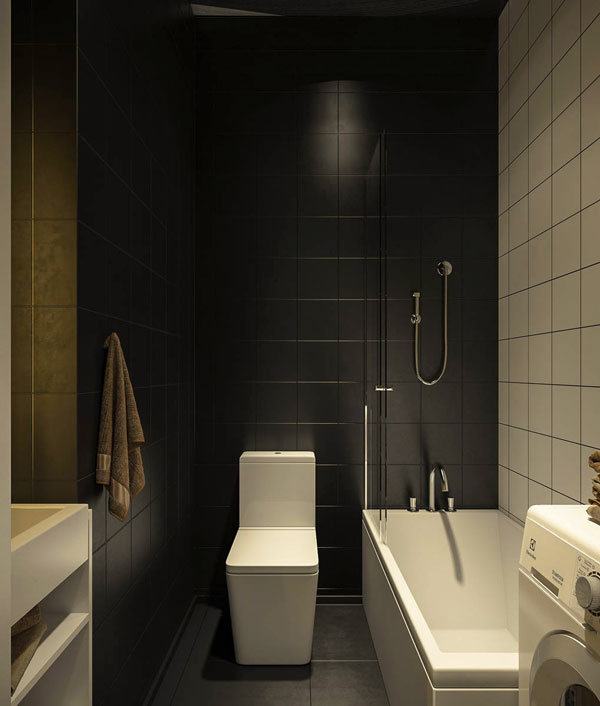 Simple Stylish Open Apartment Detail Designs
Do not use an excessive decor if you have a small residence. Like the small apartment here, a simple concept design will look stylish if you can adjust with an attractive decor inside. There are the details design:
Living room design
The small living area has been designing with a gray and cream color for the ceiling concrete and wooden wall accent design. Small sofa, small wooden storage, and round coffee table are perfect to complete the living space. Make your design looks sophisticated even stylish by applying a soft gray rug, painting, and lettering display as the decoration that put in the right place. Applying wooden floor also suitable to match with the design.
Kitchen Set Design
The kitchen also include with a dining area, use a soft gray wall accent and white furniture like cabinets to make the kitchen stunning. A modern chair for the barstool and dining very suitable to perfecting your gallery. Although the kitchen design looks simple but applying the right furnishing inside make this space more stylish and sophisticated. Modern pendant lights also bring out a good illumination for the whole space in this simple small apartment design.
Bathroom Design
Then, move to the bathroom design, the designer using gray and white tile design to evoke a warm ambiance. White closet, storage, and bath tub inside very appropriate for completing this small bathroom. Do not need to add an excessive decor, so it will not make the design crowded.
Let's renovate your small apartment by applying the simple stylish concept design with an appropriate material design like those pictures above!