You have been searching the best interior home design ideas right now perhaps. But, you also have to find some good ideas of exterior home design. Why do you need good ideas of exterior home design? Of course, it will relate to the result of your house soon. A perfect result of house living based on a proper exterior home design outside its building. Therefore, we proudly present you 15 exterior home design ideas along with some inspiring tips free. Let's bring it on!
Minimalist House Exterior Design Ideas
The first idea is a minimalist house exterior design which combines modern elements and shades of naturalism as if in the middle of a forest. The combination of these two exterior aspects can be seen through the decoration of backyard and front door. Meanwhile, a good selection of wall texture influences the aspects as well.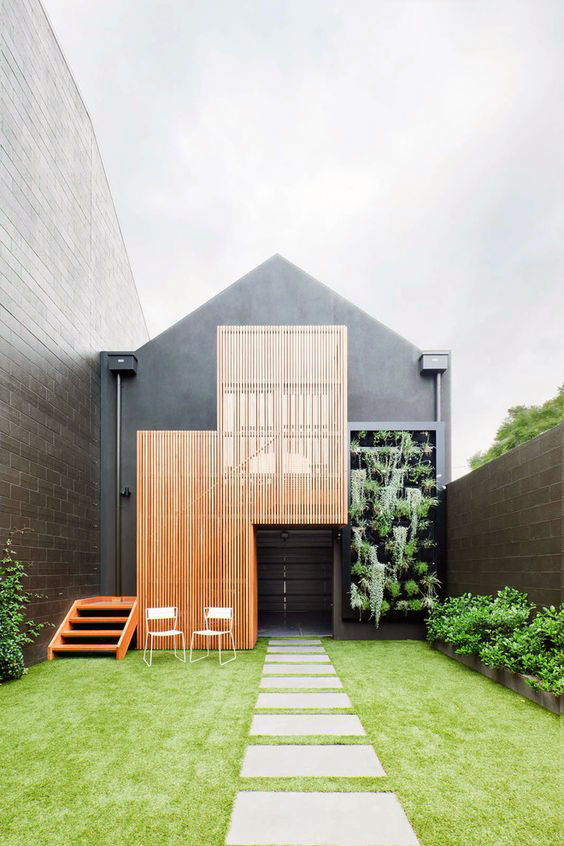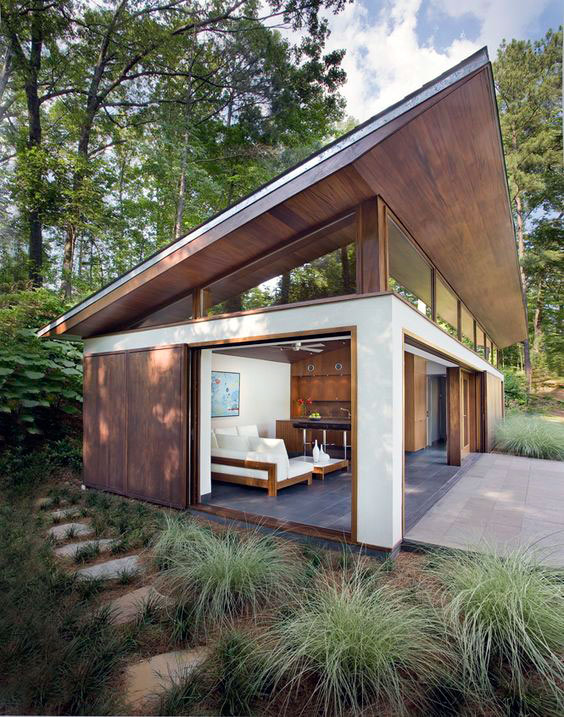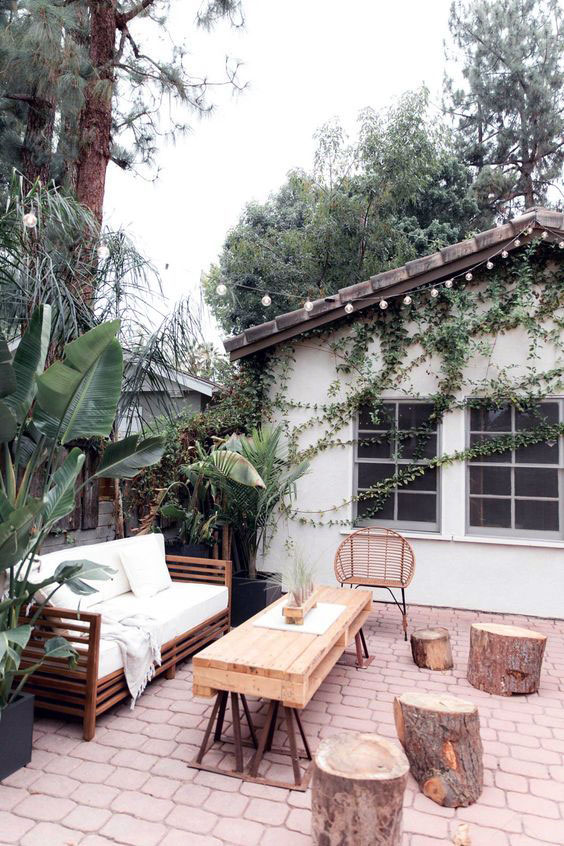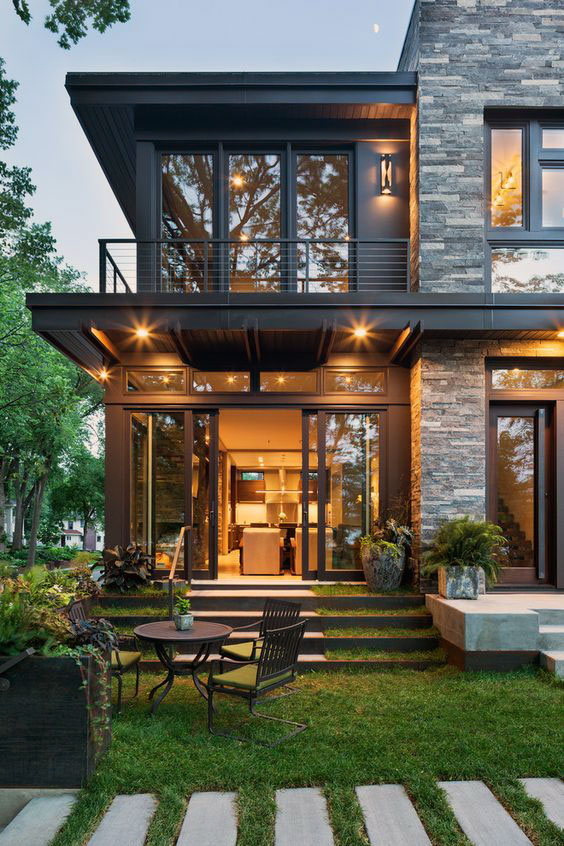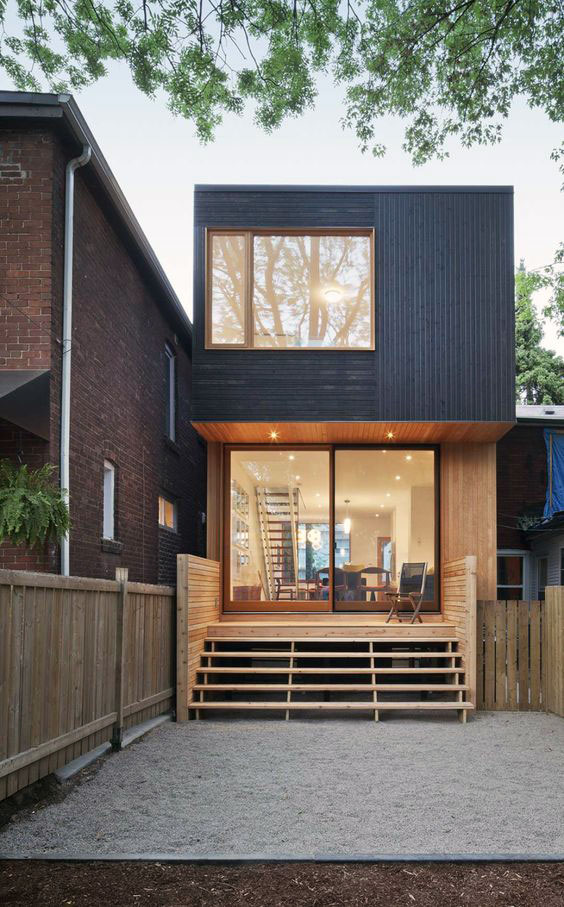 Wall Texture
A wooden material is used as the wall texture in the first, second, and the fifth picture. The third and fourth picture use standard materials of the wall texture. Interestingly, in the fourth picture, there is a big pillar which made from weathered edge stone. Wooden and stone can be used as an addition to the wall outside the building. These are such a nice tips for integrating a wall texture among other materials.
Front Door
Using an ordinary front door will not ruin your exterior home design ideas. A wooden material has been the most used commonly but a glazed sliding door can be a perfect option as well. It has been applied in the fourth and fifth picture. The usage of a wooden material will be suitable for your house living as well as a glazed sliding door. Meanwhile, in the third picture uses an open door idea in order to get closer to nature. Try these tips for finding a suitable front door. You can also class up your front door area with engraved house name signs from The Engraving People.
Backyard Arrangement
There are four pictures which apply nature concept as the backyard arrangement. A fresh green grass and tree will air the atmosphere of the backyard itself. Meanwhile, in the last picture applies different material based on the preference of its owner. Be smart and creative in arranging your own backyard otherwise, it will damage the view of your backyard.
Small House Exterior Design Ideas
The second idea is a small house exterior design which applies a wooden material mostly. A wooden material is used to produce a classic-modern impression outside the building. By adding other materials, the exterior of a small house would be stunning and appealing. Besides that, the selection of color should be discussed as well.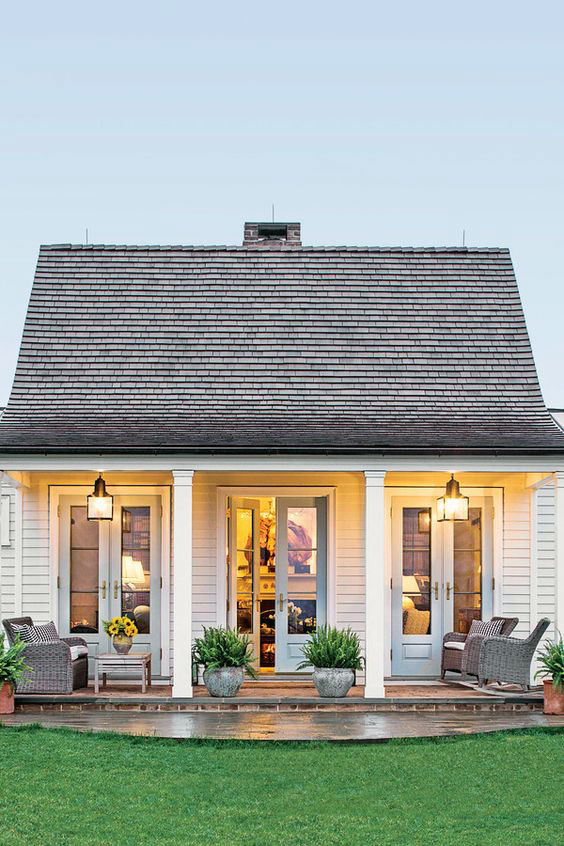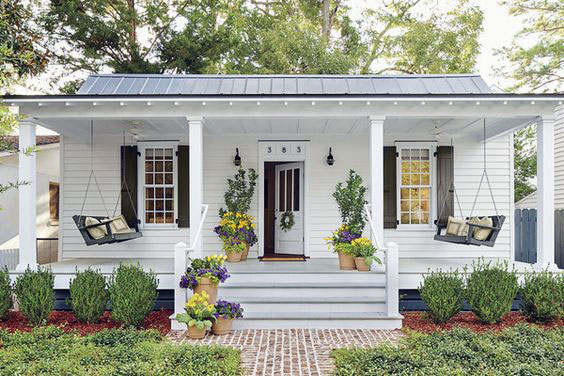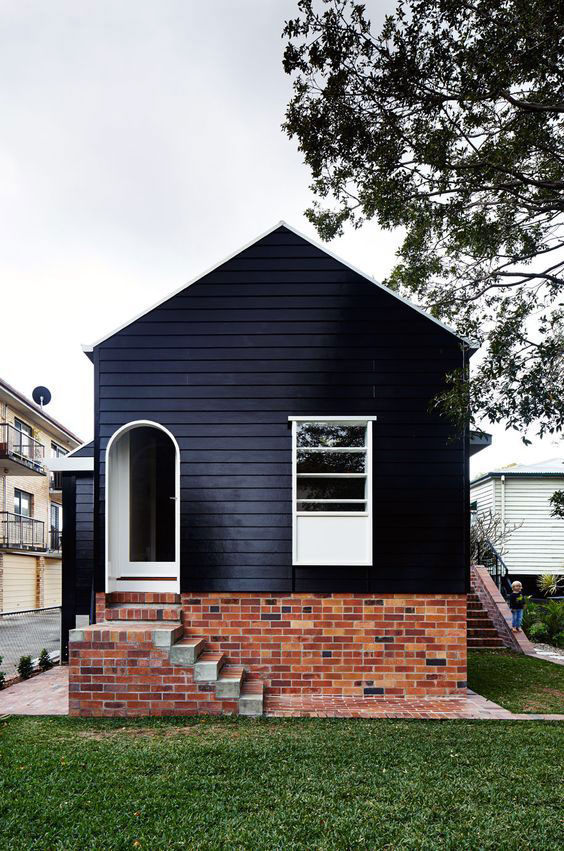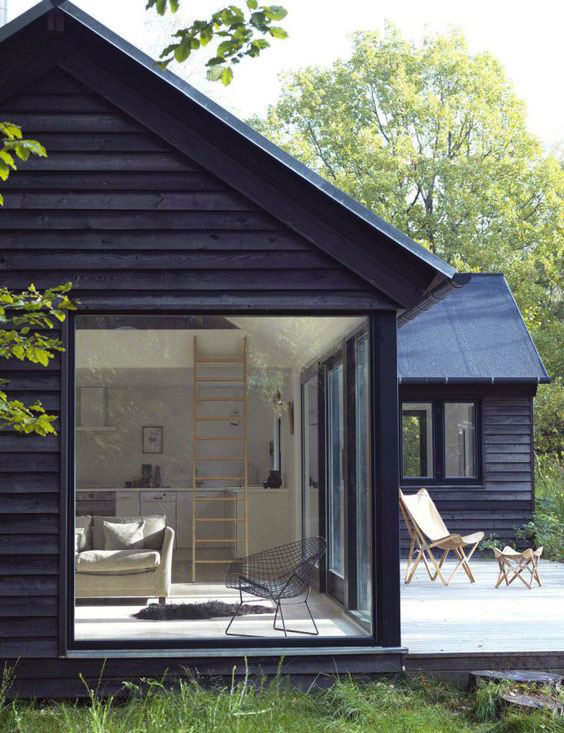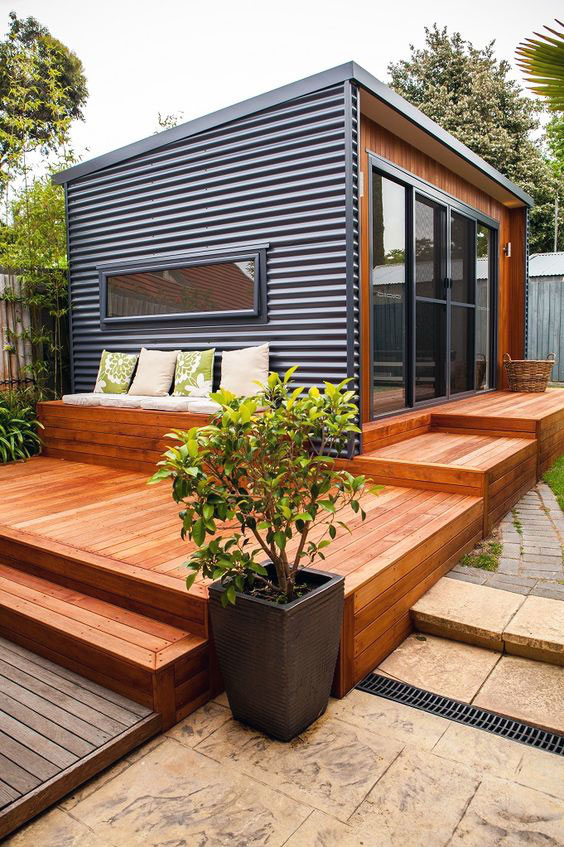 Wall Texture
As stated before, a wooden material is the most used above. All of them use weatherboard wall texture in order to represent a classic-modern impression. Although, the selection of wall color scheme is different. The first and second picture apply a bright wall color scheme. Meanwhile, The third, fourth, and the last picture apply a dark wall color scheme. Applying bright or dark color will not damage your exterior unless you can utilize it properly.
Front Door
The first picture uses an extraordinary glazed wooden door as well as the second and the third picture. Add some greeneries or flowers beside the front door in order to beautify the view of your house. The fourth and the fifth picture use a glazed sliding door so it will not vanish the classic-modern impression itself.
Backyard Arrangement
The arrangement of a fresh green grass and plant could bring a good result into the backyard. Do not add many things outside your house especially in the backyard because it will decrease a natural impression certainly. Therefore, plant some greeneries around the backyard and fresh green grass such as in the first, second, third, and the fourth picture. But, creating a cozy place for relaxing is a good idea as well. In the fifth picture, there is a cozy place which made by a wooden material in order to make you are happy when spending time there.
Ranch House Exterior Design Ideas
The last idea is a ranch house exterior design. Generally, a ranch house is made of a standard wooden material which is mostly in Europe. But nowadays, a ranch house can be made by combining other variations of wooden material and stone properly. Therefore, if you want to have a ranch house exterior design ideas, get some tips below!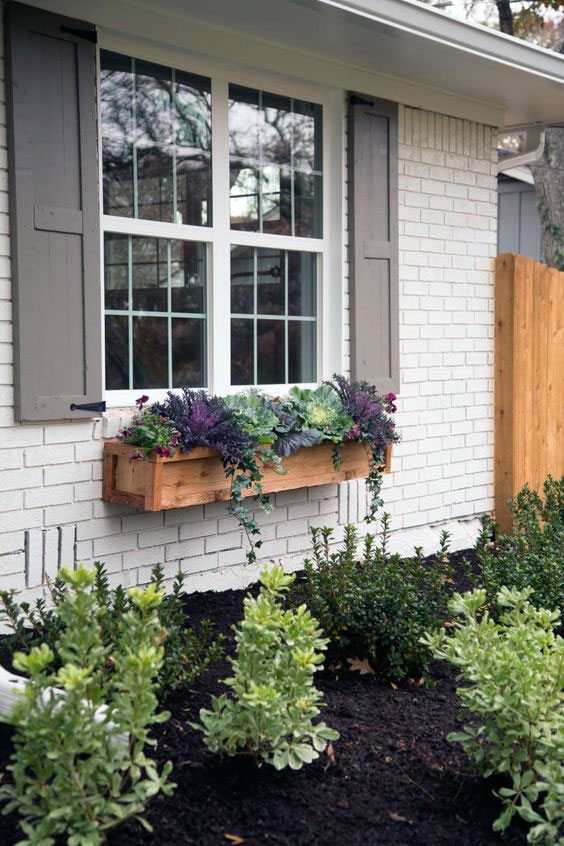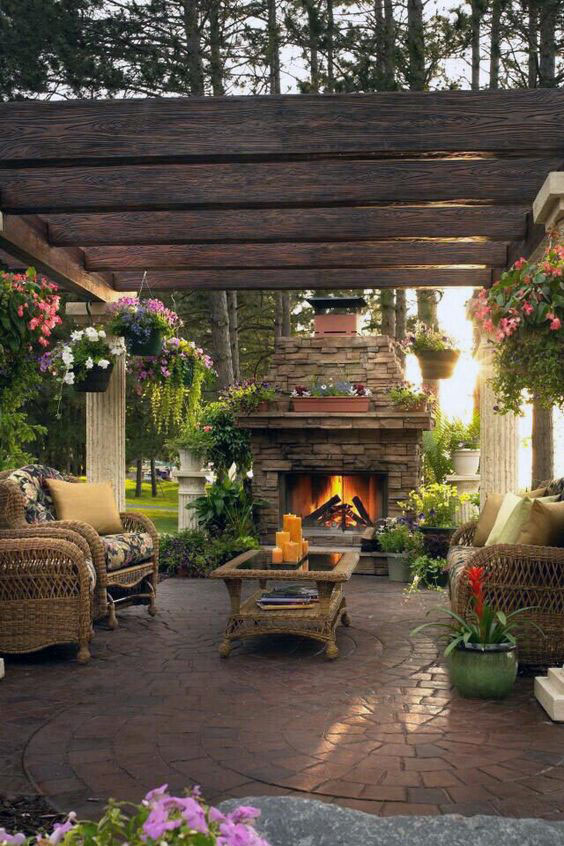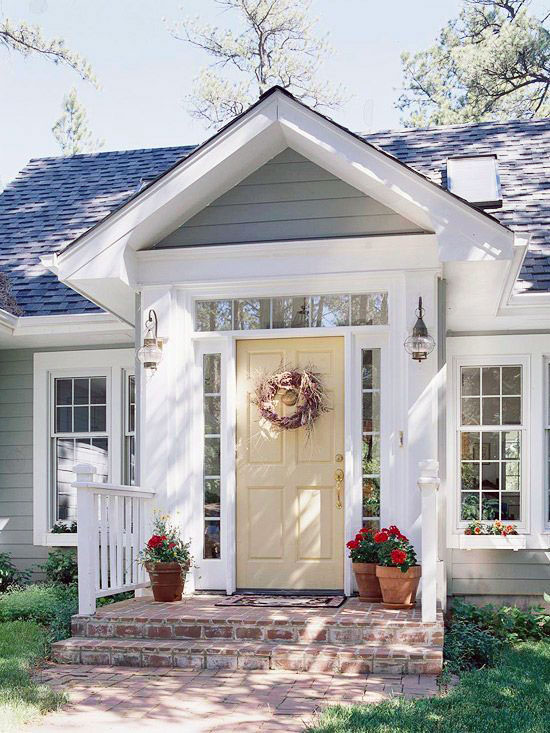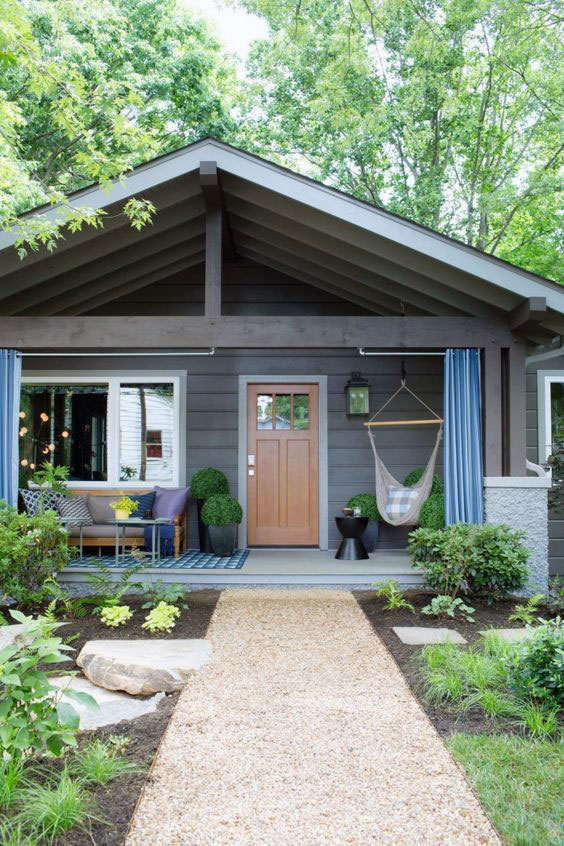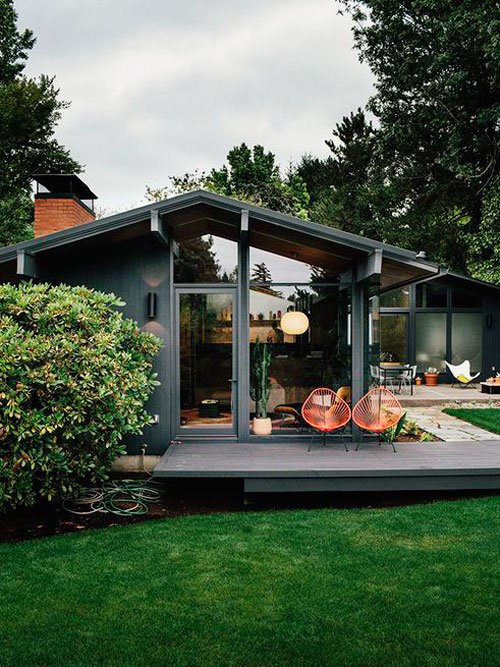 Wall Texture
A stone-brick material is used in the first picture and second picture. Nevertheless, it does not omit the ranch view because there is a perfect arrangement near the wall. Both of the pictures keep using a wooden material. Meanwhile, the third and fourth picture uses weatherboard wall material. The last picture uses a combination of modern and classic wall material.
Front Door
For your information, most of the ranch houses are using a wooden material as the front door. But, we suggest brilliant ideas in selecting a suitable front door for your ranch house. First, a wooden material would be great if there are some ornaments such as flower as the addition. Second, a glazed sliding door can be a nice choice for you too. It can be seen from the third and fourth picture that use a wooden material along with its ornaments. The last picture uses a glazed sliding door.
Backyard Arrangement
Most of the pictures are filled with greeneries and fresh plants as the main specialty of ranch house itself. How about green grass without any flowers? It does not matter as long as the backyard has an ideal space such as in the fifth picture. Meanwhile, in the first until the fourth picture, some greeneries and colorful flowers are beautifying the view of the backyard.
Managing a house living would be great if an interior and exterior could be combined as well. Please make sure if you want to apply one of exterior home design ideas such as a minimalist house, small house, or ranch house, you have understood what you have to do soon. Do not forget to get other tips of exterior home design ideas as well. Happy trying!