Roohome.com – Choosing a soft pattern to make your bedroom's appearance more attractive is indeed the right choice. Nowadays, people tend to pick a soft pattern for bedroom design in order to produce a comfortable atmosphere. Like what Becki Owens does, it would probably make you think to change your bedroom design now.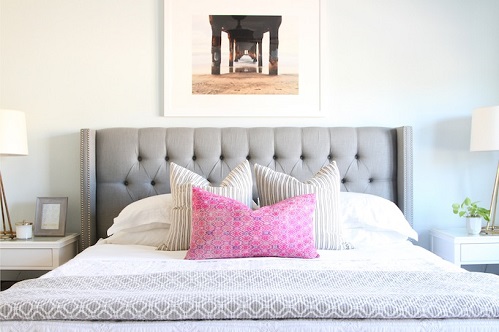 As an interior designer, Becki Owens is quite charming in selecting the best pattern for bedroom design, such as one of her types of design in the picture above. She is named it as Pretty Coastal design in where filled with a soft pattern. What kind of pattern? First of all, she starts with a gray color on the headboard.
Beside a gray color, the lines on the pillows are consists of geometric details and modern stripes that two of those pillows a pair of gray lines and the pink one is made by Chinese embroidery textile. The way she chooses the pattern for decorating those stuff is very amazing.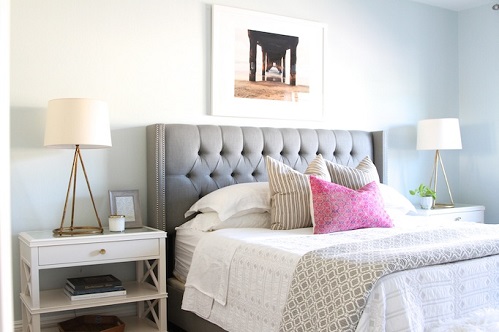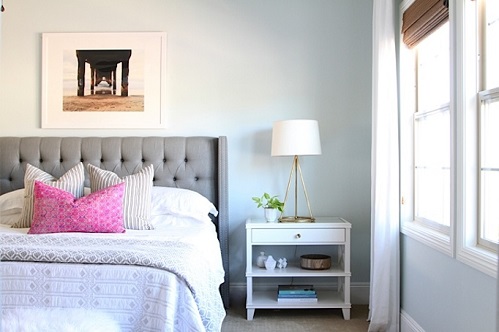 Moves from the things on the bed, take a look on the bedside. There are two bedside tables that each of them decorated by a white lamp for making the room softer.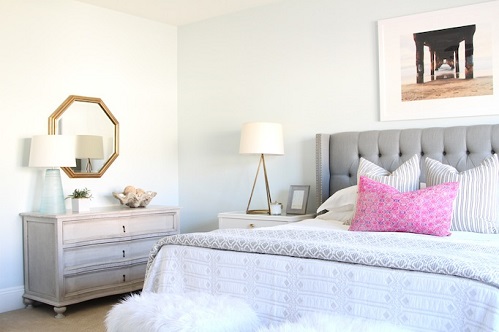 If we look at the left side, there is a unique octagon shaped mirror which is coated by a gold shade. Goes down, there is a wood dresser and clam shell that served with a soft gray to give a coastal vibe.
Placing unique ornaments for pairing with a soft pattern for bedroom design are the best choice. Becki Owens has shown her best design to create an ordinary bedroom becomes awesome. Are you interested? Go and try it!